Before the 2018-19 season started, Chris Holtmann frequently hyped up Ohio State's non-conference schedule.
A pair of road games against Cincinnati and Creighton looked like early tests for his young team, which had a neutral-site matchup with UCLA in Chicago lined up. The Buckeyes also had a home game against Syracuse and faced off with Purdue Fort Wayne, a mid-major team Holtmann viewed as a threat. But as the season progressed, it became clear that the out-of-conference slate, against which Ohio State compiled a 10-1 record, didn't have the bite the head coach had anticipated. The Buckeyes, per CBS Sports, had the 154th most difficult non-conference schedule.
Holtmann won't need to have that concern this season. Not at all.
Regardless of how he fills out the rest of his team's 2019-20 non-conference schedule, which should be released relatively soon, Ohio State's calendar in November and December will be loaded with dangerous matchups. Five already announced marquee matchups ensure that to be the case.
The Buckeyes will take on Cincinnati and Villanova at home, North Carolina on the road, Kentucky in Las Vegas and West Virginia in Cleveland. Three of those teams – Villanova, North Carolina and Kentucky – could open the season in the top 10.
"It's the hardest (non-conference) schedule that I've ever played and have ever been a part of, for sure," Holtmann said on the Carpenter and Rothman Show on 97.1 on Tuesday. "I'm not even sure it's close, guys."
Someone on Holtmann's staff, while discussing who the Buckeyes would scrimmage before the season, jokingly tossed out an idea about a potential out-of-the-box opponent.
"We might as well scrimmage the (Golden State) Warriors, given who we're going to schedule," Holtmann recalled the staffer saying.
As Holtmann called it, the slate is "a monster." Some of it came via his doing, and other matchups were luck – or the opposite of luck, depending on one's perspective – of the draw.
He scheduled a home-and-home series with Cincinnati in October 2017. After playing on the road against the Bearcats to open the season last year, the Buckeyes will welcome Cincinnati to the Schottenstein Center to tip off the 2019-20 season in November on the "first allowable date of competition." The date hasn't been announced yet.
The game against the Mountaineers, which Rocket Mortgage FieldHouse will host, was originally announced in December. It's billed as the first inaugural Cleveland Classic.
The location is drivable for both fan bases, and it pits two teams in separate conferences but similar regions against each other. Bob Huggins' press-happy style also played a role in why Holtmann scheduled West Virginia for this season.
"We play a team like Illinois in our league. They're difficult and a different matchup for us and a difficult matchup," Holtmann said on Carpenter and Rothman. "We've had some success the past couple years, but we struggled last year at our place against them. The most similar team probably to them is West Virginia in the non-conference. We did schedule West Virginia in part – it's a great game, it's in Cleveland, it's a great game for our fans and their fans – but we did it in part because we wanted to see if we could be better in preparation for Illinois."
Ohio State's spot in the CBS Sport Classic, which features a game against Kentucky in December, predates Holtmann's arrival. But he's certainly a proponent of the high-profile adversary.
Neither North Carolina and Villanova were chosen as opponents by Holtmann. The ACC-Big Ten challenge pitted the Buckeyes and Tar Heels against each other, and the Gavitt Tipoff Games matched Ohio State and Villanova together. Holtmann had heard three likely possibilities for each early season event, and his team ended up with the most difficult opponent in each trio.
"The Gavitt Games, they told us a month before, 'Hey, it's probably going to be either Villanova, Providence or Creighton,'" Holtmann said on Carpenter and Rothman. "Now, all three of those teams are going to be NCAA tournament teams, but Villanova has become a blue blood and are preseason top 10. Well, they gave us Villanova. I heard at Big Ten meetings it was going to be NC State, Virginia Tech or Carolina, and they gave us Carolina."
Even if Ohio State had ended up with North Carolina State and Creighton, or Virginia Tech and Providence, it still would be gearing up for a tough out-of-conference schedule. It would still be looking at four or five possible NCAA tournament teams, with at least onw in the top 10.
Ending up with North Carolina and Villanova, though, gives the Buckeyes about as challenging as an early season schedule as any young team should face. Holtmann even openly admitted on the Carpenter and Rothman Show that there's a chance he "over-scheduled."
Still, the daunting slate doesn't shake his willingness to schedule tough matchups in future seasons.
"Long answer, if I'm going to err – and I think that remains in question here, did I make a mistake in the schedule for this upcoming schedule – it's going to be with providing a harder non-conference," Holtmann said at a press conference last week. "I thought last year's was going to be a harder non-conference. It just so happened that we played some teams that maybe didn't quite have the years that we thought they would. I would like a harder, more challenging non-conference. I would."
Well, now he's got one, and it just might be the toughest he's ever faced.
Cincinnati (Home: Date TBA)
Preseason projections: Not in NBC Sports, CBS Sports, ESPN or Stadium top-25 projections
Team outlook: Among all five marquee non-conference opponents, Cincinnati will be most familiar to those who follows the Buckeyes. Ohio State left the Queen City last fall with a win, and now it'll get a chance to defend its own court. This time, Mick Cronin won't have a seat on Cincinnati's bench. Instead, former Northern Kentucky coach John Brannen is at the helm. He's cobbling together a roster hit hard by transfers, which included the loss of Nysier Brooks, the team's starting center. Jarron Cumberland returns after leading the team in scoring last season, and he'll be joined by his brother, Jaevin, who transferred from Oakland. The second- and third-leading scorers, Tre Scott and Keith Williams, also return.
Player to know: Jarron Cumberland. By averaging 18.8 points per game last season, he was the only Cincinnati player to average double figures, and he nearly doubled up the second-leading scorer, Scott, who had 9.9 points per game. Cumberland has steadily risen throughout his collegiate career, and back for his senior season, he'll have a chance to crack the 20 points per game mark while maintaining his reputation as an impact defender.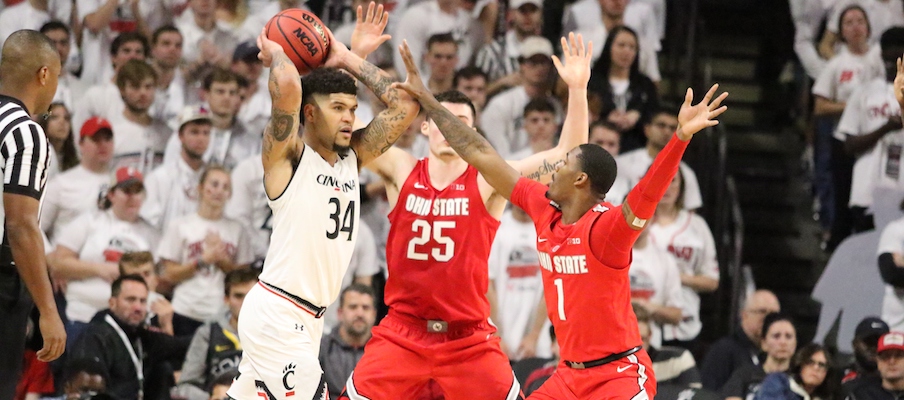 Villanova (Home: Nov. 13)
Preseason projections: No. 4 (NBC Sports), No. 8 (ESPN), No. 9 (Stadium), No. 12 (CBS Sports)
Team outlook: The Wildcats will make a trip to Columbus early in the season. The Jay Wright-led Wildcats, who Holtmann faced as Butler's head coach, lost Phil Booth, Eric Paschall and Jahvon Quinerly, but they return three starters and add two top-20 overall recruits. Jeremiah Robinson-Earl, a 6-foot-8, 235-pound power forward, is the No. 15 overall prospect, and 6-foot-4, 168-pound wing Bryan Antoine is the No. 16 recruit in his class. Antoine is viewed as a possible lottery pick after his freshman season, but he recently had shoulder surgery and might not play against the Buckeyes. Collin Gillespie, Jermaine Samuels and Saddiq Bey each started at least 22 games last season and return for 2019-20.
Player to know: Collin Gillespie. Without Booth and Paschall, Wright needs a couple players to step into their offensive roles, and Gillespie might be his best option. Last season, the 6-foot-3, 183-pound guard averaged 10.9 points per game while shooting 40.9 percent from the field and 37. 9 percent from beyond the arc. He'll have a larger ball-handling role, now that Booth is gone, too.
North Carolina (Away: Dec. 4)
Preseason projections: No. 6 (ESPN), No. 6 (Stadium), No. 8 (CBS Sports), No. 12 (NBC Sports)
Team outlook: Roy Williams certainly didn't want to rebuild. So even though North Carolina lost its five top scorers and only returns one starter, it's positioned as a possible top-10 team due to a mass influx of talent coming both from freshmen and transfers. Cole Anthony has a chance to become the top freshman in the country, and he's joined by five-star center Armando Bacot, who also could make an immediate impact. William & Mary wing Justin Pierce, one of the top graduate transfers on the market, chose to play his final year in Chapel Hill. Charleston guard Christian Keeling also transferred and will be immediately eligible. He averaged 18 points per game last season.
Player to know: Cole Anthony. Though CJ Walker might begin the season as Ohio State's starting point guard, a matchup featuring Anthony and DJ Carton – two prolific freshman point guards – would be fascinating. Anthony enters college on the one-year plan. He has a chance to become the top pick in the 2020 NBA Draft. At 6-foot-3, 185 pounds, he's the No. 4 overall prospect and top-ranked combo guard in his class. 
Kentucky (Las Vegas: Dec. 21)
Preseason projections: No. 2 (NBC Sports), No. 2 (ESPN), No. 3 (CBS Sports), No. 5 (Stadium)
Team outlook: As with most John Calipari-coached teams, Kentucky lost a boatload of talent, which included Tyler Herro, P.J. Washington, Keldon Johnson and Reid Travis. But also in Calipari fashion, he's adding the second-best recruiting class in the country to the mix. Five-star prospects Tyrese Maxey, Kahlil Whitney and Keion Brooks will join Bucknell graduate transfer Nate Sestina and returning starter Ashton Hagans on the roster. Former five-star prospect EJ Montgomery, who averaged 3.8 points in 15.1 minutes as a true freshman last year, could be in line for a breakout season. Kentucky, per usual, doesn't hurt for talent. Calipari has to figure out how to fit everyone together, though.
Player to know: Tyrese Maxey. Of all the five-star recruits on Kentucky's roster, he's the most likely to become a lottery pick in the 2020 NBA Draft. Maxey was the 10th overall prospect and the third-rated combo guard in his class. He's a prolific scorer, dangerous with the ball from all levels and will challenge Ohio State's young backcourt.
West Virginia (Cleveland: Dec. 29)
Preseason projections: Not in NBC Sports, CBS Sports, ESPN or Stadium top-25 projections
Team outlook: After making the NCAA tournament four years in a row and advancing to the Sweet 16 three of those seasons, West Virginia went 15-21 last season, finishing in 10th place in the Big 12. This offseason, the Mountaineers lost a couple transfers, including James Bolden and Lamont West, and Sagaba Konate kept his name in the 2019 NBA Draft pool. Bob Huggins landed four-star center Oscar Tshiebwe and junior-college scorer Sean McNeil to a pieced-together roster that also includes Youngstown native Derek Culver, who averaged 11.5 points and 9.9 rebounds per game last season. No one knows quite what to expect from this group.
Player to know: Oscar Tshiebwe. As the No. 30 overall player in the country, the 6-foot-9, 250-pound center held offers from numerous schools throughout the country, including Kentucky and Kansas, but West Virginia eventually won him over. He'll likely slide into the starting center spot vacated by Konate, giving the Mountaineers an intriguing one-two post punch with him and Culver. His combination of size and athleticism should immediately translate to the college level.