Chris Holtmann's squad kicked off summer workouts earlier this week with intentions of building on last season's 20-15 record including an upset of No. 6 seed Iowa State in the NCAA Tournament. 
Ahead of the workouts, the program announced a home game against Villanova on November 13 which adds to an already impressive non-conference slate including a home game against Cincinnati, a neutral site affair versus West Virginia in Cleveland, a date with Kentucky out in Las Vegas and a matchup with an ACC team, likely on the road, as part of the annual B1G/ACC Challenge. 
Even with the grueling non-conference schedule, Holtmann's group has designs on challenging for a conference championship and making a deeper run in the tournament. To do so, Ohio State will need contributions from incoming freshmen D.J. Carton, E.J. Liddell and Alonzo Gaffney, along with junior transfer C.J. Walker. 
Beyond what the newcomers can bring, even more necessary will be the continued maturation of returning contributors like Kaleb Wesson, Andre Wesson, Duane Washington Jr., Luther Muhammad and others. 
Beyond building strength, conditioning and team unity, a key focus of summer workouts is individual player development as prescribed based on each player's role. 
With that, here are Five Things some of the returning guys will likely be focusing on in an effort to improve their individual skill sets and overall team effectiveness. 
KALEB WESSON - REDUCING TURNOVERS
Fans loved to bark about C.J. Jackson's ball security but the reality is he committed less turnovers per game than Kaleb even though he played significantly more minutes. 
Wesson led the team with 2.3 turnovers per game, racking up a total of 73 against 59 assists on the season. It should be noted Ohio State won 12 of the 15 games in which Wesson had at least three turnovers and went 4-2 in outings in which he had four or more. 
That said, for his own development, cutting down on poor passes out of the post and strips while bringing the ball down to his waist can only help his stature with pro scouts. 
As a team, Ohio State's 12.5 turnovers per game ranked third-worst in the league last year and if Holtmann wishes to have even more of the offense flow through Kaleb, cutting down the turnovers a bit can only help the Buckeyes.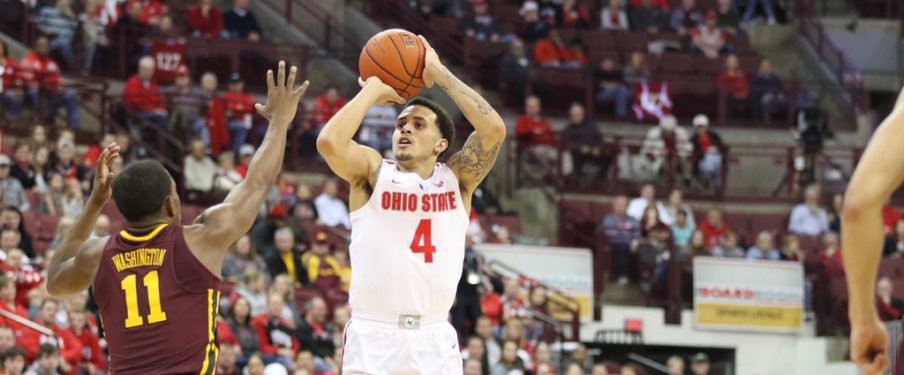 DUANE WASHINGTON JR. - SPLASHING TRIPLES
As a true freshman, Washington Jr. showed legit promise as a scorer and three-point bomber though he often had to resort to volume shooting to put up points thanks to sometimes-painful 37% shooting from the floor. 
Washington gave a glimpse of what he can do from beyond the arc with four triples in five tries across two important wins over Penn State and Indiana in early February but over the final 12 games, things didn't go so well. 
The sophomore-to-be missed 35 of his final 45 triple tries (22.2%) including a 1-for-6 showing at Maryland, a 1-for-7 at Northwestern and a 1-for-5 against Wisconsin. 
Over the full B1G slate, Washington Jr. shot 22-for-84, good for 26.2%. 
It's important to remember he's not the first true freshman to struggle from distance. Marksman Jon Diebler made just 28.9% of his three-point tries as a true freshman (48/166) only to drill 41.6% as a sophomore, making 96 of 231 attempts. 
Throw in the fact Washington Jr. never seemed to lose confidence and there's good reason to expect he'll realize a significant jump in his shooting percentage from distance after he hoists thousands of jumpers this summer. 
LUTHER MUHAMMAD - FINDING CONSISTENCY
Muhammad was a beast for most of the first half of the season, reaching double figures in four of his first six collegiate games, and later scoring 10+ points in six of his first eight conference tilts – all while playing dogged on-ball defense – before the wheels came off a bit down the stretch. 
Over the first 21 games, Muhammad averaged 30.1 minutes per game and had 12 more assists than turnovers while scoring 10.5 points per night on a respectable 44% from the field. 
Over the final 13 contests however, Muhammad averaged just 3.4 points on 17.7% from the field (11 for 62) with 18 turnovers against 16 assists as his minutes plummeted to 20.9 per game. 
His slump coincided with Keyshawn Woods' late resurgence which certainly didn't help Muhammad's minutes but the shooting woes and overall struggles in his offensive floor game were hard to miss. To his credit, Muhammad took his diminished role in stride, often leading the cheers from the bench and continuing to play aggressive defense. 
To take the next step however, Muhammad will look to bring more consistent offensive contributions whether it be scoring, ball-handling or passing as the Buckeyes look to make some noise this season.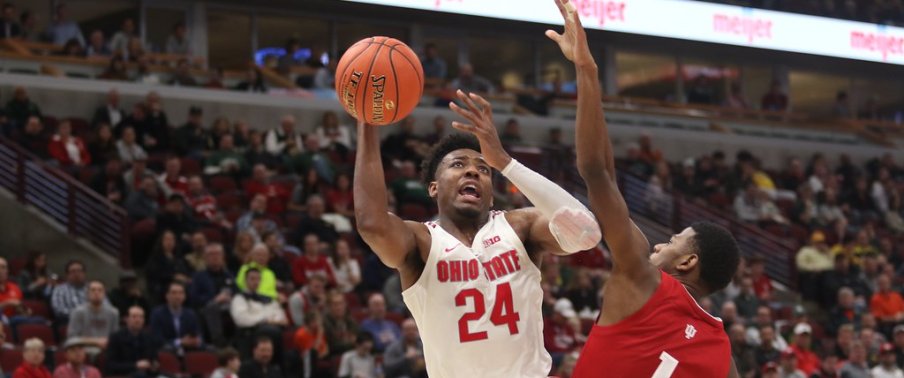 ANDRE WESSON - POLISHING OFFENSIVE GAME
Wesson outperformed the expectations of just about everyone last season as reached double figures in 12 conference games while averaging 8.6 points, 4.1 rebounds and 1.8 assists in 35 total games. 
Looking deeper into the numbers, not only did Wesson play a much larger role as a junior than he did as a sophomore, but he made significant strides in polishing his overall offensive game. 
As a sophomore, Wesson shot 37.9% from the floor but improved to an even 43.0% last year. Much of this gain came as he looked to create more opportunities inside the arc. 
During his sophomore season, Wesson took more threes (56) than twos (31) even though he shot 54.8% from inside the arc and just 28.6% behind it. Last year, Wesson actually took more twos (127) than threes (110) though his percentage inside the arc dropped a bit (51.2%) while his accuracy beyond it saw nice improvement to 33.6%. 
Over the summer, Wesson will work to build on his accuracy from beyond the arc but hopefully also continue developing moves inside it while refining his midrange jumper and shots around the paint. 
Even more aggression toward the hoop could pave the way for more free throw opportunities which would be a great thing for Ohio State as Wesson has shot roughly 75% over the last two seasons. The senior-to-be made almost four times as many trips to the line last year than he did as a sophomore while ranking third on the squad in free throw attempts. 
KALEB WESSON - STAYING ON THE FLOOR
It's no secret Ohio State is a better team with Kaleb on the floor and last year he averaged just the fifth-most minutes on the team at 25.9 per game. 
Wesson fouled out of six games and racked up four fouls in 8 others meaning he had four or more fouls in 44% of the 32 games he played. 
In the six games in which Wesson was disqualified, Ohio State went 1-5 as the big man averaged 21.7 minutes, 11.2 points and 4.7 rebounds. For comparison, Wesson averaged 14.6 points and 6.9 rebounds on the season. 
To his credit, Wesson did make significant progress over the final eight games – book-ended by his three-game suspension – fouling out just one time, tallying three games with three fouls and four games with two or fewer fouls. Even better, six of those games came against ranked teams as Wesson averaged 28.5 minutes, 14.9 points and 8.6 boards per contest. 
Even with all the new talent coming in this fall, Wesson is Ohio State's best player and most-proven offensive threat and its vital he stays on the floor. Continuing to enhance his basketball IQ, improving his ball screen defense and conditioning can only help him achieve exactly that.