Some coaches get nervous when their players who they expect to return for another year of college basketball go through the NBA pre-draft process.
Their minds start to wander.
Will NBA personnel tell my player he needs to change positions? Will they tell him to play a style that doesn't fit my system or team? How much of their feedback will contradict what my coaching staff tells him?
Chris Holtmann didn't have those concerns about Kaleb Wesson – at least, that's what he said on Wednesday. During Wesson's pre-draft process, which spanned from when he announced he'd enter the draft on April 10 to when he withdrew on May 28, he worked out with two teams: the Boston Celtics and Atlanta Hawks. The feedback Wesson received, Holtmann said, strongly correlated to what the coaching staff had been harping on for much of the past two years.
"So much of what they're saying that he needs to get better at really, certainly benefits him, but it benefits our team," Holtmann said on Wednesday. "It's all the things that he's heard. Fitness, defending ball screens. Ball-screen defense has become a constant. He knows that, Kaleb knows that. And he did make improvements. There's no question he made improvements in his mobility and his ball-screen defense from Year 1 to Year 2, from his freshman to sophomore year. But those things continue."
"They like that his skill level is what it is. I think they'd like to see his turnovers go down a little bit more, his rebounding increase a little bit. Not one time did scoring come up. I think they know that he's capable of scoring."
Wesson didn't appear on almost any draft ranking. ESPN didn't have him among its top-100 prospects. He didn't receive an invite to participate in either the NBA combine or the G League combine.
But Wesson didn't enter the draft with the plan of leaving Ohio State. Holtmann said he intended to go through the pre-draft process but "in all likelihood return" to school for his junior season.
Still, Holtmann saw no reason for Wesson not to go through the process, considering the benefit of hearing from NBA teams about what he should work on. He didn't miss workouts or practices with the Buckeyes, and he had the option to remove his name and continue playing college basketball, so there's minimal downside of entering into the draft pool.
"I'm like an angry parent when I hear people criticize our players," Holtmann said. "I'm not sure if he received criticism, but I hope he didn't, for going through the process, because I think it makes sense."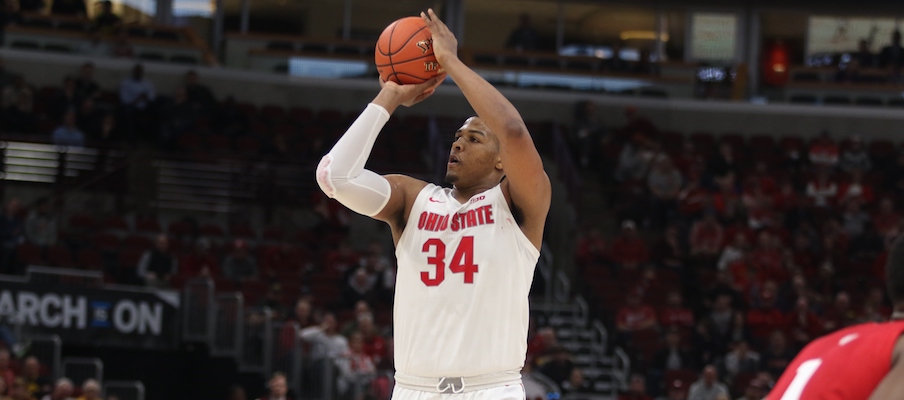 Wesson's two workouts came with teams that have noteworthy ties to the Buckeyes.
Chris Jent, a former Ohio State assistant coach, is on the Hawks' staff. Former Butler coach Brad Stevens, the Celtics' head coach, is a close friend of Holtmann. Though college coaches can help players get workouts with NBA teams, Holtmann said there are restrictions about how much they can aid them. He said Wesson, in both instances, earned the workouts based on catching the eyes of Boston's and Atlanta's scouting departments.
He said Wesson "probably had some nerves" in his first workout, which came in front of the Hawks. In front of Boston in his second workout, Holtmann said, Wesson shot "really well."
"I think he went in knowing, probably because how much we had said to him, he knew what they were going to say," Holtmann said. "Fitness. Ball-screen defense. Continue to diversify your game a little bit. Grow in your ability to extend your range a little bit. They talked to him a little bit about finishing, as well. Becoming a better two-point finisher. I think a lot of the things that were said, he expected."
Wesson, who averaged 14.6 points, 6.9 rebounds and 1.8 assists in 25.9 minutes per game last season, doesn't look like the typical new-age big man. He often tells Holtmann, "Coach, you know, I'm not Clint Capela," referring to the long-armed, athletic Houston Rockets big man who averaged a double-double and thrives off of defense.
At 6-foot-9, 270 pounds, he's not a fit for every NBA system. But Holtmann said Wesson knows that, accepts it and doesn't try to be something he's not.
"Listen, Kaleb and I have talked about this. There are going to be some organizations that will not like his game, just like some organizations differ on the top-five picks in the draft," Holtmann said. "There's going to be others that will, that really value what he brings in his skill. That's always going to be true. That was the case last year with Keita. Some people just, they have differing opinions for what they're looking for.
"It just takes one, right?"
That one team won't take Wesson in the 2019 NBA draft.
But in the next couple of years, he aims to make it happen, and the Buckeyes hope to benefit next season from the improvements he makes after hearing from NBA teams.