TULSA, Okla. – The formula is simple.
Play lockdown defense. Run the offense through Kaleb Wesson. Hope a couple role players step up.
If – and only if – those three things happen, Ohio State has a chance to win against high-level opponents. And even then, no outcome that benefits the Buckeyes is guaranteed.
"I think there is a bit of a blueprint in terms of what you have to be night in and night out in order to win, at least that's the way that I've found it is," Chris Holtmann said. "And for our team right now to win, it did need to be a certain type of a game. And if it's ugly, it's ugly. It needed to be a certain type of game for us to be able to play against (Iowa State) because they're so gifted offensively. I think we made it that. Sorry if people didn't enjoy it."
Holtmann's apology in the wee hours of Friday wasn't needed for those in Columbus.
Eleventh-seeded Ohio State eked out a 62-59 win against sixth-seeded Iowa State, pulling off an upset few envisioned, sending Holtmann's team to the second round to face third-seeded Houston.
The result might have surprised much of the country, but how the Buckeyes won shouldn't. They followed the same formula that led them to earn an at-large bid into the NCAA tournament despite a flawed team.
Since Holtmann arrived in Columbus, he has preached defense, and that certainly didn't change when he learned its first-round draw ranks in the top 10 in adjusted offensive efficiency and averaged 77 points per game.
Thus, leading up to the Buckeyes' first-round game against the Cyclones, Kaleb Wesson estimated the coaches spent 80 percent of their time preparing the team's defense.  Holtmann's staff even installed a secondary defense that he was prepared to turn to if the situation called for it.
"We talked about the entire week going into the game," Wesson said. "Just talking about how high volume their guys can shoot. They have a quick pace, so it really helped to have that preparation. Our coaching staff spent a lot of endless nights on it."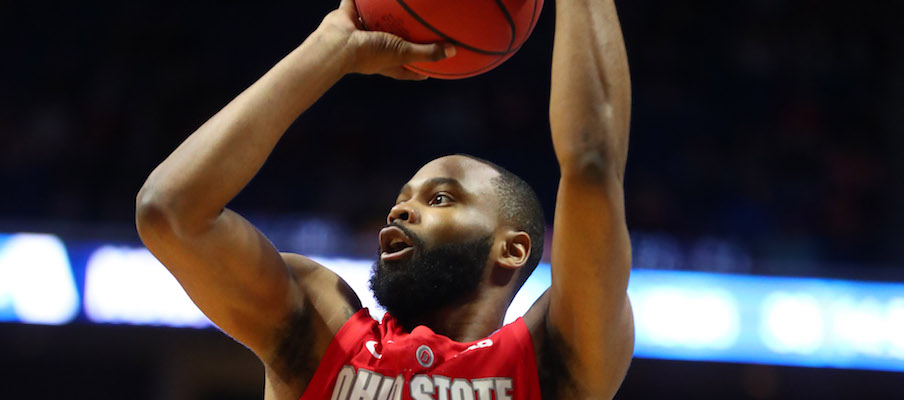 Endless preparation turned into positive results for Ohio State, and it happened quickly.
Iowa State went 1-of-7 to open the game then made 6-of-7 shots, exciting the BOK Center filled with Cyclones fans. But unlike what has happened at some points this season, such as when Purdue went on a seemingly unstoppable run of made shots, the Buckeyes sent Iowa State into a hapless drought.
During a stretch that lasted nearly 10 minutes, the Cyclones missed 11 field goals in a row, the most dominant part of a defensive performance that Holtmann called "tremendous." Keyshawn Woods called the showing one of the five best on defense this season, but his coach took it even further.
"I told our guys that if we were going to win the game, we would need to have to most complete and best defensive effort of the year," Holtmann said. "I firmly believed that. I did not think we could be anything but our very best and most complete defensive effort team-wise, and I didn't think we'd win if we didn't. I think it was our best."
With four starters who shoot at least 34 percent from beyond the arc, Iowa State threatened to beat Ohio State from outside, but Holtmann focused on the interior. Just like his team, which plays an inside-out game while fitting its offense around Wesson, the Cyclones have a drive-and-kick offense that Holtmann "virtually impossible to stop."
It's a good thing Holtmann left some wiggle room while describing its opponent, though, because the Buckeyes did about as good as any other team forcing Iowa State into tough shots. The Cyclones shot just 27.3 percent from beyond the arc. Marial Shayok proved difficult to guard, but even he hit tough shots that were challenged by defenders.
"Even late when we couldn't score, we still was able to get stops," Woods said. "We've just got to keep that going with us and we can continue to win games in this tournament."
Woods' 3-pointer that gave the Buckeyes a four-point lead with 2:44 remaining was the team's final made shot of the game.
Both Wesson and Woods hit pairs of free throws to give Ohio State four more points, but it relied on its defense in the last couple minutes to pull out the win.
"We've been in so many games like this up to this point, it kind of just comes second nature, especially playing in the Big Ten night in, night out," C.J. Jackson said. "Games are close, games are decided by one or two possessions, so once you get here, you're kind of used to it."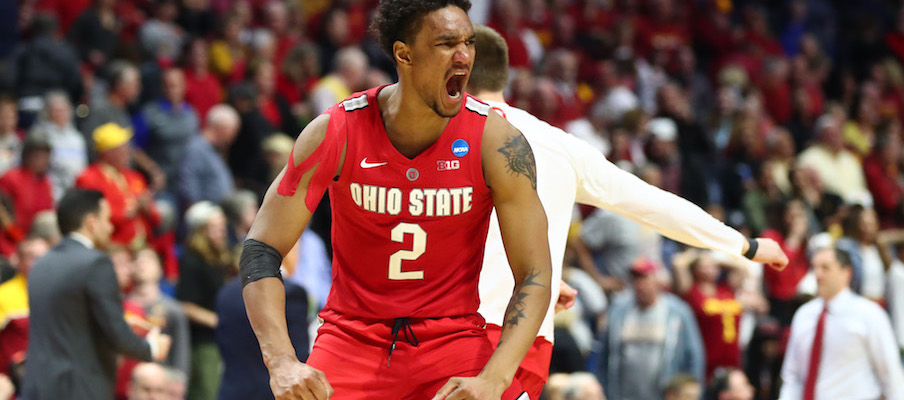 Ohio State would probably prefer not to have so much experience with tight games, but that's what happens with an offense that doesn't have the firepower to pull away from most teams in the Big Ten.
Throughout this season, the Buckeyes have relied on a Wesson-focused offense, which became readily apparent when they struggled mightily to score during his late-season three-game suspension. With him in the game, Ohio State has a big man capable of scoring both inside and outside while pulling defenders toward him and away from the team's secondary options who play off of him.
Once again, Holtmann relied on Wesson against an Iowa State team that started four guards and just one player taller than 6-foot-6. The 6-foot-9, 270-pound big man provided exactly what the Buckeyes needed, hitting 8-of-15 shots for 21 points and grabbing 12 rebounds.
"We knew we weren't going to win unless he imposed himself physically for as many minutes as we could ride him," Holtmann said. "He had to stay out of foul trouble in order to make that happen. You're never sure when you're watching tape if you can attack them in certain areas until you're actually playing. We did feel like we could get the ball in spots. Our guys did a great job getting it to him, and he did a tremendous job imposing himself. He got a little bit tired in the second half, and it affected his defense, but he was fantastic."
Ohio State avoided a potential catastrophe when Wesson picked up his second foul with 6:31 remaining and his team leading by one point. With Holtmann not wanting to risk a third foul, he headed to the bench and Kyle Young replaced him.
Without Wesson on the court, the Buckeyes maintained their steady of defensive play and had four different players hit shots to extend their lead to two points by halftime without ever needing to sub the starting center back in the game.
In order to clinch the upset, Ohio State needed someone else to step up – especially on offense – along with Wesson. Keyshawn Woods responded by scoring in double figures for the fourth time in the past five games, dropping 19 points. Musa Jallow added 11 points, hitting all five shot attempts and showcasing his athleticism with an alley oop.
Defense? Check.
Wesson's dominance? Check.
A couple role players stepping up? Check.
Every stop mattered, and Holtmann admitted the showing might not have have been pretty for some viewers. He didn't care, though, and nor did any of his players.
It worked.
"That was the type of game we needed it to be to win," Jackson said.