Ohio State pulled off an upset in the first round of the NCAA Tournament, defeating No. 6 seed Iowa State by a score of 62-59 late Friday night in Tulsa, Oklahoma, but the Buckeyes' path to advance in the tournament doesn't get any easier from here.
If the No. 11 seed Buckeyes are going to continue their run in the NCAA Tournament to a second weekend, they're going to have to pull off an even bigger upset over Houston – the No. 3 seed in the Midwest Region – who rolled to an 84-55 win over No. 14 seed Georgia State in its first-round game on Friday.
As the Buckeyes gear up to play the Cougars at 8:40 p.m. on Sunday, we take a closer look at the Buckeyes' second-round opponent.
Only three losses
Following its win over Georgia State on Friday, Houston holds a record of 32-3 this season, with their only three losses coming to the other three American Athletic Conference teams who made the NCAA Tournament: Temple, UCF and Cincinnati.
That said, the Cougars also had six regular-season wins over NCAA Tournament teams, including two wins over Cincinnati and one win over both Temple and UCF, as well as December non-conference wins over Oregon and LSU (who both won their first-round games).
Houston's 69-57 loss to Cincinnati in the AAC tournament final last Sunday was its only double-digit loss of the year. The Cougars won their first 15 games of the year before their 73-69 loss to Temple on Jan. 9, then went on another 12-game winning streak before their 69-64 loss to UCF on March 2.
Davis Jr. leads the way
Houston's star player is 6-foot-1, 190-pound point guard Corey Davis Jr., who earned unanimous first-team All-AAC honors this season. He led the Cougars with 16.7 points per game during the regular season, adding 3.2 rebounds and 2.7 assists per contest.
The Lafayette, Louisiana native, who spent two years at San Jacinto College before joining Houston for his final two seasons of collegiate eligibility, got his tournament off to a great start against Georgia State, scoring 29 points and adding seven rebounds and six assists in the Cougars' 29-point win. He became the first player in AAC history to make seven 3-pointers in an NCAA Tournament game, and did not have a single turnover in 34 minutes.
Make that SIX triples for Corey Davis Jr. #MarchMadness pic.twitter.com/mjZk3iXPNd

— NCAA March Madness (@marchmadness) March 23, 2019
Dominant on the glass
Houston has averaged 41.2 rebounds per game this season, which ranks as the third-best average in the NCAA – behind only North Carolina and Duke. The Cougars have only allowed their opponents to bring down 33.4 rebounds per game, good for a rebound margin of 7.8 rebounds per game that also ranks among the top 10 nationally.
They've done that without having one single dominant rebounder, but because everyone who sees regular playing time is a solid contributor in that area. Junior guard Armoni Brooks leads the Cougars with 6.5 rebounds per game – even though he is just 6-foot-3 and 195 pounds – but all 10 of their players who have played at least 10 minutes per game this season have averaged at least three rebounds per game.
Braeon Brady, a 6-foot-8, 260-pound forward from Akron, Ohio, is Houston's most efficient rebounder, averaging four rebounds per game in just 13.9 minutes per game.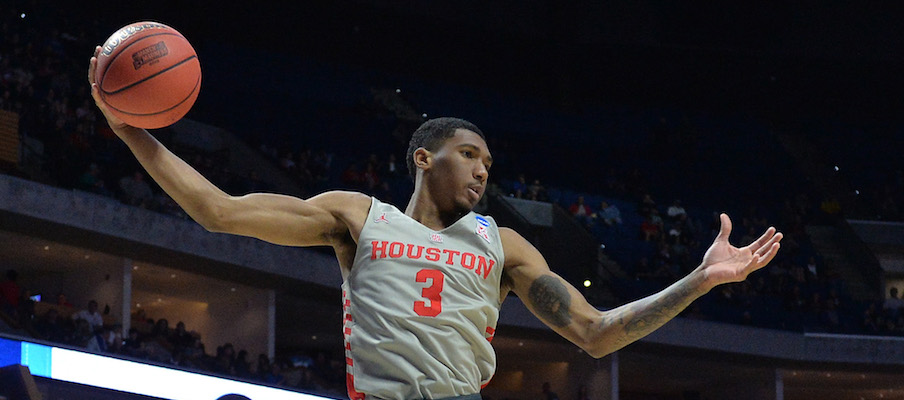 Tough to score on
Houston has also been one of the best defensive teams in college basketball this season, holding opponents to 61.1 points per game, which ranks as the eighth-best mark in the nation this year.
The Cougars have done that by holding opponents to making just 36.5 percent of their shots from the field – the best mark among all teams in college basketball this season.
Houston doesn't give up many easy shots, which means Ohio State is going to have to run its offense through Kaleb Wesson, work to create high-percentage looks and knock them down when they become available.
One previous NCAA Tournament meeting
Ohio State's only previous game against Houston in the NCAA Tournament place took place 51 years ago Saturday. After both teams made a run to the Final Four in Los Angeles, the Buckeyes and Cougars met in the national third-place game, with Ohio State defeating Houston, 89-85.
Steve Howell scored 26 points, while Bill Hosket and Dave Sorenson each scored 19, to lead Ohio State past a Houston team that featured future Basketball Hall of Fame inductee Elvin Hayes, who led the Cougars with 34 points and 16 rebounds.
Ohio State hasn't had any recent meetings with Houston, but the Cougars' head coach does have experience going up against the Buckeyes; Kelvin Sampson, who is in his fifth season as Houston's head coach, was previously Indiana's head coach from 2006-08 before he was forced to resign from the Hoosiers due to NCAA violations.