Kaleb Wesson didn't need to prolong the inevitable any longer. On Tuesday, 48 days after entering the 2019 NBA Draft, he announced his plan to return to Ohio State for his junior season.
The expected news didn't come as any sort of surprise. Wesson, who participated in group workouts for the Boston Celtics and Atlanta Hawks, didn't earn an invite to either the NBA or G League combines. ESPN didn't have him among the top-100 prospects.
But the announcement served as a reminder of sorts. A reminder that, despite numerous questions hovering over this group, a path exists for Ohio State to contend in the upper echelon of the Big Ten in the 2019-20 season.
Let's be clear: the Buckeyes won't enter the 2019-20 basketball season as the favorite to win the Big Ten, and nor should they be viewed as the likely champion. More than likely, they'll be picked between third and fifth in preseason projections. Tom Izzo-coached Michigan State, which returns 2019 Big Ten player of the year Cassius Winston, will have a stranglehold on the top spot.
But if all goes right in Columbus – and there's a lot going on in that qualifier – Ohio State has enough talent to challenge just about anyone in the Big Ten.
Let's take a brief run through the roster.
The starting point guard duties will either be handled by Florida State transfer CJ Walker or four-star freshman DJ Carton. Luther Muhammad is back for his second year as a starter at shooting guard. Bench scorer Duane Washington Jr. and defensive stopper Musa Jallow both averaged at least 15 minutes per game last season.
Andre Wesson, the sole senior, had a minor offensive breakout last season, and he'll likely start at small forward. Second-year shooting specialist Justin Ahrens and four-star freshman Alonzo Gaffney will fit in at forward. Kyle Young, who started half the games last year, and four-star freshman E.J. Liddell will mix in at power forward. And, finally, Kaleb Wesson, who led the team with 14.6 points and 6.9 rebounds per game last year, returns as the starting center. Freshman 7-footer Ibrahima Diallo will back him up.
Ohio State has reason for optimism at all five positions. Wesson, at center, is surrounded by a pair of quality point guards, six potential contributors at shooting guard and small forward, and two power forwards with games that complement each other.
Of course, though, there are reasons why expectations have been relatively kept in check.
This team will rely heavily on seven underclassmen, including four freshman, for a healthy dose of production, and that's always an uncertain and uncomfortable reality filled with significant variance.
Carton could start at point guard. At the very least, he'll have a sizable role alongside Walker at the helm of the offense. Liddell is in a similar position to Carton. Due to his college-ready offensive skillset combined with his length, propensity to block shots and rebounding ability, he'll be in the mix with Young to start at power forward, and he might be the favorite. Gaffney could factor in at either small forward or power forward, and Diallo is the only true center on the team other than Wesson, so he figures to get minutes at times.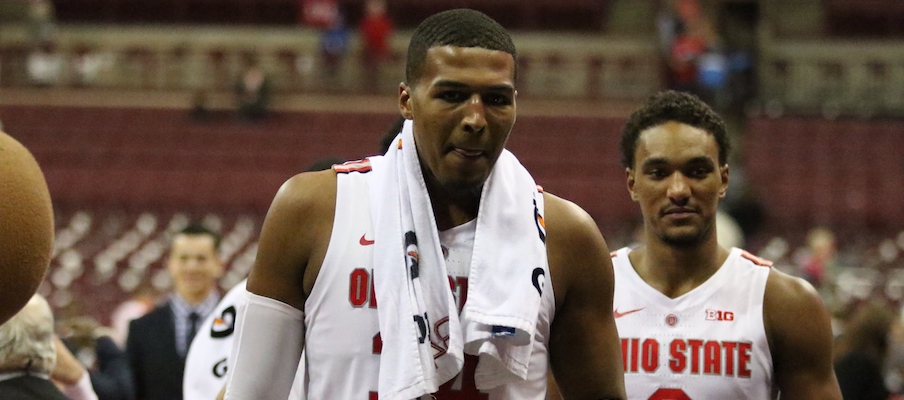 In order to max out, Ohio State is relying on its second-year players – Muhammad, Washington and Ahrens – to make strides, too. Muhammad will likely start for the second year in a row, and though he played well for the first half of the season, when the Buckeyes began the Big Ten portion of their schedule, his game dropped of significantly. Washington and Ahrens had up-and-down first seasons.
Also, though the team looks notably different with four additional freshman and a transfer point guard added and Keyshawn Woods, C.J. Jackson and Joey Lane gone, it's worth remembering that the Buckeyes barely eked into the NCAA tournament last season, had a 20-15 overall record that won't strike fear into anyone and went 8-12 in the Big Ten. A number of key contributors on that middle-of-the-road team remain important pieces.
"I also know that we have a lot of work ahead of us," Holtmann said in early May. "I think significant question marks about how we're going to be in certain areas and the improvement we need to make in certain areas given the year we just went through in the Big Ten. But I feel like our program is very healthy now."
Despite all the concerns that will linger until Chris Holtmann's team either proves them worthy or unworthy, the group's talent level can't be denied. Having Wesson stick around ensured that.
Plus, just take a look around the Big Ten. Sure, Michigan State looks like a potential juggernaut, once again. But beyond the Spartans, openings exist in the upper portion of the conference.
Michigan, Maryland, Purdue and Iowa are expected to be among the teams jockeying with Ohio State for position on the tier below Michigan State, but each of them have question marks. The Wolverines lost John Beilein and three starters to the NBA. The Boilermakers won't have Carsen Edwards. The Hawkeyes possibly won't have Jordan Bohannon for the entire season due to a hip injury. The Terrapins have to replace Bruno Fernando.
Ohio State undoubtedly has its own concerns. And with non-conference matchups against Villanova, West Virginia, Cincinnati and Kentucky, Ohio State will have an idea how it stacks up against top-25 competition long before it enters the in-conference portion of its schedule.
But with Wesson returning, an influx of young contributors and uncertainty elsewhere in the Big Ten, a path for the Buckeyes to compete atop the conference exists. In case anyone forgot, Wesson reminded them on Tuesday.