If Kaleb Wesson had remained in the 2019 NBA draft pool, he wouldn't have heard his name called Thursday night in New York City.
He didn't get invited to either the NBA draft combine or the G League combine. Neither ESPN nor The Athletic ranked him among their top-100 prospects. He only had two pre-draft workouts, which came with the Boston Celtics and Atlanta Hawks. NBA teams just didn't seem that interested in him as a potential draftee even though he averaged 14.6 points and 6.9 rebounds for the Buckeyes as a sophomore.
A day before the deadline to decide whether or not to remain in the draft, Wesson announced he'd continue his college career and return to Ohio State for his junior season.
"I had a feeling I'd come back because the buzz around, I don't really have any draft stock," Wesson told Eleven Warriors at Ohio State's job fair on Friday.
To Wesson, the lack of interest in him was simply the reality of the situation.
"I wasn't disappointed," he said. "That's just how it is. Obviously I didn't do enough to where people know who I am yet."
Had he remained in the draft and seemingly inevitably not been selected, Wesson still could have begun his professional career.
"I'm excited. Just go to work every day and let the results speak for themselves. I feel like we have a talented group."– Kaleb Wesson on the 2019-20 Buckeyes
In the past year, nearly 20 former Buckeyes spent time on international teams, playing on teams in Belarus, Japan, Greece, Italy, China and Uruguay and other countries scattered around the globe. A few other former Ohio State players spent time on G League teams during the 2018-19 season, as well.
Most American players who don't get drafted and begin their careers overseas or in the G League, though, never end up in the NBA. They spend their entire professional career playing and making a living in various other leagues around the world.
From what Wesson was told when Ohio State took a trip to Spain before the 2018-19 season, he would have garnered interest from European teams.
"People were telling me overseas that I have a buzz over there," Wesson said. "I mean, I can go over there and make money, but there's millions of dollars on the table and I have still have time to make that money at the biggest spotlight I can, so why not do that."
With two more years of eligibility at Ohio State remaining, he wasn't ready to end his quest to play in the NBA.
"That's the goal," Wesson said. "That's the dream."
Wesson felt like his first pre-draft workout, which came with the Hawks, didn't go particularly well. He said "kind of felt it out" and didn't feel like he performed up to his expectations. But in front of the Celtics organization, he performed better after performing with more confidence and less stress. Chris Holtmann said Wesson shot "really well" in Boston.
It helped his mindset, too, that he knew he had the option of returning to school to continue working on his game before attempting to jump to the NBA.
"I just viewed it as just getting feedback from people where I'm trying to go," Wesson said. "Even if I can come back, I can sign an agent and have the full experience and still get my education if I don't get the feedback I want to."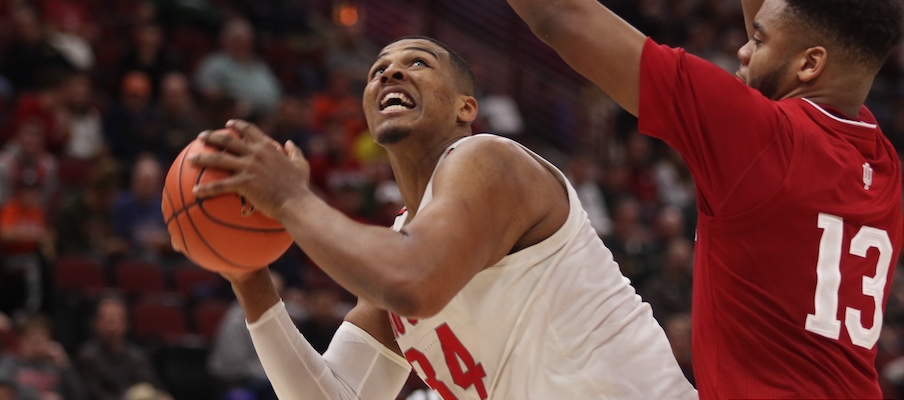 Of course, he didn't get the feedback telling him it would be worth it to keep his name in the draft.
But he did hear from teams what they want to see him improve, and most of the feedback didn't come as a surprise.
"They want to see me guard, switch on ball screens and stuff. A lot of the NBA is ball screens and stuff like that," Wesson said. "Just finishing around the rim. As a big man, my percentage was kind of low. So, just getting that up and just making sure I'm efficient on the floor, staying out of foul trouble, stuff like that."
Holtmann said teams also mentioned fitness, rebounding and turnovers as areas in which they're eventually hoping to see improvement.
Both Boston and Atlanta tested Wesson's 3-point shooting ability, too. After attempting just 14 triples as a freshman, Wesson went 26-for-75 (34.7 percent) from beyond the arc last season, which he hopes will improve his stock as a 6-foot-9, 270-pound big man who can pull defenders away from the basket.
"They wanted to see my range," Wesson said. "They wanted me to shoot further back. They see me shoot from the college line, but they wanted to see how I can shoot further back from the NBA line."
He said he was prepared to fire away from that distance after spending last summer shooting from the NBA line.
During the 2019-20 season, though, he won't have to worry about that. He's back in college, and the Buckeyes have higher expectations to enter the season than at any other point in his time at Ohio State.
"I'm excited," Wesson said. "Just go to work every day and let the results speak for themselves. I feel like we have a talented group."