Four games.
That's all Kyle Young could stomach watching his Ohio State teammates from the bench. He exacerbated a stress fracture in his leg during the Buckeyes' loss to Maryland on Jan. 18, forcing him out of action. He was held out of a pair of losses and a pair of victories before Chris Holtmann unexpectedly called him "day-to-day" the day prior to his team's game against Penn State.
Young had healed quickly and was "feeling really good," which led to what he described as a collective decision to have him return to face the Nittany Lions on Feb. 7. He played 25 minutes in the four-point win, but he didn't feel completely healthy – and never did the rest of the season.
"I think I might have jumped the gun a little bit early, so that's why the irritation just kept coming back throughout the season," Young said on Wednesday.
The pain never truly subsided, severely limiting his ability to practice. So he went into maintenance mode, with both he and the coaching staff knowing he wouldn't be able to return to full strength until the offseason began, giving him time to get off his feet and rest. He admitted that affected his "bounce," which is an especially important of the athletic 6-foot-8, 205-pound forward's game.
Still, that didn't deter him. He spent four games on the bench and had no intention of returning.
"I would have not been able to sit there and watch just knowing that my team was out there playing," Young said. "It was tough, but it was my choice. It was something I wanted to do."
Rest finally came for Young soon after Houston eliminated the Buckeyes from the NCAA tournament in the second round.
He didn't need any surgeries or long-term fixes – a reduction in his quantity and intensity of workouts did the trick.
"I think I'm back to fully healed now," Young said. "I'm fully clear to do everything. I took some time off during May, went through rehab probably that whole month and just worked on basic skill stuff, fundamental stuff while my body was healing. So I just took that time to really recover. Back to doing everything fully now."
During his recovery process, after a period of rest during which he didn't do much of anything, Young worked to strengthen his legs. That included numerous balancing exercises, conditioning work on the stationary bike and, eventually, running on a treadmill.
In May, he didn't push himself too hard, in order to maintain his path toward full health. But he did get back on the court to practice his shooting, the one aspect of his game he could work on while rehabbing.
"I definitely want to improve my outside game, being able to shoot when I'm comfortable," Young said. "I want to kind of get back to that. Throughout high school, I was always shooting. So I kind of want to get back to that and just back to getting comfortable shooting the ball. And that just comes with being consistent and working on my shot all the time. That's what I've been doing."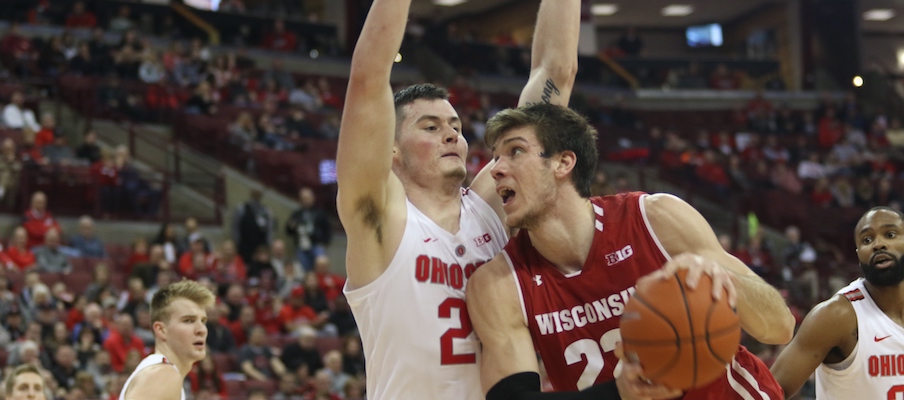 Young shot a Big Ten-leading 67.2 percent from the field, but most of those makes didn't come from outside the paint.
Few players in the country took as many high-percentage shots as Young, who lived inside. Per The Stepien, 68.5 percent of his shots came at the rim, where he made 79 percent of his attempts. He shot 42.9 percent of his 28 shots from the short mid-range area, and he attempted just six shots from beyond the 3-point arc, making one.
Don't expect Young's game to change drastically; he'll still be the athletic, energetic, always active power forward he was last season.
"Kyle brings a lot of energy to the game, just with his athleticism, his willingness to do whatever it takes to help the team win," Andre Wesson said. "It's something that we really need, and that's why we love K.Y."
But Young wants to be more than that on offense, so he's working to expand his game beyond alley-oops and cleaning up on the interior for his teammates.
He specifically mentioned pick-and-pop 3-pointers as a shot he hasn't taken much in college, but one he hopes to add to his arsenal.
"I love those kind of shots, when I can," Young said. "I just didn't feel like that was a part of my game last year, really. I was focused more on doing the rebounding, scoring off other people, stuff like that in the post. But that's something that I definitely want to improve on. And my short post game. That could be turnarounds, whatever it is. But I've just got to keep working on that."
Young stepped into a sizable role as a sophomore, increasing his minutes per game from 8.6 as a freshman to 20.5 in his second year as a Buckeye. He started 14 games before coming off the bench after his return from injury. His points per game jumped from 1.8 to 6.0, and his rebounds per game rose from 1.6 to 4.4.
To have an even larger role as a junior, he'll have to continue to develop his offensive game and hold off four-star freshman E.J. Liddell, who will push him for the starting power forward position. But more important than anything else, he has to stay healthy.
"I'm praying on 100 percent health throughout this next year, no setbacks," Young said. "I've just got to keep improving my game and working on things that I need to so I can go into next season better than I've been the past two years.