Ohio State's football season is now 25% complete.
No need to panic - these things are rarely linear, so your 2-1 Buckeyes are not destined for an 8-4 record. They aren't doomed to finish this schedule ranked in the triple-digits in both rushing and passing defense, as they are currently. They're not locked into a Big Reset season.
But it could all happen. Linear, schminear - the only geometry in football is pursuit angles.
A semi-literate Buckeyes enthusiast could watch this team and say you know what, they don't have much of a defense. A football doctor like Kyle Jones examines it and says you know what, they don't have much of a defense but hey at least they're trying new things.
THE TEAM THAT FOUGHT THROUGH A FORFEITED SEASON, DAILY TESTING AND MULTIPLE GAME CANCELATIONS LAST YEAR SEEMED MORE BUOYANT.
I look at it and say hmmm this porno seems familiar. It's easy to spot artifacts from past Ohio State teams that have been, um, this type of surprising. The 2018 one is the freshest and most obvious analog on account of its dichotomous offense/defense dynamic, but the 2008 team is tucked in there too.
That one switched QBs early on and had no real offensive identity (we called everything Tresselball back then; it was easier) until the game started slowing down for freshman Terrelle Pryor - whom you might have forgotten was a little nervous when he was first thrown to the wolves.
Pryor didn't step on the field with TP swagger. That took 150 snaps or so to germinate.
The Justin Zwick portion of the 2004 season shares a similar aroma. If you're a baby or just forgetful, that's the most recent Ohio State team to suffer a three-game losing streak without the handicap of a crippling tattoo scandal. It had no real identity, new defensive coaching and a tepid vibe in everything it attempted to do.
Eventually that team realized it just needed to get its best players the ball as often as possible. Today, we remember the 2004 season exclusively through highlights of the Michigan game, because prior to that shocking Saturday it was already balled up and sailing toward history's trash bin as a Big Reset.
It was super shaky throughout September before losing on each of the first three October Saturdays, a death spiral so vicious it took Neutron Man with it. This 2021 edition is far more talented, so it's jarring that it has the same kind of grim potential.
The least buoyant Ohio State team of the past decade has a 2-1 record. Last season they played in empty stadiums and had three games canceled because of diseases. The current one has a new QB we'll discuss in a moment, a pass rush that still has the shrink wrap on it, what appears to be weird shadow suspensions in various position groups and..something's just off. At least through a quarter of a season.
That full-blown canceled-then-uncanceled pandemic team was far more buoyant out the gate than this one. The 2021 team has been quite a come-down.
And yes, final grades aren't due for months - but we're all realizing the Buckeyes are not as good as they or anyone else thought they should be right now, not as good as they have been recently - and worst of all, not being put in the best position to become any of those things.
But there's still 75% of the tunnel left, and that's a lot of tunnel for a whole lot of talent.
Welcome back, thirsty comrades! Let's get Situational.
OPENING: GLOVES OFF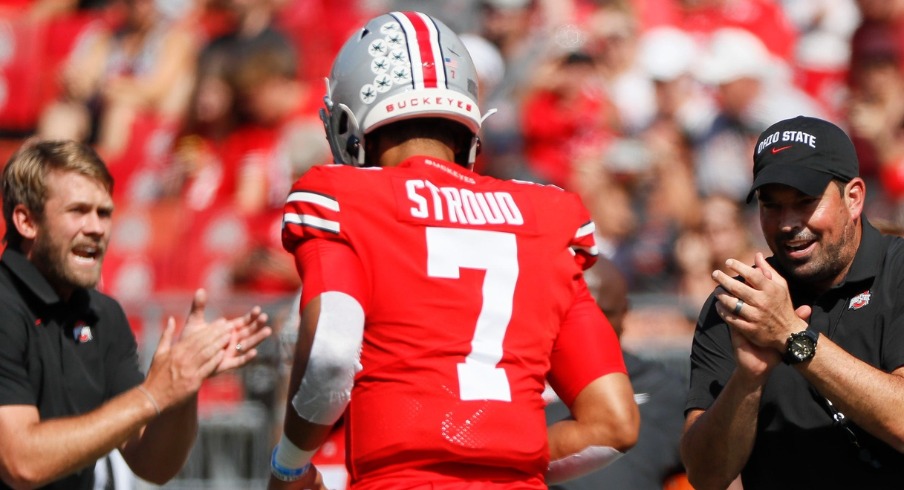 C.J. Stroud is 19. His shoulder hurts. He gets tummy gurgles from anxiety during games.
He didn't participate in live football for basically two full years, and all of a sudden he's the governor of Ohio on Saturdays. The job is not for the faint of heart, and he had to know this. As William Tecumseh Sherman said to Joseph Johnston, better shape up buddy because it's only getting hotter.
Ohio State fans have never had empathy or patience for a quarterback growing up before their eyes, because they don't live and die for a made-for-Disney G-rated football program. They require an alpha who is going to kick in the fucking door and radiate moxie from Day One. No slumped shoulders, no pouty faces, just a death stare or a maniacal laugh.
You're the governor, son. Go scare the shit out of everyone. No no no, not us. Them.
Stroud's arm is strong and his reads are sound. He's definitely capable of running, but for some reason is tamping down on vacating the pocket. But the biggest problem - in three games where his performance has been just fine! - is that he constantly looks deflated on the field.
Like Urban Meyer on the sideline during the brain spiders season - it's not good for team buoyancy! That's a showstopper. Ohio State quarterbacks are allowed two permissible body languages:
Joyful smirking, e.g. relishing in the crimes he's committing against the opposing defense
Condescending stoicism, e.g. Bruce Willis in Die Hard after he gets a machine gun, ho ho ho
And that's it. Those are his two possibilities. Stroud currently looks like he's discovering next week's Accounting exam is actually happening today. That was almost excusable during the 1st half in Minneapolis. Friends, it's no longer the 1st half in Minneapolis.
Nervous quarterbacks suffer nervous quarterback problems. They overthink, overthrow and underrun instead of playing murderous pitch-and-catch with their unguardable, tenured receivers or scrambling for huge chunks of yardage that reliably appear whenever there are unguardable, tenured receivers to attend to.
Wilson and Olave Wide Open

CJ Stroud: pic.twitter.com/ng1Hga6UxU

— Colin Harris (@ColinHarris06) September 18, 2021
Stroud replaced another guy who didn't grow up with Ohio State football. On his first-ever visit to campus, that guy sat courtside at the men's basketball game with the outgoing quarterback and - while he was sitting there in the Schott - found the QB incumbent's sister's Instagram account and liked every one of her posts.
No tummy gurgles. That's how Justin Fields announced he was Ohio's new Saturday governor.
And that's what's required at Ohio State - a classic alpha. It's awesome that Stroud has elite QB intellect and physical capabilities. Unfortunately, this isn't a spreadsheet or a simulation - and it definitely isn't feelingsball.
Stroud can be the guy. He just needs a new vibe he can ride to a Silver Football with the understanding that even then the constituents will not be satisfied. It's always hot in Columbus.
INTERMISSION: THE SOLO
The greatest break-up song of all time is Go Your Own Way by Fleetwood Mac, which is high praise for such a crowded, elite song category. It takes a special vulnerability to turn heartache into performance. Every one of those bangers is meaningful, to someone.
And that's what makes the Whitney Houston version of I Will Always Love You arguably the most impossible cover in recording history. She's delivering someone else's emotionally fraught separation papers - that everyone had heard before! - and yet it still pierces the heart into a million weepy chunks.
Every Gen X male has exactly three things in common:
we all cried at the end of Armageddon, the corniest movie of the 1990s
maybe four of us will admit to it and I'm one of them because I write an open bourbon diary for a sports web site in my late 40s, so decorum and posturing are both long gone
we loved Whitney's banger and Lenny Kravitz's Are You Gonna Go My Way equally in the spring of 1993.
Only one of those got blasted at parties though. Like our crocodile tears when (spoiler) Bruce Willis blew himself up to save earth, this song grabbed us by the heart muscle and squeezed too hard. Anyway, Whitney's I Will Always Love You contains a dividing line, and it is drawn by a saxophone solo.
Let's answer our two questions.
Is the soloist in this video actually playing the saxophone?
That's Kirk Whalum, who served as the sax closer in both Houston and Luther Vandross' bullpens. He's absent from the video because it was a promotional vehicle for The Bodyguard. There are Kevin Costner fight scenes where a sax solo should have appeared. This was a business decision. VERDICT: Inconclusive
Does this saxophone solo slap?
Pop quiz, hot shot: What do Bing Crosby's White Christmas, Elton John's Candle in the Wind 1997, Mungo Jerry's In the Summertime and Bill Haley & His Comets' Rock Around the Clock all have in common, other than you've heard all of them? They're the only four songs in history that sold more copies than the Whitney version of I Will Always Love You.
So there's no reason to defile myself by parsing Whalum's solo to justify a verdict. Humanity already passed judgement on it - the fifth most popular song in history cannot have a sax solo that doesn't slap. That would violate science and religion. Besides, I have much less elegant ways for defiling myself. Armageddon is on TV, somewhere, right now. VERDICT: Slaps.
THE BOURBON
There is a bourbon for every situation. Sometimes the spirits and the events overlap, which means that where bourbon is concerned there can be more than one worthy choice.
People who read this section have varying degrees of whiskey literacy so I'll abruptly tell those on the Beginner end of the gradient that Nikka Coffey Grain Whisky is not bourbon. We'll get back to that in a moment.
Nikka Coffey Grain Whisky is also not whiskey, as you might have surmised from the missing vowel - the e is generally used in America and Ireland but nowhere else. Nikka Coffey Grain Whisky also has no caffeine, because it is whisky. That's not coffee, it's Coffey.
Aeneas Coffey patented the still which bares his name almost 200 years ago in Scotland. A Japanese chemist named Masataka Taketsuru was visiting the country, became fascinated by the technology and brought it back to Japan.
And that's the long road to how Nikka Coffey Grain Whisky was made - so why is a non-bourbon Japanese whisky appearing in the bourbon section?
It's because like rye, Japanese whisky is decidedly bourbon-adjacent. Like bourbon, Nikka is mostly corn on the mash bill. Like bourbon, charred casks made from American white oak are used for both aging and finishing. Like bourbon, Japanese whisky is softer and sweeter than traditional Scotch whisky.
So you'll get the same vanilla and caramel notes you might find with a bourbon, except with Nikka you'll also get some smoke and what you'll swear is beef jerky or bacon. It's phenomenal, easy to find and generally runs between $60-80 depending on distributor mark-ups.
CLOSING: THE C WORD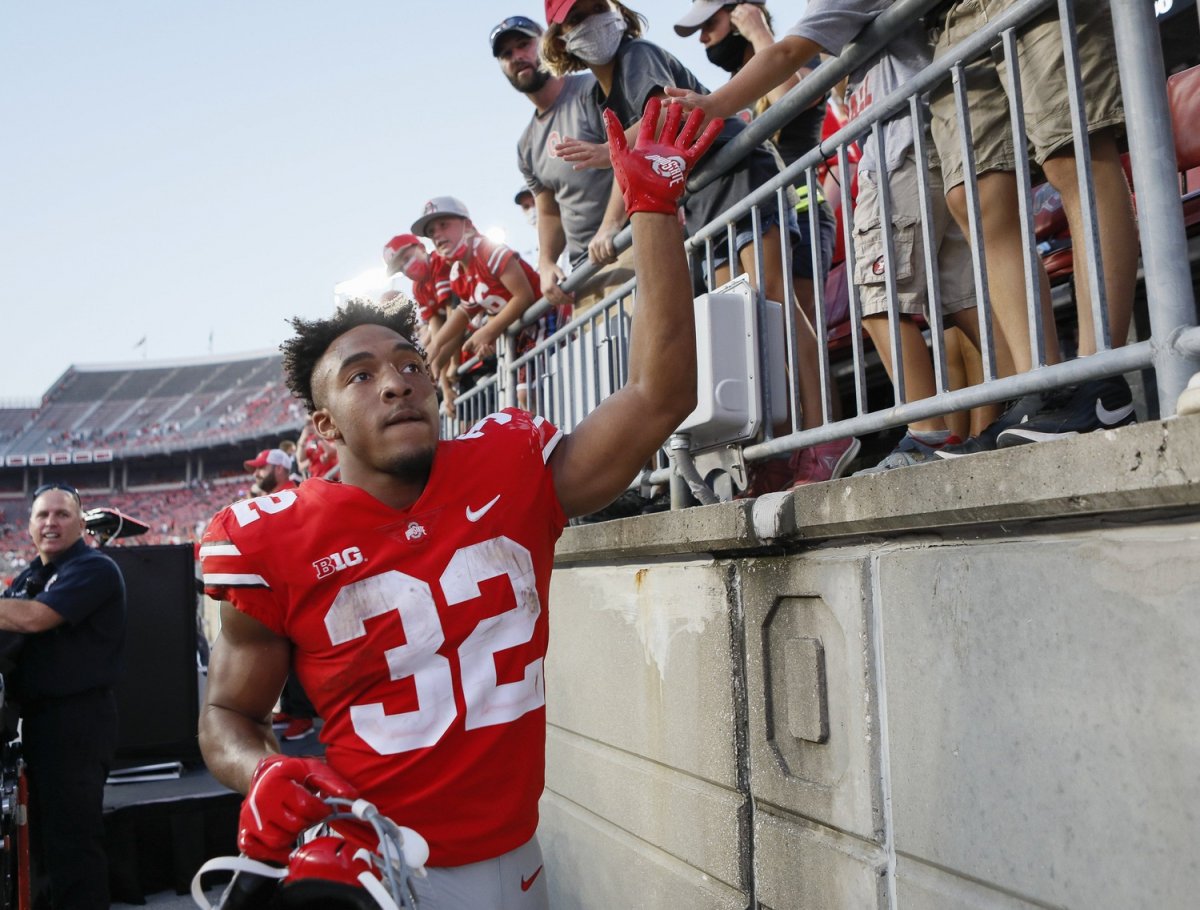 TreVeyon Henderson didn't show up in spring and start riding the upperclassmen for not working hard enough. He didn't receive sensationalized media treatment upon his arrival in Columbus, either.
ESPN didn't latch onto him, run a puff piece shortly after it was clear he was a special talent and disclose that he already had and wore a custom jacket with G.O.A.T. printed on it, as a college freshman.
None of those things happened to Henderson. All of them happened to Maurice Clarett.
Every special Ohio State freshman running back sheds anonymity very quickly, and with the exception of the guys who ended up winning two Heisman trophies - that season does not meld into the rest of the career. It's carved out and remembered for how unique it was.
Remember how Ohio State's season is 25% complete, but there's no reason to panic because these things are rarely linear? Here's how Henderson is projecting through 12 games, compared to some other notable Buckeye freshman running backs.
OSU FRESHMAN RUNNING BACKS

| PLAYER | CARRIES | YARDS | AVG | TD |
| --- | --- | --- | --- | --- |
| ROBERT SMITH | 117 | 1,126 | 6.4 | 8 |
| ARCHIE GRIFFIN | 159 | 867 | 5.5 | 3 |
| JK DOBBINS | 164 | 1,190 | 7.3 | 7 |
| MAURICE CLARETT | 222 | 1,238 | 5.6 | 16 |
| BEANIE WELLS | 104 | 576 | 5.5 | 7 |
| TREVEYON HENDERSON (CURRENT PACE) | 152 | 1,384 | 9.1 | 16 |
None of the other guys on the list had backfields quite as crowded as the one Henderson is in, and he plays in what is by far the pass-happiest offense to boot. If you're having trouble enjoying the season because of **waves hand toward defensive side of the ball** consider investing your fragile psyche in No.32 when he's on the field. Don't blink.
Thanks for getting Situational today. Go Bucks. Beat Akron. Take care of each other.