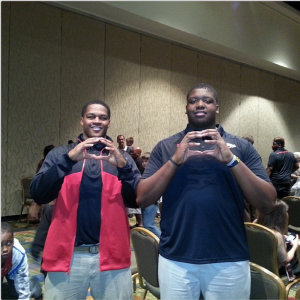 Let's call a spade a spade, huh? This weekend kind of sucked for Ohio football fans, didn't it? The Buckeyes faltered, the Bengals #Bungled and the year of football 2013 ended with all the pomp and circumstance of a wet fart, but hey, it's just football, right?
No, it's not just football in Ohio, we know that. It's life. But football, like life, is cyclical. As the old goes away, the new comes to fruition and we saw a glimpse of that with nearly ten future Buckeyes dominating the Army All-American Bowl in San Antonio.
Yes folks, it's time to turn to the future. Ohio State's 2014 recruiting class is nearly complete, closer to complete by two today after the additions of Marshon Lattimore and Erick Smith at the aforementioned Alamodome yesterday afternoon. Smith and Lattimore gave Ohio State their 20th and 21st commitments respectively in a class that should end up near 23-24.
The names that could finish out the Buckeye recruiting class are known, but we'll take a quick look at the last few guys on the board and where things stand at the moment as well as a quick look at 2015. There is never a day off in recruiting as you all know.
DEFENSIVE ENDS, OFFENSIVE PLANS

The last month has been a good one for the "Dream '14." They've added three major components on the defensive side of things with the pledges of Raekwon McMillan, Erick Smith and Marshon Lattimore and their top wide receiver target of the year with Johnnie Dixon. With only a few spots left, the Buckeyes have narrowed down their targets to a select few and while it's possible a random name might pop up, it's safe to know the dynamite 2014 class is close to its conclusion.
Who is left?
There are basically two positions left that Ohio State will aggressively recruit and it's not a surprise that it's the offensive and defensive lines. The names on defense are known, Solomon Thomas and Malik McDowell, each of whom are scheduled to officially visit Columbus the weekend prior to signing day. The second and third-ranked strongside defensive ends in the country each participated in the Army All-American Bowl this weekend, and Thomas was especially impressive, dominating for the victorious West team.
Ohio State feels — as they should — that they are in a decent position with each defensive end, but at the moment it's Thomas they feel is a bit more likely option. Yes, Stanford is still the team to beat for the Coppell (Texas) native, but the Buckeyes have continued to be near the top of his list for months. How the hire of Charlie Strong at Texas plays into his decision is yet to be seen, but the Buckeyes have had good success in Texas with Tom Herman leading the way and defensive line coach Mike Vrabel is handling Thomas' recruitment personally, which is always a good sign. 
As for McDowell, the one-time Michigan "lean" seems to be trending away from the Wolverines according to a number of different sources. Will the Buckeyes become the benefactor? It's possible, but Michigan State seems to be the favorite for the 6-foot-7, 290-pound end from Southfield (Mich.) 
The Buckeyes are still in pursuit of Virginia Beach (Va.) defensive tackle Derrick Nnadi who scheduled to officially visit the Buckeyes in mid-January, but unless they blow him away, I'd not expect him to end up in Columbus. If I had to, at this moment, make a prediction on those three defensive lineman it'd be this: Thomas goes to Stanford, McDowell goes to Michigan State and Nnadi to Virginia Tech.
What about the offensive line?
With four commitments along the offensive line for 2014, Ohio State hasn't felt the need to press in order to get a fifth, but it still appears they'd like to add at least one more offensive linemen to play alongside Jamarco Jones, Demetrius Knox, Kyle Trout and Marcelys Jones. Here in the 11W war room, we're sticking with Bishop Ready (Columbus, Ohio) lineman and current Virginia Tech commitment Brady Taylor as the player most likely to join Buckeye offensive line coach Ed Warinner's band of brothers. Yes it's true Taylor doesn't currently have a Buckeye offer, but something about it just feels right, so let's let it, huh? Frank Ragnow from Minnesota and Rod Johnson from Missouri continue to be the other names most commonly associated with Buckeye line recruiting, but it seems unlikely either will end up at Ohio State. Ragnow has never visited the Buckeyes and Johnson hasn't been on campus since the 2012 Michigan game.
FUTURE BEGINS NOW

As we prepare to say goodbye to a number of Buckeye favorites, we have already begun welcoming a few others into the fold. Today "Dream '14" members Stephen Collier, Sean Nuernberger, Kyle Trout and Raekwon McMillan arrived on campus to little fanfare but with big expectations. McMillan's arrival was expected of course, but his mother was worried that Winter Storm Some-Stupid-Name could delay the Georgia native, but he showed up as expected.
While the "marquee" positions of linebacker and quarterback are represented with the early enrollees, there may be no player closer to making an impact that Nuernberger, the Buckeyes' future kicker who will take over for the departing Drew Basil. 
By Tuesday, the Buckeyes should have seven members of the 2014 class on campus as Curtis Samuel, Johnnie Dixon and Marcelys Jones are expected to join the others on campus.
LESSONS LEARNED OR LESSONS BEING TAUGHT?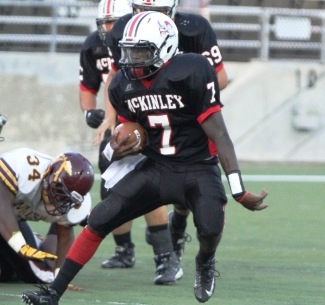 If you're a regular reader of the site in general and of myself specifically, you should know that we don't like to operate under assumptions, rumors or innuendo. There is nothing that is gained from just rehashing what others are "hearing" if we can't validate it ourselves. Occasionally that will come across as us not talking about something that feels like we should talk about, but it's an intentional choice in nearly every occasion. We operate under the pretense that everyone deserves respect and deserves the benefit of the doubt at each and every turn. 
Last week a rumor started making the rounds that one future Buckeyes, 2015 commit Eric Glover-Williams, was looking at some possible reprimands for a legal issue that occurred in his hometown. Williams, the dynamic and game-changing athlete for Canton McKinley high school was reported to possibly be in danger of losing his scholarship opportunity at Ohio State, a claim that was quickly denied by his father to Bucknuts.com recruiting analyst, the Dean of Recruiting, Bill Kurelic. 
While I've heard conflicting stories on the matter of EGW's error in judgment, it appears in this case there is some fire from whence the smoke has come, but I'd be very surprised if Glover-Williams were in fact to lose his scholarship at this time. Ohio State is aware of the rumors and has checked into them, but they will not make any rash decisions about his future.
Glover-Williams is an incredibly talented player, and a young man who is as eccentric as he is talented, but his moment in the sun is going to be quickly eviscerated if he's not able to make better decisions off the field. Ohio State recognizes not only his talent, but also their role in helping mold his future, and because of that you can expect them to institute, at least initially, some qualifications and parameters that could impact EGW's future at Ohio State.
If you know the young man, you can expect he'll be challenged, but he'll succeed. Life has a way of teaching us valuable lessons at the time we need to learn them the most; let's hope this is one of those times for Glover-Williams as a person.