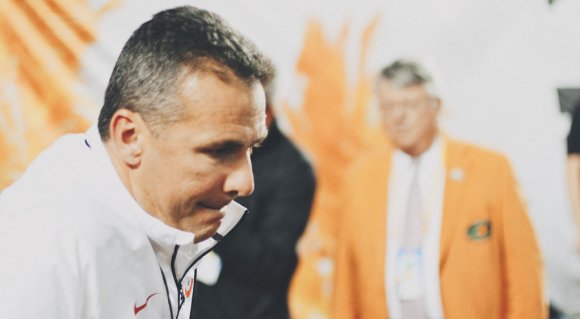 After starting the season with 12 straight wins, making it 24 in a row dating back to last season, Ohio State failed to get it done in Indianapolis against Michigan State, landing them in the Orange Bowl against a Clemson Tigers team that was simply not a favorable matchup for the defensively challenged Buckeyes.  
And while the defense certainly struggled to slow down the Tigers as they racked up 576 total yards in a 40-35 win, the offense and special teams were also forced to share the blame as Philly Brown muffed a punt to swing momentum and Braxton Miller turned it over on Ohio State's final two possessions of the season. 
The early good news is that Braxton Miller will reportedly be back and the recruiting train hasn't been slowed in the slightest by back to back crushing defeats. 
The Buckeyes will lose Ryan Damn Shazier early to the NFL which is absolutely the right move for a kid that has done just about all he could do in Columbus. A hat tip is certainly in order for one of the more classy Buckeyes of the last 10 years. 
I don't know about you but I'm just about ready to turn my focus from the 2013 season to the final month of recruiting efforts before Signing Day 2014 and then the Spring Game but before we do that, let's take one last look at Five Things from an Orange Bowl loss to a Clemson squad that racked up 15 penalties for 144 yards and two turnovers. 
JAMAL CAN BALL
I expected Jamal Marcus to play well against Clemson because even though it was spot duty, he played well every single game this season in which he was given an opportunity.
We already knew he was a solid pass rusher but what really impressed me last night was how well he held up with markedly increased snaps and how solid he was in run support, especially in backside pursuit.
He was in the zone right off the rip as he shed his blocker and blasted Tahj Boyd for no gain on the 2nd play of the game. Two plays later, he was seen motoring up the line of scrimmage to the wide side to pull down C.J. Davidson on a three-yard gain.
Three possessions later, one that actually resulted in a Clemson punt, Marcus stuffed Boyd on 3rd and 5.
On Clemson's last possession of the half, Marcus again came up big on 3rd down batting down a Boyd pass leading to a turnover on downs that set up the OSU offense for the go-ahead score which was huge considering how badly the Buckeyes were outplayed in the opening 30 minutes.
Overall, Marcus, a true sophomore, racked up six tackles, good for 5th on the team, with the noted pass breakup. His performance was even more valuable as Joey Bosa struggled to stay on the field with a gimpy ankle.
A SHARP DECLINE
Braxton Miller culminated a five-game slump with turnovers on Ohio State's last two possessions to crush any chances victory. On the night, Miller completed 16/24 for 234 with two touchdowns but late turnovers were devastating as the Buckeyes trailed by just five points.
Already dinged, Miller was absolutely smoked just as he was stepping into a throw on 3rd and 13 from the Tiger 46 with just over three minutes to play and the ball popped out of his hands and into those of Clemson's Bashaud Breeland for the fumble recovery.
After C.J. Barnett gave the Buckeyes one last shot with a pick of Tahj Boyd that gave Miller the ball at midfield, Braxton had what felt like his 5th throw batted down at the line before he misfired on a 2nd and 10 throw intended for Philly Brown to secure Clemson's first ever BCS bowl victory. The throw was truly awful in that Miller didn't appear to even see linebacker Stephone Anthony.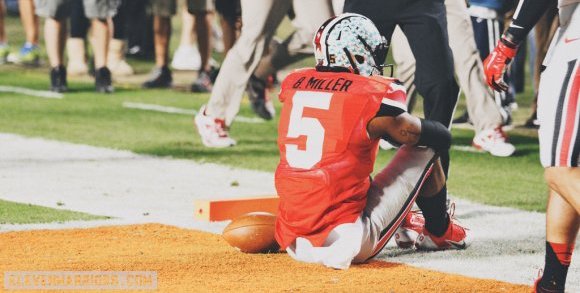 The pick was Miller's fourth over the last five games against just nine touchdowns. In addition, his completion percentage fell off a cliff over the same interval as he connected on just 51% (54/106) after completing 72% of this throws over the first seven games with a TD/INT ratio of 15/3.
It should obviously be noted that Miller was utilized much more heavily in the run game – with legit results – over the same five-game stretch but I find it interesting that his passing numbers went down the tubes over the last chunk of the season for the second straight year despite the fact he did make significant strides as a passer in 2013.
I guess we'll see in the coming days what Miller plans to do regarding the NFL though Pete Thamel reported he will return but while I know he's had no issue making it known how tired he is of taking hits, he should be much more concerned with how NFL scouts view his ability to stay healthy and how his passing accuracy has a tendency to crash and burn as the season wears on whether he opts to leave or returns for one more year of seasoning.
There's no question Miller is a special talent especially at the collegiate level but there's also little doubt he has work to do if he wants to be more than a sideline presence at the next level.
MORE LIKE JOEY BOSS-A
Joey Bosa is a throwback.
The true freshman has been sensational all season and coming into the game he trailed only Noah Spence for tackles made by OSU defensive linemen while leading team in sacks with 8.0 and placing 2nd in TFL with 14.5.
Friday night Bosa showed me even more as he battled through a gimpy ankle to record five tackles and a sack while forcing a safety as he blasted Boyd in the end zone, forcing the quarterback to intentionally ground the ball and cutting Clemson's early lead to 14-9.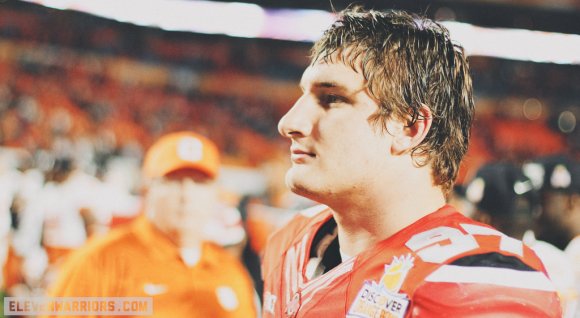 Bosa was also a beast after halftime as the Buckeyes fought to stay in it. With OSU holding a slim 22-20 lead, Bosa stalled Clemson's 1st possession of the 2nd half near midfield as he split two defenders, sacking Boyd for a nine-yard loss to set up 3rd and 19 and an eventual punt.
He almost saved momentum after Philly's muffed punt as he forced a 2nd and 7 incompletion with heavy pressure but on the ensuing snap, Watkins high-pointed a 30-yard throw for six on Doran Grant to make it 29-27 good guys.
No matter, a hat tip is in order for Bosa as he showed incredible heart and determination by just staying on the field. Bottom line, cherish every game you get to see this kid play for the next two years because he'll be on his way to the NFL after that.
WHAT CAN BROWN DO FOR YOU?
It's inarguable that Philly Brown's muffed punt with Ohio State leading 29-20 late in the 3rd quarter triggered a momentum shift from which the Buckeyes never fully recovered. The muff preceded a great play by Josh Perry to stuff Boyd on 3rd and 1 and should've given Ohio State the ball, up nine, at their own 37-yard line.
Instead, Clemson took possession at the 33, scoring three plays and 49 seconds later trimming the lead to 29-27.
Miller would toss a pick on Ohio State's ensuing possession, giving the Tigers exceptional field position, and they would capitalize four plays later as Boyd found Martavis Bryant in the end zone for a 34-29 lead.
So, while Philly made the mistake of the game, it wasn't the only mistake as Miller's two post-muff turnovers ensured Ohio State would snatch defeat from the jaws of victory.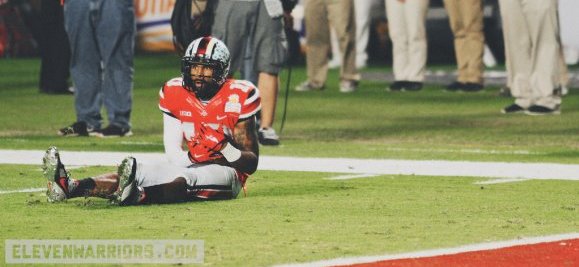 While Brown will never be labeled as a great player in OSU lore, he was still a very serviceable part. If anything, you can question why the coaches didn't order a mandatory fair catch in that situation or even more drastic, why they continued to gamble with Philly as a punt returner when for years he'd shown a penchant for the bone-headed decision or muffed catch in between moments of greatness such as his punt return touchdowns against Wisconsin and Nebraska, among other strong special units contributions.
Further, I point to Philly's worth as a wideout as his fellow receivers must have gone into the witness protection program. For instance, where would Ohio State be without Brown's 22 catches over the last five games including 13 in the last two games for 169 yards and a touchdown while Devin Smith was busy recording six catches over the last five games including a combined three against Michigan State and Clemson for 16 yards?
Again, Philly won't be in the OSU hall of fame anytime soon but he did a lot more to help Ohio State win games than he contributed to losses and I always felt he represented the university the right way.
SILVER BLANKS
Talk of how to fix the defense – or more importantly if fixing it requires the dismissal of any staff – has become increasingly contentious the last few weeks.
I'm content to trust how Meyer decides to handle things but that doesn't mean those clamoring for a staff shakeup are whiny over reactors, as labeled by many, when you examine the product.
Has Ohio State had some injuries on that side of the ball this year? Absolutely. Have they also underperformed at a historically awful level? Yes.
Last night might have been rock bottom as for the first time in school history, Ohio State lost when scoring 35+ points, falling to 279-1-1 as Clemson became the sixth opponent to put at least 30 points up against the Silver Bullets.
Over the last four games, in which OSU went 2-2, the defense gave up 1,918 total yards, 28.5 points per game, let a historically bad Michigan offense put up 41 points and finished 10th in probably the worst power conference in Pass Defense (283.5) and 6th in Total Defense (393.6). Statistically, even Minnesota had a better defense in conference play this year.
CLEMSON 40, OHIO STATE 35
Against Clemson, the Bullets allowed the Tigers to set numerous Orange Bowl records including the most receiving yards by a player as Sammy Watkins racked up 227 with what felt like 200 of that coming on the same exact play. Watkins is unquestionably a next-level player but to allow the same play to shred your defense over and over and over again was tough on the eyes.
The worst moment, however, might have been when Clemson recorded the game-winning score via a version of throwback pass that has made the defense look incompetent in so many crucial situations this season.
Whether Fickell and others stay or go, what bothers me the most is what appears to be a lack of in-game adjustments combined with a potential misdiagnosis of personnel.
Am I really to believe that Vonn Bell improved so much during bowl prep that he became a better option than Pitt Brown? Bell made some mistakes but he also made some plays and that's 50% more than what Brown was allowed to do for 12 games as Bell watched from the sideline. That troubles me.
Am I really to believe that Ohio State had no other option but to defend the Watkins screen the same way 10+ straight times? Am I really to believe that calling a corner blitz repeatedly only to get scorched was all based on OSU's schematic advantage and they just got unlucky?
Sometimes you have to make change for the sake of change. Guys with much more impressive resumes than Luke Fickell have found themselves forced to leave an employer after many years of service because things aren't working out.
Again, I'm for whatever Meyer thinks is the best course of action because I know he wants to win even more than any fan or blogger or writer or whomever, I just hope either way, I can quit reading comments/articles/tweets from people who treat Fickell like he's a deity for reasons I simply can't comprehend.