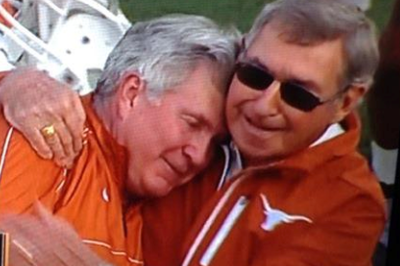 Indeed, these are tumultuous times for the University of Texas. The same day former QB James Street passes and Heisman winner Earl Campbell saying it's time for Mack Brown to be shown the door, the Austin American-Statesman is reporting DeLoss Dodds, athletic director of Texas for the last 32 years, will step down in a press conference tomorrow afternoon.
Texas athletic director DeLoss Dodds will announce Tuesday afternoon that he will step down next August after 32 years in the position, three well-connected sources told the American-Statesman on Monday.

Dodds, 76, will announce his retirement after vigorously denying a report earlier this month that he would leave his job before the end of this year. Dodds will stay on through Aug. 31, 2014, and will remain on as a consultant through 2015. Dodds could not be reached for comment.

"He's going to announce it tomorrow," one of the well-placed sources said. "They were going to do it today but decided to wait because they didn't want to detract from the passing of (legendary former Longhorn quarterback) James Street."
Get excited, whatever crazed nut is behind Saban2014.com; Mack Brown can't be far behind.