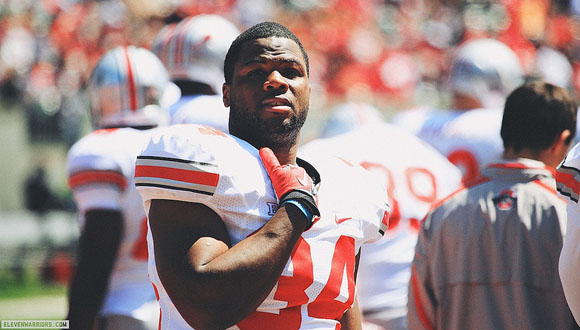 The week-long Carlos Hyde saga has finally come to an end — sort of. Oho State head coach Urban Meyer announced Tuesday night that Hyde, the Buckeyes' starting running back, will be suspended at least three games. 
"Carlos Hyde will be suspended for at least the first three games of the 2013 season for conduct not representative of this football program or this university," Meyer said in a statement. "He will be required to fulfill additional obligations before he is allowed to play in a game."
Hyde was originally suspended indefinitely for his role in an alleged assault of a 19-year-old woman at Sugar Bar 2 in downtown Columbus during the early morning hours of July 20. On Tuesday afternoon, the Columbus Police Department announced that Hyde would not face charges stemming from the altercation. The victim in the case opted not to press charges.
The Columbus Police Department considers the case closed.
In a video obtained by the media, it appears that both the victim and Hyde lunge at one another with intent to strike the other. But the quality of the video doesn't allow one to make a definite claim at what took place.
[RELATED: Surveillance Video from Incident | Key Frames from Video of Hyde Incident]
Since the story broke nearly 10 days ago, it's been full of rumors and various unconfirmed reports. Columbus Police called used the word "reckless" to describe the sourced stories.
Now it's all come to a conclusion.
Hyde marked the occassion by tweeting for the first time since the incident became public knowledge:
Philippians 4:13

— Carlos Hyde (@El_Guapo34) July 31, 2013