Eight years can make a huge difference in somebody's life. It's the difference between being a 5th grader and a college freshman, or a college freshman and a medical doctor, or a first kiss and a second child. 
In Maurice Clarett's case, it's the difference between being a rookie tuning out at an NFL symposium and a being speaker at that same symposium eight years later.
Clarett is giving advice based on his history as a cautionary tale, with his drug habits, run-ins with police, time in jail, refocusing and rededication to continue his career serving as a personal narrative. Says Clarett about why he wants to speak at the symposium:
"These guys are 21 and 22 and they're now the head of the household. They're not used to that. They were college stars whose only responsibility was to show up to lift and practice. If anybody knows what it's like to throw it all away, it's me. And now to have a stage and a spotlight to reach somebody before he does something near as stupid as the things I did, it's a privilege."
Clarett says a documentary about his life and struggles is in production. If he is sincere (I'm inclined to believe in him), much respect for his attempts to remake his career. Whether he can handle it is a lingering question.
It's a weird reversal in sentiment from a decade ago, when he was public enemy #1 for all of his accusations against the university, but he's saying the right things. Clarett now:
"I never script anything," Clarett said. "I share my story, my feelings, where it went wrong. I take questions from the audience and I want questions. I want people to ask anything they want to ask, and I hope somewhere in my answer or my message is something that can help somebody go the right way."
In recruiting: stuff happened! Some of it was good news, and some of it was less-good news.
Yesterday marked the start of a three-day kicker camp for dozens of kickers, among them the assonantic Jake Shake. Non-kicker recruits Deandre Goolsby and Jalen Brown visited campus, and at least Brown's visit went well:
In not-so-good news, this statement from 2013 signee Donovan Munger is far less encouraging:
There had been questions on whether Munger would qualify this season ($), and that sentiment bodes poorly for his eligibility. Should Munger need to take the junior college route, his enrollment at Ohio State would likely be delayed until 2014. His situation would be similar to Carlos Hyde's, who was delayed for a year at Fork Union before joining the team in 2010.
While the rest of the Big Ten battles with freaking 5th-ranked Kentucky to keep up with Ohio State and Michigan, keep on reading.
 THE BATTLE OF OHIO COMMENCES. For the first time in nearly twenty years, Ohio State and Ohio University will play regular season basketball.
Jason Arkley of the Athens Messenger broke the story in a roundabout way, as he listed the OSU game as a definite game on Ohio's nonconference schedule:
at Ohio State. The one 'money' game on the schedule this season. Ohio coach Jim Christian himself has spoken about this matchup in a couple of different booster caravan stops this spring. Buckeyes (29-8) always one of the Big Ten's best.
Indeed, Jim Christian has spoken about the game at Bobcat Caravan events, complaining about how difficult it was to get it scheduled. Bob Baptist of the Columbus Dispatch spoke with Thad Matta who confirmed the game as well as the timing:
The scheduling of Ohio brings up memories of Cincinnati's complaints about scheduling OSU and Thad Matta's rejections of Cincinnati. For Ohio's part, it's going to be taking part in a round-robin tournament in its non-conference schedule, which makes a great segue to a complaint: why couldn't Ohio State do a round-robin of Ohio schools? OSU could always use a non-conference RPI boost, and surely playing Cincinnati or Xavier or Wright State would attract more interest and money than Savannah State or Chicago State. Is a home/away split a sticking point for an in-state series?
In other hoops news, Chris Jent has officially left the program for the Sacramento Kings. Common speculation is that video coordinator Greg Paulus is a candidate for Jent's assistant coaching position. If he does take that promotion, Paulus's role as video coordinator slash former widely hated Duke player may be unfillable.
 DA COACH O SAYS TO SKIP CLASS, SMARTYPANTS. Filmmaker Bob DeMars is making a film called "The Business of Amateurs" on the culture of college athletics. DeMars was also a football player at USC in the mid 1990s, and has shared a very interesting story about current USC assistant coach Ed Orgeron, who was also an assistant at USC in the 1990s, spewing acid toward him for leaving practice to go to class:
In order to show up on time for a required statistics course one semester, he says he had to leave spring practice twenty minutes early, once a week. His defensive line coach, Ed Orgeron, wasn't happy. You motherf—-r, DeMars remembers Orgeron, who went on to become head coach at Ole Miss from 2005 to 2007, and is now back at USC as assistant head coach, shouting at him. "He M-F'd me all over the place," says DeMars. "He made me feel like a bad person for going to class."
This ties in rather conveniently with his thesis that the culture of college athletics is dysfunctional. USC's president denies the story's veracity, and it's possible that there are elements DeMars forgets or is wrong about, but the story is nevertheless plausible. That is, past a coach chewing out a player not for skipping but going to class being a Man Bites Dog story.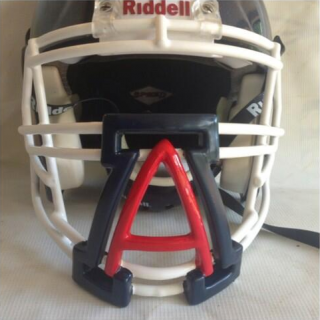 FACEMASK FUN. In a vein of fashion innovation rarely seen in athletics, sporting goods and equipment company Bad-Ass Masks created some custom-made facemask prototypes for Arizona Wildcats football, with the end result looking so, so cool. Even if you find the coloration of the mask gaudy, the simple white version of the mask still promotes a brand and looks only moderately less cool.
The rules on what the NCAA allows on its facemasks are pretty hazy; the NFL grandfathered in people with differing bars and permitted a growth of intricate facemasks. Whether the NCAA permit colored or custom facemasks like the Arizona example is unknown. If so any school with a block letter symbol like, uh, a Block O should get cracking on alternative helmet designs to incorporate the facemask.
Meanwhile, the next Gaudí ought to plan for the new front on the fashion war: the chinstrap.
 THE REBIRTH OF BIG TEN BASEBALL? In what may be part of Northwestern being on a tear at everything they do, the school was given a $5 million pledge toward renovating its baseball stadium. Northwestern is a perpetual also-ran in baseball and you might think the money would change that, but don't bet on it: other schools are investing in their baseball programs as well.
As Big Ten baseball site B1G Baseball points out, Big Ten schools that have renovated stadiums in recent years include, "...Illinois, Michigan and Ohio State while new stadiums have been built at Indiana, Michigan State, Minnesota and Purdue." For whatever reason – Title IX, the cold, apathy – Wisconsin does not sponsor baseball; all the traditional Big Ten schools that have invested in baseball are the ones that have gotten close to the postseason over the last two years.
Wisconsin aside, the willingness to invest in baseball may signify an attitude shift. Last year, Purdue couldn't host an NCAA regional in West Lafayette because its new stadium was under construction; that would've been mortifying in conferences that cared about baseball. Now Indiana has secured the Big Ten's first College World Series invitation since 1984. For perspective, Cyndi Lauper's Time After Time was the #1 hit when Michigan made the 1984 CWS.
There's still loads of crap to work through, like college baseball's ludicrous slant towards southen schools, withering scorn from those who grow fat off of baseball's unfairness, and an overall refusal to make the system fairer driving the frustration. Breaking from the NCAA to play summer ball is tempting, but Indiana shows that success within the NCAA system is still possible. Baseball can be a revenue sport, if the Big Ten invests in it and does whatever it can to succeed. The conference has the capital: it's time to invest and win.
 TEBOW PATRIOTS XBOX ONE IOS 7 SEO BLAH BLAH BLAH. Way out in the southeast there was this fella... fella I wanna tell ya about. Fella by the name of Tim Tebow. 
Mr. Tebow, he called himself "Tebowski". Now, "Lousy NFL Quarterback/Tight End/Punt Protector Being Given A Series of Endless Opportunities" - there's a name no one would self-apply where I come from. But then there was a lot about Tebowski's fame that didn't make a lot of sense.
Everybody has weaknesses, and the former Florida standout is media catnip. Even those discussing him ironically or making metacommentary on Tebow love fall victim to the siren song of media coverage. Alas, the dream of Tim Tebow being a member of Urban Meyer's coaching staff – at least for the short-term – is kaput now that he has signed with the New England Patriots.
I've got nothing against him or his dreams of success in the face of hilariously invested well-wishers and ill-wishers, but his media circus is something Ohio State can do without, even if he is the laziest man in Los Angeles County you will never see a coach in the entire country coach as hard as he would coach the rest of the season. Less of that and more updates of recruits returning from the bathroom, please.
 A (NUMBER OF) LINK(S) TO THE (RECENT) PAST. Tom Herman is likely to move up. Former OSU longsnapper is sued yet again for fraud... Miami (OH), the cradle of basketball coaches... Chad Johnson's atta-boy cost him a plea bargain and a month in jail... Ref Cam will let you see rigged NBA games from a whole new perspective... A maudlin look at Denard Robinson's career... Wright Thompson's feature on bigotry in Italian soccer is brilliant... Lousy officiating caused a 22 minute hockey period... I suspect the SEC Network will have academic programming over ESPN's cold, dead incorporeal body... How to make COEXIST bumper stickers 20% less annoying... and understanding the Defensive Technique Numbering System.