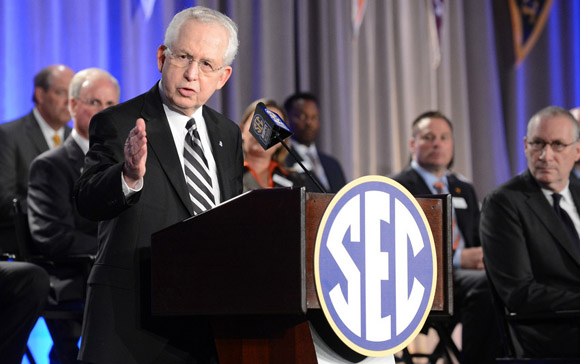 After years of talk and discussions about planning, the SEC Network, officially to be known as the SEC ESPN Network, is finally a thing.
The network, a co-venture with ESPN, will debut August, 2014, airing 45 football games, more than 100 men's basketball games, 60 women's basketball games, 75 baseball games and other events.
The Southeastern Conference and ESPN have signed a 20-year agreement through 2034 to create and operate a multiplatform network, which will launch in August 2014, it was announced today by SEC Commissioner Mike Slive and ESPN President John Skipper. The new network and its accompanying digital platform will air SEC content 24/7 including more than 1,000 events in its first year.
The 20-year deal is similar to the 51/49 deal the Big Ten entered into with Fox when the Big Ten Network was launched in 2007.
ESPN lined up AT&T U-verse as a launch distributor for the SEC Network. Terms of the deal were not disclosed, but will likely trickle out at some point.
The network will certainly be successful. College football is too big of a deal for it not to be and they can ape good ideas from the Big Ten Network, like BTN Journey, while avoiding some of the pitfalls, particularly on the distribution side of things, that tripped up the Big Ten Network.
Still, it will be hard to top the BTN's first live event: