Ohio State's 68-55 win over Illinois on Senior Ravenel Day at the Schott yesterday was rather unremarkable on the surface. The Buckeyes were favored by nearly 10 points and the game was never really in doubt once a Shannon Scott jumper put Ohio State up by eight with a little over three to play in the first half.
If you take a step back, though, things begin to glow. The win was Ohio State's 5th in a row since being left for dead following the Madtown Massacre – no other Big Ten team has won more than two in a row heading into the tourney – and the Buckeyes became the only league team to defeat the other 11 teams in the Big Ten during the course of the season. No easy task, if you ask me.
This isn't Thad Matta's most talented team. Secondary scoring beyond Deshaun Thomas' contributions has just recently become a thing and the team lacks any real force in the post. And yet, there the Buckeyes were, a Wolverine implosion away from locking up a share of a fourth-straight Big Ten title.
As it stands, Ohio State finished 13-5 and tied for 2nd place (with Michigan State) in the best basketball conference in the country. Following the debacle against Wisconsin, this team needed wins and got them all. Included in the late season run were an 8-point win over the Spartans and a 9-point win over Indiana in Bloomington.
Thad Matta never seems to get the credit he deserves as a coach. If his work with this team isn't recognized, I'm not sure what he can do.
Now, about that implosion...
For one afternoon, we turned down some of the hate and actively cheered for #NOTINDIANA. Don't confuse that with cheering for Michigan because it's not the same, but we were fine if the team that didn't go by "Hoosiers" won yesterday's game in Ann Arbor. Not thrilled, mind you, but fine with it because it would keep Matta's streak of B1G regular season titles alive.
It's as if Woody looked down on us, shook his head, and made sure we'd never make that mistake again.
Thanks to an apparent hatred of the front end of one-and-ones, Michigan squandered a five-point lead in the final 38 seconds to lose at home to Indiana. It was a stunning collapse; there's really no other way to put it.
This is a team that may be the most talented in the Big Ten – a team that started 19-1 before going 5-5 down the stretch. A team that actually won fewer conference games this season than it did last season. As a result, the Wolverines will be playing on the opening night of the Big Ten Tournament.
The Indiana win was frustrating – truly frustrating – for all of about five seconds, before we realized that, hey, that epic collapse was kind of cool (in a your tears are so yummy and sweet kind of way). And Michigan fans, the guy you teased Buckeye fans for offering instead of Trey Burke spent his Sunday doing this while Burke was clanking the game away from the charity stripe.
THAT LINE, IT LOOKS NICE. The Buckeyes will enter the Big Ten Tournament as a two seed, and will play the winner of No. 7 Purdue and No. 10 Nebraska Friday at 6:30 p.m. at the United Center. If you take all of two seconds to look over the bracket, you'll see that Ohio State is right where they want to be, with a pretty favorable group.
Should OSU advance Friday, they'll likely run into Michigan State in the semifinals late Saturday afternoon. Not easy, but not a bad path to the championship game, either.
The other side of the bracket is absolutely loaded with No. 9 Minnesota, No. 8 Illinois, No. 5 Michigan, No. 4 Wisconsin and the top-seeded Hoosiers.
I probably don't need to tell you that the Buckeyes tend to play very well at the Big Ten Tournament.
STIEBER FEVER. Ohio State grapplers finished 4th at the Big Ten Championships held over the weekend in Champaign's Assembly Hall, about where most observers expected, given the team's 5-3 conference record. Penn State, the defending national champions, captured their third-straight conference crown.
Pacing the Buckeyes were Monroeville's Stieber brothers, redshirt sophomore Logan and sophomore Hunter, who both captured B1G championships to cap unbeaten seasons. Logan defeated second-seeded Tony Ramos of Iowa, 3-1, in extra time to defend his league title at 133 pounds, and will take a 22-0 record to the NCAA Championships in Des Moines, Iowa in two weeks, where he hopes to defend his national title as well. He's a heavy favorite to do so, leading the NCAA's Most Dominant Wrestler standings (think of it as pound-for-pound rankings) across all divisions, with a 5.4444 points average.
Hunter took first at 141 pounds with an 8-3 decision over three seed Mark Ballweg of Iowa in the finals. Now 31-0 on the season, he'll look to improve upon his 6th place finish at the NCAA championships as a true freshman last season.
Seven other Buckeyes – Nikko Triggas, Ian Paddock, Josh Demas, Mark Martin, Nick Heflin, C.J. Magrum and Andrew Campolattano – also qualified for the NCAA championships, providing coach Tom Ryan with a good chance to match or improve upon the team's 5th place team finish last season.
Perhaps the most dominant wrestler at the Big Ten Championships was Penn State's David Taylor, a product of the wrestling factory at Ohio's St. Paris Graham. Taylor went 3-0, outscoring his opponents 45-6 along the way. If you're wondering, Logan Stieber and Taylor did cross paths once in high school, in the finals of the 2006 Ironman tournament, won by the sophomore Taylor over the freshman Stieber, 7-3.
I'm a broken record on this, but if Ohio State could keep all of the Ohio kids it wanted, Ryan would have a perennial national championship contender on his hands. He's close now, but he needs more Stiebers.
Finally, the IOC's recent decision to drop wrestling is being fought and rightfully so. The first salvo:
Disclosure: I wrestled in HS (captain) & College. That being said, I've never seen a Greek Urn depicting badminton players.

— Neil deGrasse Tyson (@neiltyson) February 12, 2013
I mean, how can you eliminate a sport that has "blood time?"
Blood time Magrum

— Ohio State Wrestling (@wrestlingbucks) March 10, 2013
THE RETURN OF HEACOCK. If you missed it over the weekend, Ohio State is in talks with Jim Heacock to return to the football program in some type of support role.
Heacock's work ethic is legendary and his football chops are unquestioned. Anything he can do to help the Buckeyes get a leg up on the competition is a good thing, whether that's scouting future opponents, reviewing film for tendencies or just plain talent evaluation.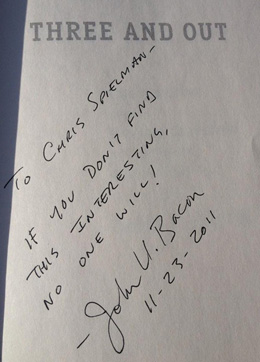 STOCKMAN BAGS A TITLE. Former Buckeye Tony Stockman, who led Ohio State in scoring as a junior in 2003-04 while playing under Jim O'Brien and then averaged 12 a game under new head coach Thad Matta as a senior, won his first national championship over the weekend.
Stockman, now the coach at Ohio Christian University, led the Trailblazers to a 73-62 victory over Arlington Baptist to capture the NCCAA championship, following an unbeaten season.
Can we include him in Matta's tree?
THE 80S WERE CRAY. Ohio State is taking steps to become a tobacco-free campus (heads up, Vrabs), which is fine, but what caught my eye in the release announcing the initiative was the fact that buildings on campus have only been smoke-free since 1987.
I know it's hard to fathom, but chances are good that an Ohio State football player at one point in time, lit up in class. I know that Barry Sanders and Mario Lemeiux were two-pack a day guys, and there are countless others.
I'm sure Woody and Earle didn't stand for it, but I do wonder which players smoked on their own time.
STILL TIME TO PHOTOSHOP. We were blown away by the entries for our first ever Photoshop Phriday contest. So much so that we'll probably hold a lot more of these than we originally planned.
You still have time to enter (and vote) on last week's contest and be sure to keep on eye out for future battles.
 ETC. Good on you, Ted Ginn... Don't ever change, Barry Switzer... Tom Crean, still kind of a jerk... Yes, Liberty is the worst team to ever make the NCAA tournament... Hard to really sympathize with either party here... RIP Brandon Knight... Lookin' good in those colors, Tiger... Get ready to get your growl-on, Clintonville... Visit Cuyahoga Falls.