It is no secret that the Ohio State coaching staff has transformed recruiting into a national approach, rather than the more regional approach of the last regime.
The Buckeyes have offered 119 different players in the 2014 class already, encompassing 22 different states across the country.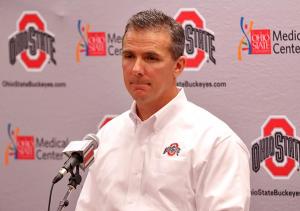 When the Signing Day dust settled, OSU had inked a 2013 class consisting of 24 prospects. Those prospects came from nine different states: Ohio, Indiana, Missouri, South Carolina, North Carolina, Florida, Texas, California, and Georgia. That, is a big net.
The year before, in the job for just one month, Urban Meyer was able to secure 10 extra commitments for the 2012 class. He went to seven different states to haul in those 10.
Clearly, Meyer has shown that he will go anywhere to sign the top recruits in the nation, using his name and past success to open channels that simply aren't there for other coaches. He has a tremendous staff as well, as the group's footprint and history with prep programs extends far and wide.
Co-defensive coordinator Everett Withers has become a force in the Southeast. Tom Herman has showed his prowess in Texas. Mike Vrabel is close to having a deep dish pizza named after him in Chicago. Kerry Coombs is flying around the state of Michigan in his Red Bull one-seater and Tim Hinton has been to Tennessee and Kentucky. The list goes on and on.
Traveling north to Michigan, west to Indiana and Illinois, south to Kentucky, and east to Pennsylvania. If you have the talent, the Ohio State staff will find you and put you in scarlet and gray. 
A lot of the chatter on a national level has been about staff's activity in the Southeast. One key element being overlooked, however, is the attention being paid to the Midwest's best. 
Already paying dividends is the emphasis on the state of Michigan. Kerry Coombs has opened up shop in the state up north, leading to an instant impact.
DE Lawrence Marshall and DB Damon Webb jumped the border and pledged to Meyer and his staff. Marshall would decommit a few days later after trips to Michigan State and Michigan, but expect to see further activity in the Mitten State.
WR Drake Harris opened his recruitment back up after he received a scholarship offer from the Buckeye boss. DL Malik McDowell is a Rivals 100 prospect and has Ohio State near the top of his leaders.
Locking up Harris and McDowell would give the Buckeyes the top three prospects from the state of Michigan, and four if Marshall returns.  It couldn't come at a better time as 2014 figures to be one of the strongest classes in Michigan in ages.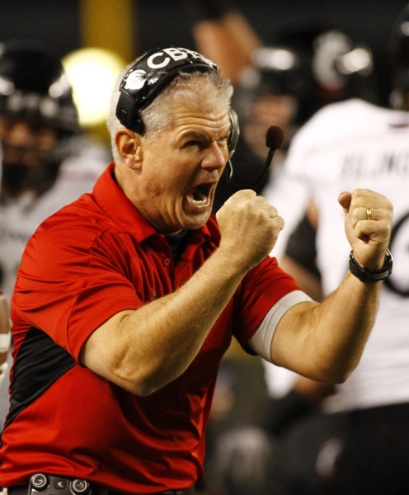 South Bend (IN) LB David Perkins was one of the first commits Meyer scored after arriving in Columbus and the staff returned to the Hoosier State to receive a signed letter of intent from Indianapolis native OL Tim Gardner just a week ago.
Looking ahead to the next cycle, Indiana wide receivers Lonnie Johnson and Austin Roberts have already been targeted by the staff. Johnson reciprocated his offer with immediate heavy interest.
Moving further west, we find ourselves in Vrabel Country. Illinois is a state on the rise in terms of high school football, with Ohio State in great position for many of their budding stars, thanks to the former Buckeye and Super Bowl champion's efforts.
Glen Ellyn (IL) DT Tommy Schutt was another member of the group of 10 Meyer inked when he arrived in Columbus, and the Buckeyes continue to blanket the Chicago area.
Three top 50 players in the 2014 class hail from Chicagoland. Of the three, OT Jamarco Jones and LB Clifton Garrett have visited Ohio State's campus on more than one occasion and are thought to be strong candidates to finish in this Buckeye class.
DL Dylan Thompson is another prospect, out of Lombard, Illinois, that just received an offer from Meyer and his staff. The 312 will receive massive attention moving forward as schools from across the country recognize the caliber of football currently being played in the city. 
Urban Meyer missed out on WR James Quick last month, but that won't deter the staff from pressing south of the border. Kentucky isn't known for producing a lot of talent, but the state always seems to churn out a few prospects that garner national attention.
QB Drew Barker (Burlington, KY) has offers from South Carolina, Tennessee, Kentucky, Vanderbilt, North Carolina and others. Barker visited Ohio State several times and would love to have an offer from the Buckeyes.
The biggest prize in the state of Kentucky may come in the 2015 class. RB Damien Harris (Berea, KY) has offers from many of the nation's elite, and Ohio State and Michigan will battle for his signature up until the last hour possible.
Pennsylvania has always treated Ohio State coaching staffs relatively well, and Meyer and his staff are continuing the program's success in the Keystone State.
Soon after Meyer was tabbed as the Ohio State head coach at the end of 2011, he set his sights on sensational DE Noah Spence. The Harrisburg (PA) standout's verbal spearheaded a finish that culminated in a top five class.
This past cycle, Luke Fickell put in work with OL Dorian Johnson, WR Robert Foster, and LB Alex Anzalone.
Johnson, Foster, and Anzalone all considered the Buckeyes at one point, with Anzalone even giving the coaching staff his verbal commitment, but Ohio State would come up empty.
Looking at Pennsylvania's class of 2014, offers have gone out to ATH Dravon Henry and DB Montae Nicholson. Nicholson grew up a fan of the Buckeyes and will visit campus in the spring. Ohio State is in a great position for the skilled playmaker.
It's a good time to be a fan of Ohio State recruiting. The Buckeyes will be a player for many prospects, within the state, region and the country for years to come.