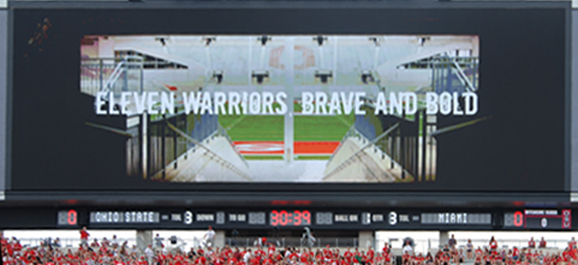 Mr. Moderator, Mrs. Moderator, members of the commentariat, distinguished readers, and fellow Buckeye fans.
2012 was a pretty wild ride for Eleven Warriors. Thanks to a talented and diverse stable of writers and an informed and often riotous – and I mean riotous in the best way possible – community, this site grew into something that I don't think many of us saw coming. In every conceivable metric, our numbers were eye-popping and we have all of you to thank for that, so thank you.
We started 2012 with a bang, with Ross Fulton joining the team to provide us with the kind of football strategy and analysis that you'll only find here. It follows that it was no surprise that we topped 2 million pageviews in a month for the first time ever in January.
In February, we saw one-day records – since eclipsed – for visitors and pageviews (172,724) for our coverage of National Signing Day. Urbtopia was flowing and we had a lot of fun with our story and live blog coverage of the event. Thankfully, we upgraded our server for the fourth time in a year prior to NSD.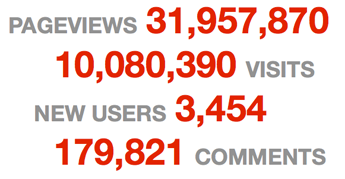 March brought great conversations with our coverage of the Ohio State men's basketball team and their thoroughly enjoyable Final Four run. One of the things we really pride ourselves on is our attention to basketball. Football is king in Columbus, no doubt, but basketball gets us through not football season and can often be just as fun.
We concluded our first and only site fundraiser in April, with hundreds of you respecting the basement and generously donating $21,275 to enable us to proceed with plans to hire a beat writer for the site much sooner than we would have been able to, otherwise. Later that month, we held our first Spring Banger, partied into the night after the Ohio State Spring Game and in the process, collected over 100 pounds of food for the Mid-Ohio Food Bank.
In early May, we initiated a search through Ohio State's Fisher College of Business, leading us to our first marketing intern, Andy Urbanski. Later that month, Walt Keys joined the team as the Eleven Warriors Art Director. His work would be noticed rather quickly.
On June 6, we hired Kyle Rowland as Eleven Warriors' first beat writer and full time employee. He's been entertaining you with stories, game coverage and interviews with the people that matter ever since. Four days later, we reached a milestone of sorts with our 12,537,413th pageview of the year. That number was one more than the total number of pageviews recorded on this site in its previous five years of existence.
July saw a partnership with Lindy's to edit their Buckeye annual, 2012 in the Huddle - Ohio State. Later that month, Elika Sadeghi represented Eleven Warriors in our cable television debut, appearing on the Rome Show on CBS Sports Network. We capped off the month by covering Big Ten Football Media Days for the fourth consecutive year.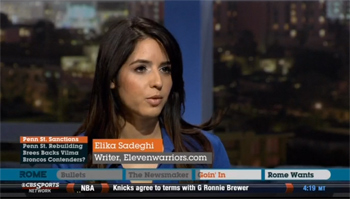 In early August, we recognized Sarah Hardy for her tremendous writing ability by promoting her to the position of Senior Editor. Don't make her explain the difference between lead and led to you again.
We were approved for a full slate of Ohio State football road games for the first time that month, effectively handing us a full season credential. We picked up photo passes for a couple of games as well, and Walt brought you football as a beautiful game.
The end of August was a busy time for us. Walt released the first of what would be 13 iconic Ohio State football game posters with GAME ONE, and we relaunched Eleven Warriors Dry Goods with expanded product offerings, better shirts and cheaper prices. We then christened the relaunch with our first eBook, our 2012 Ohio State Football Season Preview.
In September, we launched Helmet Stickers, a way to reward great posts and comments, while punishing trolls. Since launch, over 185,000 votes have been cast.
We held our third annual charity tailgate, Eat Too, Brutus, on October 6 and you guys helped us raise more than $10,000 for DS Achieves. While watching the 11W community grow has been gratifying, the joy we feel when we're able to give back to local charities is a fantastic feeling. We're often most proud of the work we do away from the site in this regard.
At the sold out event, good times were had, Steve Rehring spent the entire day at the Yuengling truck and, oh, Ohio State went on to throttle Nebraska later that night, moving Eat Too, Brutus' record vs top 25 opponents to 3-0.
Later in October, Ross Fulton would make our first appearance on the ESPN family of networks, going on ESPNU's UNITE to own a hapless Penn State writer. A few days later, we covered our first Big Ten Men's Basketball Media Day in Chicago.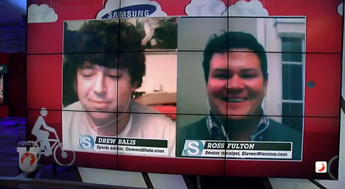 October also saw the site top 3 million pageviews in a month for the first time with 3,429,962 and the community voiced their opinions more than 27,537 times in the form of comments.
November saw us once again set one-day visitor and pageview records for our coverage of the Michigan game. Readers and fans seemed to really respond to our expanded game coverage and we're grateful for that.
Although Ohio State wasn't eligible for a bowl game, you kept us chugging in December as we cracked each other up in open threads following other teams in their bowl games and anxiously analyzed everything Alex, Derek and Miles had to say about Ohio State football recruiting.
---
Eleven Warriors has become more than a community to the point where it's somewhat of a city now, with different districts, norms and protocols. For instance, you're most likely to get stabbed in the forum, which really grew into an orbital moon to Planet 11W, contributing nearly a third of our total pageviews.
You've helped us create the most popular free destination for Ohio State fans on the Internet. If we continue to work hard on our end, there's a chance 11W could soon be the largest Ohio State outlet of any kind on the web.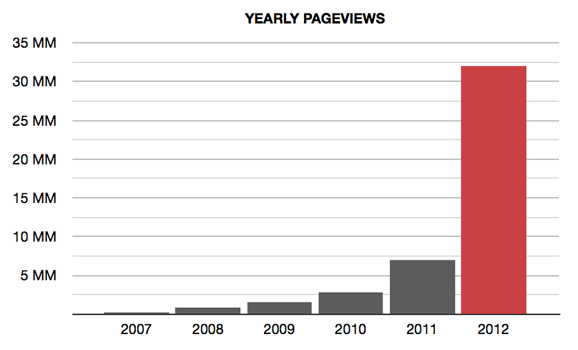 We're very fortunate to have what we feel is the best Ohio State sports bar in hypertextland and we take our responsibility to provide you with fresh, accurate and fair Buckeye news very seriously.
We decided long ago to remain indie, and we love that, but at the end of the day, we don't have the support of a large network or a Twitter echo chamber to promote our work. We do have our credibility and a devotion to bringing you the Buckeye coverage you deserve, and we promise to continue working to improve, add new features, and account for your feedback on how to make 11W what it should be.
2013 will be a big year for us on the technology side as we're currently neck-deep in a redesign process that will retain most of the charm of this site, while freshening things up and ensuring the site looks and performs great on mobile, tablet and desktop.
We want to expand our coverage at road events and line up more exclusive interviews for you. We'll continue to bring you the best Ohio State recruiting, game and event coverage and we promise to keep things free while doing so.
We face challenges, however. As we've grown, we've evolved from a tight-knit community with informed opinions on Ohio State athletics to something a little larger and trickier to manage. With your help and systems like Helmet Stickers, we hope to keep things elevated where they belong, above the HURR-DURR of communities of similar size.
As always, we're open to your suggestions on how to improve things around here. This site is just as much yours as it is ours.
This past year has been a blast, and it's because of you. Thank you for visiting, reading, following, and sharing.