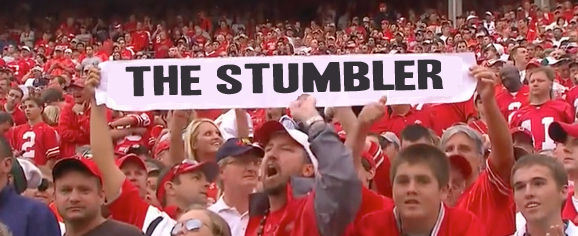 Hello there and welcome back to another edition of The Stumbler. As previously mentioned, scouring the Internet for this piece is a big job, so I'm more than willing to take suggestions from the wonderful 11W community. Did you find something for sale on the Interwebs that might make for an interesting post? Send it my way and it could be featured.
That's exactly what 11W reader VintonCountyBuck did and wow, am I glad he did. His Ebay find was a scarlet-tinted gem and certainly worth sharing. So without further adieu, I give you: 
The Item: 1968 SI Featuring Cover Boy Bruce Jankowski
The 1967 Buckeyes weren't much to write home about as the Scarlet and Gray finished the season 6-3 with two losses coming against unranked opponents. When all was said and done, the Bucks ended the year ranked 4th in the conference behind Indiana, Minnesota and Purdue (different times indeed).
It's safe to say there weren't incredibly high expectations for the '68 team. Still, Woody Hayes' 18th Buckeye squad started the season ranked #11 in the country.
At the time, freshmen weren't allowed to play on the varsity team, so Hayes wasn't quite sure what he had in sophomores like Rex Kern, Jack Tatum, Jim Stillwagon and Bruce Jankowski.
Still, the young guns showed enough in practice to merit a significant amount of playing time once the leaves began to turn in Columbus. In fact, Hayes had so much confidence in his underclassmen that he started Kern over senior Bill Long at the QB position.
The Buckeyes kicked off the season with home wins against SMU and Oregon before opening up B1G play with the #1 ranked Boilermakers. In a stunning upset, the Buckeyes blanked the boys from West Lafayette, 13-0, to move to #2 in the country.
The game was a huge win nationally, but it also spawned a new moniker in the Buckeye locker room: "Super Sophomores" (the name given to contributing second-year players Kern, Tatum, Stillwagon, Jankowski, John Brockington, Mike Sensibaugh, Jan White, Tim Anderson, Larry Zelina, Mike Vladich, Doug Adams and Mark Debevc).
The move to play so many youngsters was a drastic change of policy for Hayes who once said starting underclassmen would result in "a loss for every sophomore played." But, you win with people, and Woody realized the shortest path to a W came with playing his youngest in '68.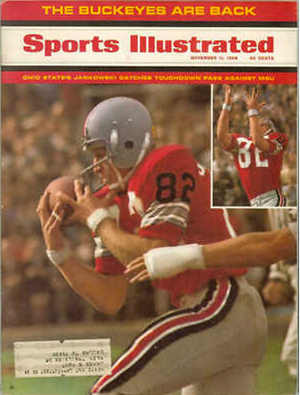 Four consecutive B1G wins against Northwestern, Illinois, #16 Michigan State and Wisconsin got the country's attention and spurred Sports Illustrated to publish this cover, trumpeting the return of the Buckeyes to national prominence.
The issue features WR – and super sophomore – Jankowski hauling in a TD pass against the Spartans. The TD was one of three on the season for Jankowski, who went on to lead the Buckeyes in receiving with 31 receptions for 328 yards (three yards and a cloud of dust days…amirite?).
A November 16th win against Iowa in Iowa City set up a stellar matchup in Columbus between #2 OSU and #4 Michigan (8-1). 
In one of their most convincing victories of the season, the Buckeyes clobbered the Wolverines, 50-14, culminating in the birth of one of the most badass quotes of all time as well as a berth of the Rose Bowl variety.
The Scarlet and Gray were matched up against the #2 USC Trojans (9-0-1), led by RB O.J. Simpson. O.J. would go on to be the #1 pick in the '69 draft, but he couldn't do enough to help his team finish #1 in Pasadena as the Buckeyes finished off their perfect season, 27-16, in front of 102,000 spectators.
The win propelled Hayes to his fourth national championship and his third consensus title ('54, '57, '68). In addition, the victory thoroughly cemented super sophomore players like Kern, Tatum, Stillwagon and Jankowski in the collective Buckeye consciousness.
Speaking of the super sophs:
The Clips: A 1968 Triple Pleasuretrain
Here are a couple of Super Sophomores waxing poetic about the '68-'70 teams.
Courtesy of Vico former home, here is the '68 Michigan game in all its glory.
And finally, here are highlights from that historic Rose Bowl matchup. This is worth viewing just to see Rose Bowl Queen Pamela Anicich's flawless game lead-in as well as the announcer stating, "Ohio State fans, this is a song they play every game [named] 'Hurry Up Sloopy'" (Pro Tip: located at :48).
Well, that's all for this week. Thanks again to 11W reader VintonCountyBuck, and thanks for stumbling in.