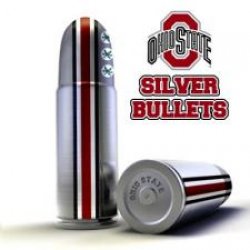 VintonCountyBuck
Chillicothe (via Hamden)
Member since 19 November 2012 | Blog
Helmet Stickers: 1,724 | Leaderboard
I've been a Buckeye fan since birth. I remember quite fondly my dad and I would climb onto the roof of the house every Saturday and early Sunday morning in order to adjust the antenna so that we could watch THE Ohio State Buckeyes' games. The ones that were not live, we always listened to religiously on the radio, and then stayed up late (it was the weekend) in order to receive our edition of the Dispatch so we could read the game recap as Hot-off-the-press as was possible at 3am. Watching the Buckeyes Replays on WOSU Sunday mornings at 9am were always the highlights of the fall in my opinion. And we NEVER missed them. Sometimes even being late for Church on occasion. Well..the Pastor at our church made the mistake of asking my Dad to try and be a little earlier next time on this one particular Sunday.This happened to be the Sunday before Thanksgiving and as it turns out was the same Sunday of WOSU's replay of the '87 TSUN game, Erle Bruce's last as Head Coach..My father quite emphatically explained to the entire congregation that his God..Our God is indeed a Buckeye!! And the very mere request of such a preacher could only be the work of those Devilish wolverine fans..Needless to say, we never stepped foot back inside his church. So for me, Buckeye Football is as close to religion as there is.
Favorites
SPORTS MOMENT: 1990 Cincinnati Reds World Champs
2002 Ohio State Buckeyes National Champs
2012 Ohio State finishing the season undefeated!!
Anytime that state up north loses a game.
COLLEGE FOOTBALL PLAYER: Orlando Pace, Chris Spielman, Mike Vrable, Eddie George
COLLEGE BASKETBALL PLAYER: Jimmy Jackson, Gary Trent
NFL TEAM: Cincinnati Bengals, Cleveland Browns
NHL TEAM: Blue Jackets, Penguins
NBA TEAM: Lebron..not the team
MLB TEAM: Cincinnati Reds, any team playing the Cardinals
SOCCER TEAM: soccer is not a sport..This is football country.
Recent Activity
This deserved to be repeated.
Man.. I can't even believe some of these comments.
You absolutely, 100% do it. Loud and proud is the only way to be a Buckeye. He left..let him deal with the embarrassment of life in Illinois. That's not your problem. Buckeye Nation is everywhere, so always carry your Buckeye Pride with you.
Wear it proudly.
Power S*it Squat, perhaps?
I'll have to admit.. But I didn't get DJ at first. I do, however, read his Skullys religiously. I continuously thirst for knowledge of anything Buckeye related. DJ's writings help to quench my cravings.
Hate seems to be part of the shtick.. But I'm not a hater, though..and that's ok with me. We are from two different worlds. Yet, the immense gravitational pull of The Ohio State University, makes us celestial neighbors. Brothers.
I just hope that DJ is able to fight his inner Marionaire and resist the urge to hijack some nuclear weapons and take the world hostage. Please.. No one piss off Mr. Bigglesworth.
I wasn't a fan at first.. However, I am, slowly being converted.
Sorry MTrotB, The fog of sarcasm surrounding my comment must've clouded my brain when I was posting this. Didn't mean to upset the long-snappers union. +1 to you for pointing out my sins.
So..Given Uncle 9'ers penchant for making bold, somewhat outlandish statements...
Can we call him a modern day Sock-ra-Tease?
Awesome write up again Remy, as always.
I have a story about Bob White. My father was a Contractor Sales Manager at an old 84 Lumber store outside of Batavia, Ohio in the late '70s. His manager was from Detroit and, needless to say, he was a big *ichigan fan. The manager had been giving everyone in the store lots of grief the whole year, especially if during football season.
One day, Dad recalls that they were both working the service desk up front and someone had mentioned Woody Hayes. His manager, without hesitation, throws his pen and just blurts out the most God-awful and outlandish things. Basically stemming from how much he couldn't stand Woody. Well, the customer at the time, picks up his pen and then walks up to the desk, handing it back to the manager. After the manager asking how he could help the man, he simply says, "First of all, Sir, I would like to address something. What you said about Coach Hayes is simply not true. I've had the great pleasure of playing under Mr Hayes and have always found him to be a great man."
He asks then my father to help him instead. When his transaction was complete, the guy shakes both of their hands and. As Dad recalls, the guy had on a National Championship Ring, that he still swears to this day, was a big as his hand. The guy paid with a personal check, signed.. Bob White.
Needless to say..we've been big Buckeye fans for a long time ever since.
Are we pretty much set at linebacker now for 2015, Birm? I am asking because I really like this Regan Williams kid out of Jackson (Jackson High School).
I noticed you tweeted out that he was at Stanford over the weekend and has already paid a couple of unofficial visits to Michigan State and Illinois. This area doesn't get a lot of love sometimes it seems, in recruiting terms. But, He has played against Buckeye QB commit Joe Burrow and current Northwestern Linebacker Jalen Prater. He seems to have pretty good instincts and is obviously intelligent if he is getting looked at by Stanford.
One thing I will add though, is that Dustin Ford is currently an assistant Men's Basketball coach at Illinois. He is the former Head Coach of Jackson High School. So that may also play a part in any decision, even if the a Buckeyes did offer.
Wait.. We're not allowed to do that?
"The Quiet Storm"... I can still remember that Holiday Bowl against BYU. My father kept yelling "Just give Raymont the damn ball". He was an absolute beast that day.
Haha. Yeah.. "S P R T Y..You ain't got no Alabi.. You Sparty! HaHa..You Sparty!" (points finger)
I will show myself out now...
I don't remember where I saw it, but someone else brought up that he has multiple offers from Florida St., Auburn, and Mizzouri. Three high profile teams with some prolific offenses. Perhaps Urban and company felt his skill-set was better suited for the Buckeyes.
edit: up vote to counter the downers out there
A water wall? I know where you can find one
I was in Happy valley the last time the Buckeyes played there. Everyone was cordial and went out of their way to make us feel welcome. We got thanked for coming more often than not.. Hell one couple even invited us to stand in their post-wedding/honeymoon pics with them. Of course, all this was with the Sandusky stuff still fresh in their minds. So take it for what it's worth. We had a great time. My favorite road game I've ever been to, and that includes East Lansing. That student section is amazing.
When we were at East Lansing everyone seemed ok as well.. But it was nearly ten years ago. Half the people in the stadium were Buckeyes. I imagine that has changed in the recent years
Now when we murder teams we can tell the authorities that we have an Alabi... BOOOOM!
Remind me in the future , to leave my Craig Krenzel matryoshka doll at home when I tell the wife that I'm going "fishing".
If only that Newport Aquarium sign were pink..I'd be dying right now. Lol
Up votes all around for everyone.
I was reflecting a bit on the Iowa game and found this excerpt from an article here:
It's kinda long but this quote can be found on pg.18
"I hit a guy and my ear pad popped off and my helmet fell out and the referee didn't give me an equipment time out." Spielman said Saturday. "He said, 'Either go out ( of the game) or play with you helmet the way it is." If you know Chris Spielman, you know he's not going to go out. (Iowa Quarterback Chuck) Long rolled out and my helmet was bobbing on my head. So basically, I just said, "The hell with it." I threw the helmet off and went after him.'"
I was a young boy watching that game.. But to me, that moment was when his legend was born.
We start today with a tip of the cap to The Ohio State University. There were easier, more clandestine routes they could have taken with the The Best Damn Band in the Land's culture problems, but in the end, they chose the most honorable one. (Sorry, haters.)
Thank you, DJ. This was the biggest reason that I refrained from making a comment on that thread. My usual tendency to make jokes just didn't seem appropriate on this topic.
I am reminded of the advice that my Dad once gave me after my parents split up. That is: Sometimes even the best and most beautiful marriages just don't work out. In that case, you have got to do what's best for the children.