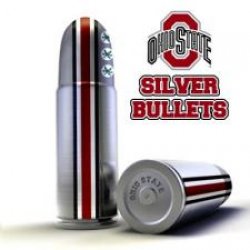 VintonCountyBuck
Chillicothe (via Hamden)
Member since 19 November 2012 | Blog
Helmet Stickers: 1,193 | Leaderboard
I've been a Buckeye fan since birth. I remember quite fondly my dad and I would climb onto the roof of the house every Saturday and early Sunday morning in order to adjust the antenna so that we could watch THE Ohio State Buckeyes' games. The ones that were not live, we always listened to religiously on the radio, and then stayed up late (it was the weekend) in order to receive our edition of the Dispatch so we could read the game recap as Hot-off-the-press as was possible at 3am. Watching the Buckeyes Replays on WOSU Sunday mornings at 9am were always the highlights of the fall in my opinion. And we NEVER missed them. Sometimes even being late for Church on occasion. Well..the Pastor at our church made the mistake of asking my Dad to try and be a little earlier next time on this one particular Sunday.This happened to be the Sunday before Thanksgiving and as it turns out was the same Sunday of WOSU's replay of the '87 TSUN game, Erle Bruce's last as Head Coach..My father quite emphatically explained to the entire congregation that his God..Our God is indeed a Buckeye!! And the very mere request of such a preacher could only be the work of those Devilish wolverine fans..Needless to say, we never stepped foot back inside his church. So for me, Buckeye Football is as close to religion as there is.
Favorites
SPORTS MOMENT: 1990 Cincinnati Reds World Champs
2002 Ohio State Buckeyes National Champs
2012 Ohio State finishing the season undefeated!!
Anytime that state up north loses a game.
COLLEGE FOOTBALL PLAYER: Orlando Pace, Chris Spielman, Mike Vrable, Eddie George
COLLEGE BASKETBALL PLAYER: Jimmy Jackson, Gary Trent
NFL TEAM: Cincinnati Bengals, Cleveland Browns, Any team (ex
NHL TEAM: Blue Jackets, Penguins
NBA TEAM: Lebron..not the team
MLB TEAM: Cincinnati Reds, any team playing against the Card
SOCCER TEAM: soccer is not a sport..This is football country.
Recent Activity
That usually happens after the marriage
Practice squad to simulate Kaepernick
Seriously, though. I hope T.P gets a legitimate chance to make the team. I think in the right system he could be deadly.
Yes.. It is a long offseason. And I am just trying to have fun.
I think inherently the "circle-drill" favors the offensive player, simply due to the fact that it's more about leverage and technique than it is about strength. Your right..it is not a tackling drill. And, yes, I know neither of these men were offensive players.
Desire also plays a large part in it as well. Hence, the reason I picked Speils.
In my lifetime as a Buckeye fan, I have seen very very few players have the desire and determination that Speilman had each and every time out. But of course, just my opinion. +2 for the double posts.. Haha
Haha Half-baked references..+1's all around.
Please.. Katzenmoyer couldn't stop Curtis Enis. He has no chance against Mary Lou. Lol
HERMAN WATCHED A QB THROW ON WED
I thought this said HERMAN WATCHED A QB THROW ON WEED.
Which would be nearly impossible for him to focus on the recruit.
Spiels had his own Wheaties Box in high-school... Game over
No prob OSUMYKE. I was just always fascinated with his story especially since he only finished second because of Archie. +1
Randy Gradishar V/s Marcus Marek.
I used to hear stories growing up from my dad about how dominate these linebacking legends were. Saw Spielman and Katz play, but as great as both were neither are the all-time leading tacklers at OSU, nor did any of them finish as high as Gradishar in the Heisman race. ('73 Archie won, John Hicks finished 2nd)

Wow. He is so fat phat.
Fixed it. Lol
Edit: strike through feature still not working
I totally read this to myself in the voice of Paul Harvey. Well done my friend.
I love her twitter handle
Not sure why this was down voted.
Unless that up vote target was moving.
Seriously though, The Buckeyes seem have a target on their backs every game. We just need to go out and care care of business.
+1 for you to even it out.
Through official decree, Urban Meyer has requested the juice be brought.
I bet they bring a little more than juice.
Linda Lovelace approves this post
BUCKEYES SET TO HOST SLEW OF MICHIGAN PROSPECTS
Man.. Coach Coombs doin' some serious work.
Also worth mentioning in regards to Boals is the fact that he is an alum of Ohio University. One of the smartest players on the basketball court that I remember seeing. Spent much of my college time cheering him, Curtis Simmons and Gary Trent on in the Convo. As well, of course, many days after nursing the hangovers.
It has been a pleasure watching him on the sidelines for the Buckeyes. He's ready for his own show.
We've had the Norwood. We be crootin' the Greenwood. Now we are looking for the Fullwood.
You're welcome, ladies.
Haha..yes actually it does. Just found the idea of Corndogs as road kill pretty funny