Hopefully everyone had a good ChristmaHanuKwanzakah and now is gearing up for New Year's Eve, as 2013 is just around the corner.
I know Urban Meyer certainly enjoyed his Christmas, because not only did he get to spend time with his family down in Florida, away from all the snow, but he also got an unexpected present when Cleveland Glenville OL Marcelys Jones became the first member of OSU's recruiting class of 2014.
While Urban is looking to add to the '14 group, he is more focused right now on closing out the 2013 class. With the new year comes high school all-star games during the first week in January, including the US Army All-American Bowl, Under Armour All-American Game, Semper Fidelis Bowl, and Offense-Defense Bowl. 
The Bucks have a number of targets participating in those events and will look to pick up a few more commitments as they announce throughout the contests. To make it easy for all of you, we have organized a list of participating players, as well as game times and locations, so that you can easily find who to look out for while each of these games take place.
In the latest edition of the 11W Recruiting Notebook, we take a look at some prospects who will be announcing at all-star games, check in on the latest shuffling of the wide receiver board, and look ahead to some big weekends the staff has planned once the new year is brought in.
Join us after the jump to hear the latest on the Ohio State recruiting trail, with the New Year's edition of the 11W Recruiting Notebook.
Linebackers Are Coming to Town
Ohio State has Tyquan Lewis set to arrive on campus January 5 and he is going to start his Buckeye career at the Viper position, which is a linebacker who puts his hand down at the line of scrimmage and rushes the passer.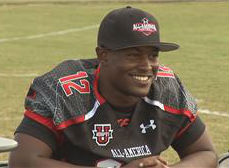 Outside of Lewis, the Buckeyes do not have any other verbal pledges at the linebacker position, a group in need of talent as soon as next season. That is about to change, though, as two big-time prospects are making their announcements at their respective high school all-star games.
Lawrenceville (GA) Central Gwinnett's Trey Johnson will be playing in the Under Armour All-America Game on Friday, January 4 as a part of Team Nitro. His teammates for the game will include Buckeye commits Cam Burrows, Joey Bosa, Jalin Marshall, Marcus Baugh, and Gareon Conley, who will be showing him some extra OSU love prior to him announcing his decision during the broadcast.
When that announcement happens, I am very confident Trey will be putting on a hat with a block O, and will become the 20th member of the Buckeyes' 2013 class. Johnson will be a big pickup for Meyer, as he is a very talented player who can step in and contribute immediately at one of the two open linebacker positions.
A day later at the US Army All-American Bowl in San Antonio, Texas, I expect the Bucks to snag their second linebacker commitment in as many days. Mike Mitchell, who is playing as a member of the West team in the game, is expected to make an announcement during the broadcast, and all signs point to his destination being Columbus.
Mitchell had a great visit to campus earlier this month and will not take any other visits before deciding. He has said the Bucks lead for his services all along, and fans will be pleased when he announces his intentions at the game, in front of future teammates Ezekiel Elliott, Michael Hill, Evan Lisle, Eli Apple, and Johnny Townsend, as well as our very own Kyle Rowland, who will be on hand for coverage all of next week.
Speed Kills
The gap at linebacker looks like it will be filled soon, so the focus will shift to wide receiver, where Urban and his staff are looking for playmakers to step in and be a factor next season.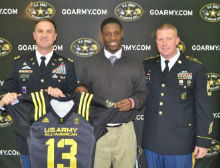 The first word of how things will play out will come at the Army Bowl, where Louisville (KY) Trinity WR James Quick is expected to make his college decision.
Quick has said for some time now that Louisville is his leader, so many expect the Cardinals to get the call, but he has very high interest in the Buckeyes after his official visit to Columbus for The Game back in November.
I have asked around to many sources and have heard everything about this recruitment. Many are adamant he will stay home and play for Charlie Strong, while others have called Quick a lock to the Buckeyes. I personally think nobody knows for sure what is going on with Quick's pending choice, and we should all find out soon enough if he is indeed ready to announce in San Antonio.
The next man up at receiver is Cleveland Heights' Shelton Gibson. Gibson will make an official visit to OSU on January 11 and is expected to sit down with the staff to see if he'll be able to qualify in time for the 2013 football season. If he will make the grades, Gibson will definitely be in the Buckeyes' class, so stay tuned for news coming out of that trip.
Other players the staff will be continuing to recruit include Cornelius Elder, Ryan Timmons, and Corey Smith.
I think if given the green light, both Elder and Timmons would commit to the Bucks on the spot. Right now both are scheduled to come in the weekend of January 11 so we will know what the situations for both players are coming out of their visits.
Smith is currently committed to Mississippi State, but would be intrigued with the opportunity to come home to Ohio and is listed as a tentative visit on January 18. If he makes that visit, you know things are real there, but if he doesn't, it is a telling sign the Bucks are likely filled at receiver for the current class.
Finally, one other player to look out for is Dontre Wilson of DeSoto, Texas. Wilson chose Oregon over the Buckeyes and Texas A&M back in the summer, but with the Ducks in hot water and Chip Kelly possibly leaving for the NFL, Wilson could be looking around again.
Tom Herman was at DeSoto High School a few times over the last month, so obviously this isn't just a one-sided romance. I do think the Bucks would bring in Wilson if he is open to it and he could be a dynamic last-minute grab at the running back/slot receiver position.
Big Recruiting Weekends Planned
As you can probably infer from some of the notes above, the Buckeyes have some big recruiting weekends planned after the new year.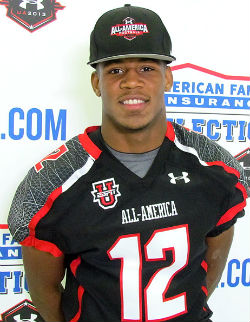 The first of those big weekends will be from January 11-13, when the staff is expected to host a growing list of top players in the 2013 and 2014 classes. The date of the weekend is no random selection, as the basketball Buckeyes will be in action against Michigan on that Sunday, setting up an electric environment for the visitors to take in.
Included in the list of players being hosted are Gibson, Elder, and Timmons as mentioned above, as well as 2013 targets in DB Vonn Bell, OL Dylan Wiesman, and LB James Hearns. The staff will also bring in 2013 commits TE Marcus Baugh and ATH Jalin Marshall to help recruit the aforementioned to Columbus, especially Bell who is deciding between OSU, Alabama, and Tennessee at the end of January.
2014 prospects on hand will include recent commit OL Marcelys Jones, his teammate ATH Marshon Lattimore, LB Kyle Berger, and DB Damon Webb. There are sure to be many other names added, but those are some big-time prospects to kick off the list.
In addition to the middle of January, there is another big recruiting weekend set up for the weekend of February 8-10. Not coincidentally, Thad Matta's team plays another big game that Sunday, as they host the Indiana Hoosiers in what should be the biggest home game of the season.
There are no players confirmed yet for a visit, but you can see how Urban Meyer is being methodical in planning out the best possible weekends to impress members of the recruiting class of 2014.