Ohio State has finished their 2012 season with an impressive 12-0 record, but it wasn't always easy for the Buckeyes, who had their ups and downs throughout the year.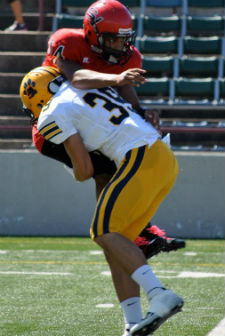 Many of those "downs" came on the defensive side of the ball, where the unit allowed too many big plays and displayed tackling issues, allowing many inferior opponents to keep games closer than they should have been. The linebackers were the main culprits of these mistakes, as the corps struggled mightily early on in the season.
On the flip side, the defense, and linebackers specifically, did provide many "ups", especially as the season progressed. The group improved down the home stretch and players like Zach Boren and Ryan Shazier emerged as saviors, while Etienne Sabino's return from injury solidified a 180 turnaround to help secure the undefeated record.
Shazier returns for the Buckeyes next year, but Boren and Sabino depart, leaving Luke Fickell having to ensure he has the right personnel to lead a championship caliber defense onto the field once again in 2013. While young players like Joshua Perry, Jamal Marcus, Cam Williams, and David Perkins could emerge to get the job done, the staff has been out recruiting prospects in both the 2013 and 2014 classes to fill the need of playmaking linebackers.
One new prospect the coaches have their eyes set on is 2014 LB Kyle Berger of Cleveland (OH) St. Ignatius. The 6-3/210 Berger had a quietly outstanding season for his team with 44 tackles and 10 sacks. He was rewarded last week when his first offer came in from Ohio State, followed quickly by Cincinnati who gave the budding star an offer on Thanksgiving Day.
We caught up with Kyle to talk about his offer from the Buckeyes, his recent trip to Columbus for The Game, his thoughts on the recruiting process, and more. Join us after the jump to hear more about Ohio State's most recent offer, Kyle Berger.
You got your first offer from Ohio State last week. How did that go down?
Coach Pantoni sent me a message asking me to call them and that Coach Meyer wanted to speak to me. I gave them a call and spoke to Coach Fickell first and then he put Coach Meyer on the phone who told me he wanted me to be a Buckeye and offered.
How did you feel when Coach Meyer gave you the offer?
I was so pumped. I couldn't believe my first offer was from Ohio State. Growing up in Ohio, that is a pretty big deal [to get offered by OSU]. I wasn't a huge college football fan growing up, so wasn't a die-hard Buckeye fan, but I definitely root for Ohio State.
You made a visit to Ohio State this past weekend. What did you do on your visit?
I got down to Columbus on Friday night and stayed with my former high school teammate, Blake Thomas, in his dorm. Blake was telling me how great of a time he is having at OSU and was definitely pushing for me to come there. 
On Saturday we got to the stadium and I went up to the recruiting room with my teammate, Jimmy Byrne, and also got to go on the field during warmups. I got to speak briefly with Coach Pantoni, Coach Fickell, and Coach Vrabel before the game and then got to speak with Coach Fickell and Coach Meyer after the game. 
What did Coach Meyer and Coach Fickell say to you?
He thanked me for coming to the game and said he wants to get me down again soon so that he can meet my family. Coach Fickell told me he really likes my game and that he'd be out to my school this week to see me.
What was your opinion of the atmosphere on Saturday?
It was unbelievable and so much more than I expected. The fans were going crazy and everything was just so great. It was my first college football game and it certainly was a good one.
Did you watch the OSU defense during the game to see how you would fit in?
Yes, I was watching Zach Boren and Ryan Shazier a lot. I can definitely see myself in that defense. They work so hard during the game and their play showed it.
Did the staff tell you if they were recruiting you for any position specifically (Mike, Will, or Sam)?
Nope, they just said they want me as a linebacker, but I am willing to play any of the spots.
What other offers do you have? Who else is close to offering?
Cincinnati offered on Thanksgiving and they are my second offer. West Virginia is close to offering and want me to call them this week. I might make a visit down there on Friday, but I need to connect with the coaches. Indiana is visiting me at school this week and they are close too.
Where does OSU sit on your list after your visit?
I still have to talk to other schools and see all of my offers, but them being the first to offer and after the experience this weekend, I think a lot higher of Ohio State.
When would you ideally like to make a college decision?
I would love to make a decision in April or maybe even early May.
Do you have a return visit planned to Ohio State?
Yeah, I am planning on coming down with my family during my winter break.
You are teammates with Jimmy Byrne, who is also being recruited by Ohio State. Do you guys talk about going to the same school together?
We hadn't really talked about it too much, because I didn't have any offers, but now that I have been offered by OSU we spoke a little bit during the game about possibly playing together for the Buckeyes.
Other recruiting coverage from this weekend: