[Clears throat] 
[In a terrible vampire voice] Happy Halloween and welcome to your morning Skull Session! 
Today's extra-horrifying edition will provide links most dark and disturbing for your fearful eyes. 
Thank goodness last night saw the return of Aaron Craft and company, as the basketball Buckeyes navigated the post-Sully/apocalyptic wasteland to an 83-71 win over Walsh. 
In actual scary news, our own Alex and Ramzy currently reside in New York City and New Jersey, respectively, and have been/will be under siege by Hurricane Sandy for the indefinite future. 
Hopefully power is restored and everyone can get back to normal shortly, but they may be MIA for a little while. 
TIM BECKMAN'S NIGHTMARE...is his University of Illinois football team. A recent Chicago Tribune article didn't pull any punches:
Pages of message board threads are dedicated to the debate about whether Beckman and second-year athletic director Mike Thomas should be pushed out of Champaign. One source close to the program called the Beckman hire "an absolute disaster," and another said he was "in way over his head." A Champaign newspaper reporter made his own "disaster" designation on a radio show.

 

Some words of advice for those quick-trigger observers: Don't get your hopes up.
With Illinois' financial problems, a lack of support for the athletic director, attendance problems, and recruiting issues, Illinois has had its fare share of off the field problems this year. On the field, however, it doesn't get any better for Illinois: 
| | | |
| --- | --- | --- |
|   | Illinois | Ohio State |
| Scoring Offense | 118th | 21st |
| Rush Offense | 90th | 10th |
| Pass Offense | 104th | 105th |
| Scoring Defense | 88th | 50th |
| Rush Defense | 57th | 20th |
| Pass Defense | 44th | 111th |
| FEI  | 106th  | 10th  |
| S&P+ | 100th | 19th |
That FEI puts Illinois right there with Texas State and Akron. Ouch. 
Based on these numbers alone, Illinois will struggle to run the ball, pass the ball, and stop the run, and should only be mediocre at stopping the pass.
Ohio State's pass defense leaves a little to be desired at 111th in the country, but when you allow >300 passing yards but only 17 offensive points against Penn State, you take what you can get. Further, it certainly doesn't look like Illinois has the passing offense to exploit the secondary. 
THE DARKEST SCENARIO IMAGINABLE. The esteemed Adam Jacobi uses his crystal ball of doom to view a future more horrible than we could have possibly foreseen for the Big Ten – one that sees a 6- and 5-loss team in the B1G championship game. 
In some kind of sick joke, there's a surprisingly plausible scenario that would allow a 7-5 Iowa team to face a 6-6 Indiana team as the representatives from the Legends and Leaders divisions. 
Sure there have to be some less-than-probable outcomes to get to that place (Iowa over both Michigan and Nebraska, Indiana over Nebraska), but the fact that it's even that possible makes it even more horrifying a scenario. 
Maybe Ramzy was right about Indiana's Hall Pass..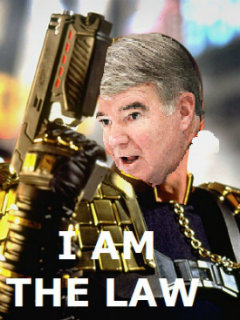 THE NCAA GETS DOWNRIGHT SCARY. The NCAA beast got a little bit scarier yesterday as it announced its new plan for enforcement and handling of infractions. Staples puts the changes into plain language:
Now, the NCAA will have four categories of violations.
• Level IV -- Incidental issues: A football coach butt dials a recruit, going over the one-call-a-week limit. (This entire category may get eliminated if the working group does away with some of the stupidest rules during the rulebook overhaul.)
• Level III -- Breach of conduct: A basketball coach tweets that a prospect has committed to the school and names the prospect.
• Level II -- Significant breach of conduct: Incoming football freshmen taking summer classes sleep on the couches of upperclassmen because "voluntary" summer workouts are actually required at every school.
• Level I -- Severe breach of conduct: A football player commits to a school, and a few weeks later he is somehow able to buy a barely used Dodge Challenger for pennies on the dollar after an assistant coach places a call to a booster, who places a call to a dealership in the player's hometown.
Dodd thinks that the structure might finally deter cheaters:
Will risk finally outweigh reward for cheaters? This structure suggests yes. Coaches no longer will even be given the benefit of the doubt. If an assistant is caught cheating, the coach will be subject to suspension. It is now up to the coach to be proactive, shifting some of the burden off compliance and more on the guy who oversees the football program.
We'll see. Hopefully this will mean fair and consistent punishment instead of just more penalties for more schools faster, with no real reduction in "cheating."
 BILL SNYDER'S EVIL MAGIC. Bud Elliot explores how Snyder has used his clearly maniacal sorcery to improbably join the top teams in college football. To Elliot, it all comes down to Snyder's strategy of recruiting JUCO kids into his system of great coaching and low-penalty football:
Kansas State doesn't make a lot of mistakes typical of young players because it doesn't use many young players. Kansas State's defense has eight senior starters and three juniors. The Wildcats offense starts four seniors and five juniors.

But the players haven't all been in the system for very long. Many are junior college ("JUCO") recruits, and perhaps no school does a better job mining the JUCO ranks than Kansas State. In 2010, Kansas State signed seven JUCO players. In 2011, nine. In 2012, eight. One area in particular that often benefits from JUCO players is the defensive line. JUCOs offer something that high school recruits simply cannot: physical maturity.
This is a pretty interesting strategy – a lot of JUCO kids just want to play scholarship ball. Just because they're not playing D-1 doesn't mean that they're not talented either. In fact, Meyer is recruiting a few JUCO guys this year – Corey Smith and Auston Johnson. 
 A FEW SCARY LINKS FOR YOUR DAY. Playing by the rules here just might get you killed... Your weekly reddit cfb meme thread... And you thought that Tim Beckman's nightmare was bad: "meesa JarJar, and meesa baaaaaack!" As if I won't be there at midnight opening night... This week gives us an MSU, UT, Auburn, and Florida edition of the meltdown... Really cool art project that brands the presidents. Could TR's be more awesome?... The opening sentence should read, "To the surprise of not a single Buckeye fan"... No Buckeyes make the top freshmen list and Diggs is "the one who got away"... Listen, Te'o isn't even the best defensive player this year... Notre Dame's rise – good for college football??... Auburn is losing, so naturally it will be investigated too, if you can believe Sheridan.