We are back for another edition of the Eleven Warriors RoundTable featuring your favorite Dubster Analysts.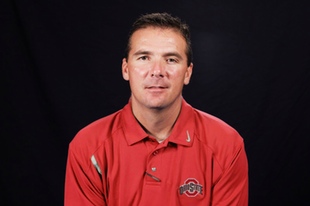 It's been a sweet ride so far, so let's keep it rolling. I'm talking about our series of RoundTables, by the way. But yeah, the Buckeyes season is rolling in the same way. We'd like to extend a thanks to this week's analysts: Jeff, Elika and Johnny for participating. Enjoy!
The Buckeyes got the win against Indiana, but it wasn't pretty as OSU gave up 49 points on defense. What are your current thoughts on this Buckeye team a bit more than halfway through the season?
Jeff: I think they are a good team in a terrible conference. The offense is much further ahead of schedule than I ever thought they would be at this point, but I still think they've got things to work out. As far as the defense goes, I don't think it will get much better until Urban gets his guys in place. Injuries and a lack of talent on that side of the ball will only heal over time.
Johnny: Obviously there's a ton of disappointment with the defense. The masochistic side of me wants to go back and read all the different ways we came up with to pretty much anoint the defensive line as the best in decades before the season was even started. On the other hand, the offense has evolved into a force that I personally didn't expect it to be this early. Overall it's a push, but since I personally enjoy crowing about a dominant defense over a great offense, I guess I'll just have to be a huge wiener and say that I'm not totally happy overall despite the 7-0 start.
Elika: Seasons where "a win is a win" become the theme week in, week out, aren't new to Ohio State. What is new, however, is witnessing the Buckeyes struggle so much defensively, and that's taking a bit of an adjustment for spectators.
Given Urban Meyer's background, we should've expected the identity of Ohio State football to shift a bit, and some of these changes are fun to watch, namely on the offensive side of the ball. It's been fun to watch certain players be utilized to their full potential, and Braxton force his name into Heisman contention. Now, I'm just looking to see how the defense responds to Urban paying more attention.
Although there are many things to improve on, what is the most important thing the defense must do moving forward to become better as a unit?
Jeff: Learn how to stop a quick passing game. This is a problem that has plagued Buckeye Ds even in the Tressel years. It seems if a QB can get the ball out quickly on short and intermediate passing routes, the Silver Bullets have had trouble stopping it.
Elika: Finishing. They're giving up big plays by not giving the six seconds of relentless effort Urban asks for, and they've just been sloppy all around.
Johnny: I think they need leadership, particularly in the secondary. Ross talked about scheme yesterday and how a lot of curious coaching decisions are hurting them, but as he also mentioned, I think a lot of it falls on the players to step up and make plays. I know that Zach Boren is a great football player in general, but if you had told me during any other season that our defensive leader among linebackers and the secondary was a converted fullback, I would've made a very frowny face indeed.
The Buckeyes are 7-0 and ranked #7 in the AP Poll. If you had an AP vote, where would you rank them?
Jeff: I think 7 is fair. They've won all their games but some of them haven't been pretty (but neither were some of the wins in 2002). If they win out I don't think a top three finish is out of the question.
Elika: The ranking is somewhat deserved, given their record, but it's misleading. Given what we've seen on the field so far, there are teams below them that would beat them. And easily, if they don't fix their issues on the defensive side of the ball. Pardon the Herbstreit-like response, but I'd have them in the 10-12 range, until I see some improvements.
Johnny: Like 13th or so. There are a lot of "just good" teams out there, and Ohio State is one of them. I know you can go by resume or quality wins or blah blah blah whatever. My personal criteria has always been which team is playing the best as of the week that I'm ranking them, and right now OSU is playing like the 13th-15th ranked team in the country.
Enough with the negatives. Let's talk Braxton Miller. He is now a Heisman favorite on the shortlist. How does he keep doing it and how much fun do you have watching him?
Jeff: Simply put, Braxton is the most exciting Buckeye player I've ever watched. I remember the feeling I got watching Troy Smith take the snap every down in 2006 and the feeling I have now is exactly the same. If anything, the excitement is intensified by the thought that the Buckeyes could have him around for two more years.
He stays in the Heisman conversation by continuing to produce at least one #DIDHEJUSTDOTHAT play every Saturday. By my count he's got at least one for each of the Buckeyes' seven wins this season. If he keeps adding to that highlight reel we will see him in a suit in December.
Elika: So much fun! Could not be more pleased that this kid is in scarlet and gray. What does he need to do to keep it up? Two things:
1. Keep winning. Big Ten opponents will get zero respect from Heisman voters, so a loss will not go over well. Barkley probably should've been in NYC last year, but fell victim to USC's postseason ban, not getting the attention he deserved (and he played in Andrew Luck's conference, but still...). As BCS talk gets going, Ohio State will have to remain undefeated to keep themselves, and Braxton, in the conversation.
2. Keep doing what he's doing. An exciting highlight reel and time on Sportscenter never hurt.
Johnny: I used to substitute teach in some high schools that played against Wayne when Braxton Miller was in high school, and every kid who played against him that I talked to was kind of in awe of the dude. He was playing on a team with almost no real talent around him, yet was able to drag them to a state championship game. My point is, he's used to putting the team on his back. It's his comfort zone, and it's kind of amazing to watch (especially since he's so blasé about pretty much everything).
Purdue has gotten blown out in back-to-back weeks against Michigan and Wisconsin, losing 44-13 and 38-14, respectively. The Boilermakers are surely a better team than the Hoosiers, at least that's what common thought is. What do the Buckeyes need to do differently on both sides of the ball to come out 8-0?
Jeff: Put a helmet on the ball carrier and wrap with authority. Since 2006, Ohio State hasn't truly had an offense that can seemingly score at will. Now they have that cushion, but they shouldn't rest on it. I think that's been happening over the past few games. The defense lets up on certain drives because they know the offense can bail them out. That's a recipe for disaster that needs to be corrected immediately.
Elika: Minimize errors and sloppy play. This is mostly for the defense, but Braxton's pick last week was also really... not smart. But the number one thing that will make this team look like the top ten team it is, is the defense playing harder, longer, and as if they know how to tackle.
Johnny: Offensively, they just need to make sure that Carlos Hyde is involved early and often so that Purdue doesn't key on Braxton from the outset. If Hyde gets going in the first half, the second will pretty much just be Braxton's to do whatever. Defensively, they need to create enough pressure on the ends so that Danny Hope gets super nervous and starts rolling a 20-sided die to see who plays QB on any given series. Having Nathan Williams back should help.
Who is one player that needs to step up on defense that really has underperformed in the last few weeks? Who is one player that has exceeded your expectations NOT named Braxton Miller?
Jeff: Any defensive player not named Simon, Hankins, Boren (weird), Roby or Shazier. The defensive woes are a symptom of an entire unit underperforming. Hopefully with Meyer stepping in this week, they'll wake up.
Without a doubt the player that has exceeded my expectations is Carlos Hyde. My goodness he looks like a premier back. He's the perfect complement to Braxton's shiftiness. Everyone was talking Jordan Hall during camp, and I think that pissed Carlos off. He used that anger for good, channeling it into getting better on and off the field. If he keeps this up he might be in the Heisman discussion next year.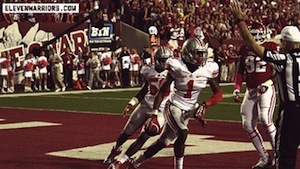 Elika: Boren. When you switch to a new position at this point in the season, lead the team in tackles in your first game, and Urban calls you the soul of the team... I'd say you've exceeded even the high expectations set for you.
Johnny: On defense, Ryan Shazier needs to start playing like the guy we saw last year. Which is not to say he was incredible last year, but at least he was making plays. On the bright side, I think we need to give all the props in the world to Reid Fragel and also get even more angry at Jim Bollman than we usually are for not figuring out how good of an offensive lineman this guy could be.
Bonus: Do the Buckeyes hold the Boilermakers under 28 points this weekend at the 'Shoe?
Jeff: I need them to do so, if only to halt the constant flow of #NewMichigan tweets from my misguided Michigan friends. While I could argue all day over why OSU's D is not a Rich Rod led disaster, I will refrain.
In short, I think Fickell needs them to in order to get off of the hot seat. It's not a popular discussion to have in Columbus, but the glue that held the team together last season might need to go at the end of this one.
Elika: Yes. Please, yes.
Johnny: Yes, the combination of a home crowd, Purdue constantly shooting themselves in the foot, and a really pissed off defense should keep Purdue in the 20ish point range. Hopefully.
---
That's all for this week. Tune in next weekend as we prepare for the Buckeyes trip to Happy Valley to take on Penn State.