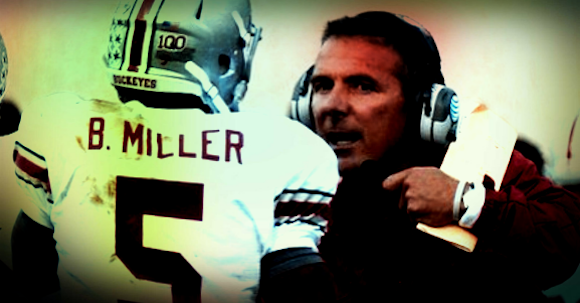 The greatest trick Jim Bollman ever pulled was convincing the world he could manage an offensive line.
We're only five games into the first season sans Jim Tressel's most destructive crony, and yet Urban Meyer and Ed Warinner have somehow already taken Ohio State's albatross - that did not even have enough scholarship players to field a second-string - and developed it into a surprisingly competent and cohesive unit. 
Sure there are still hiccups. They committed seven false starts through the first four games despite not having JB Shugarts to blame. A missed assignment here, a holding penalty there - but nothing terribly out of the ordinary for a college line, especially considering how this group in particular was thrown together in the spring.
There were zero procedure penalties on Saturday in East Lansing, and against the two top-quartile defensive fronts it has faced - UCF and Michigan State - Ohio State's line got the better of both, especially as the game progressed.
Barely halfway through Meyer's honeymoon season, the Buckeye OL has emerged as something it categorically has not been for several years: An asset instead of a liability.
This surprising development has created a domino effect which has already reversed so much of what made 2011 a hideous football season in Columbus (forgetting about all the other terrible non-football stuff).
To wit, last year the Buckeyes ranked 118th out of 120 FBS teams in sacks allowed despite having Braxton Miller - one of the most athletic and slippery athletes in college football - under center for most of the season.
Miller was stuck in a sitting-duck offense behind a prototypically-underachieving Bollman line that resulted in him being sacked an astonishing 39 times. Joe Bauserman went down seven times as well.
Who was Bollman? He was supposed to be an NFL-caliber line coach. Some say his methods were foreign. Nobody believed he was real. Nobody ever saw him or knew anybody that ever truly flourished under him, but to hear Tressel tell it, anybody could have blossomed under Bollman. You never knew who, though. That was his power.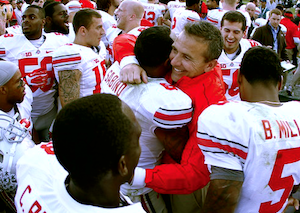 This year Miller not only has time to throw due to his upgraded blockers, he now runs an offense with some variation in how passing plays are designed. Both developments have allowed last year's maligned receiving corps that could never get open enough time to gain separation.
Those enhancements prevented the Spartans from simply teeing off on plays they knew were coming all afternoon, as they did last year. Then, when the Buckeyes needed one more play to ice the game and Michigan State knew what was coming, they were unable to stop it.
Considering how atrocious last year's game in Columbus was played, Ohio State successfully telegraphing the clinching rushing play right into Michigan State's defensive strength was a fitting illustration of just how far the Buckeyes have progressed in such a short time.
Ohio State now ranks a modest 54th in the FBS for total offense through five games. Last year at this time they were 108th and finished the season 107th, despite having four and five-star talent all over the field - and all along the line. 
To add greater context to what Meyer and Warinner are still in the infancy of constructing, only Tressel's veteran 2005, 2006 and 2010* teams ranked higher in total offense. Every single other offense in the Tressel era ranks behind the 2012 squad at this point, and all by significant margins.
Meyer and Warinner have simply coached up what was left for them while making necessary ambulatory roster changes like moving Reid Fragel from a glorified tackle to an actual tackle.
But Fragel does not engage or move his feet like a green tackle. He gobbled up star DE Will Gholston all afternoon, who despite having the wind knocked out of him should have presented a mismatch. He was contained for the better part of the afternoon by a guy playing his fifth game at tackle and his line mates whom he ran over and around last season.
Every player in the trenches seems to have significantly improved. Imagine if some of Ohio State's recently departed four and five-star linemen could have benefited from this level of mentoring. So much for the inevitable drop-off after the Brew Crew.
The Buckeyes rolled up 204 rushing yards against the Spartans on Saturday. That's just 73 yards less than Michigan State had allowed in its previous four games combined.
That afternoon while Ohio State's reupholstered line was successfully rushing the ball and protecting Miller against one of the nation's stingiest defenses, Boston College, who hired Bollman as its OL coach after he wasn't retained by Meyer, was posting a meager 1.8 yards per carry against what had been the nation's 100th-ranked rushing defense.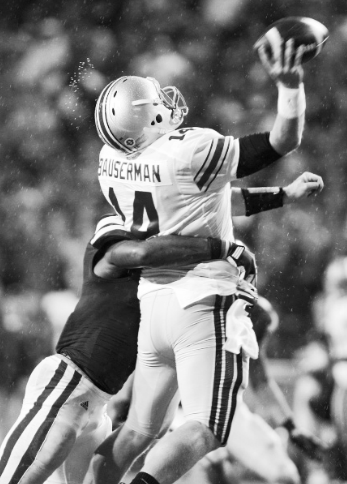 Boston College is now 116th in rushing with Bollman in charge of a veteran line that returned four of five starters in front of a solid incumbent QB. Expecting anything different from him after a decade of evidence in Columbus fulfills the definition of insanity.
Meanwhile, the Buckeyes' entire offensive line was chosen as Ohio State's Player of the Game after Saturday, despite still not being close to where Warinner or Meyer want them to be. The depth chart remains a little scary, and that's with the unit avoiding significant injuries thus far.
Nonetheless, they've come more than a long way. Turning a liability into an asset wasn't supposed to happen this quickly.
Other areas in dire need of improvement also seem to be coming around, but most glaringly the Buckeyes are still victimized by the lack of a solid middle linebacker and consistently poor safety play. Retaining departed players like Dorian Bell and Jeremy Cash might have helped, but simply developing those players that remain (does Curtis Grant ever know where he is on the field?) is the only option for 2012.
It's definitely a possibility. It's already happening with previous underachievers like Etienne Sabino, who was dominant against the Spartans. Travis Howard was finally wrapping up and bringing down ball carriers on Saturday. Even Christian Bryant was shouting stupid things under his breath to himself instead of at opposing players in front of referees. These are all positives for Ohio State.
But it doesn't get any more positive than what Warinner has already begun to produce along the offensive line. Ohio State's worst B1G performance of 2011 - Michigan State - has been avenged. Next up is the beneficiary of its worst B1G collapse of that lost season, if not the past decade.
Meyer and Warinner are showing what's possible. Miller may get the Heisman considerations and - deservedly - the highlight reel worship, but what's happening to the Ohio State offense is being enabled almost entirely by the large mammals who are now routinely doing much more right than wrong.
The architect of last year's doomed plan against the Spartans isn't around anymore. Our weekly OL frustration has subsided. And like that...he's gone.
The same coach who allowed Bauserman to launch clock-stopping bleacher bombs in Lincoln last year with a double-digit lead, the one who recruited too few linemen and developed even fewer of them, has left for good. He's safely tucked away in Chestnut Hill, MA and won't be coming back to Columbus.
After that stint ends, my guess is that you will never hear from him again.