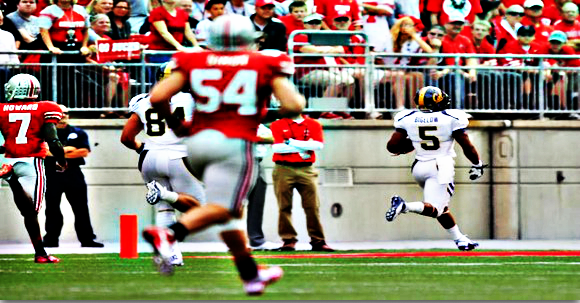 What started out as quiet mumbling during the second quarter on Saturday quickly became an open and anguished discussion in the third.
Why are we so bad?
Miami's receivers kicked off Ohio State's season by dropping a bunch of well-thrown passes. The following week Central Florida found even more holes to exploit but couldn't overcome Braxton Miller.
Cal spent Saturday abusing the right side of the Buckeye defense and as you read this, just ran another bubble screen for seven yards. But Miller exploited their commitment to stopping the run with his arm and poor Vincenzo D'Amato sent too many points flying to the left of the goal posts.
It wasn't supposed to be like this. Adding Urban Meyer to Ohio State football was expected to produce two glorious outcomes: 1) The preservation of a stingy defense that despite one of the worst seasons in memory still finished 19th nationally in 2011, and 2) a swift update to that albatross on the scoring side of the ball. 
Three games into the season it appears that the offense is grinding its way through Meyer's philosophical approach to ball control while the defense has atrophied into the bottom half of the FBS despite having faced the 110th, 71st and 38th-ranked offenses in the country.
But we were told by Vegas - and indirectly, by Nevada and then Southern Utah- that Ohio State was going to crush Cal. The Buckeyes' spurts of brilliance came in sharp spasms that were separated by excessive periods of artless blundering and gawky ineptitude.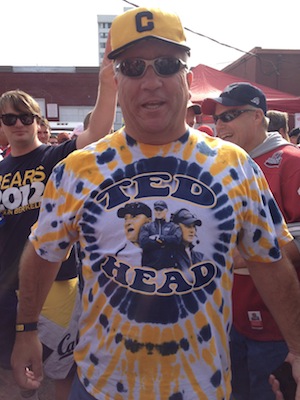 So let's just say it: Ohio State football is in the throes of puberty. This is what happens in a transition year between coaching staffs: Growing pains.
They're temporary, as you probably remember: Steady childishness with bouts of maturity eventually morph into steady maturity with bouts of childishness.
It must be the hormones. They're growing up right before your eyes. We won't miss this, but it's necessary.
You always knew - deep down, anyway - that the Buckeyes wouldn't grow up from a 6-7 spaz into a highly-refined title contender overnight, so Saturday's escape shouldn't be terribly troubling.
What would be alarming for the Buckeyes under Meyer was the cautionary tale on the visitors' sideline on Saturday.
Jeff Tedford arrived in Berkeley 11 years ago as a ballyhooed offensive guru-slash-workaholic (familiar, yes?) and Cal has exactly one shared PAC title to show for it since. After turning the program around and showing some modest success, the Bears haven't finished better than fourth over the past five seasons.
Cal's last January bowl game was 20 years ago. Its most recent Rose Bowl is three years older than Tedford. To make matters worse, Cal's arch-rival, Stanford, isn't doing too badly these days.
Tedford, as you might have already heard, makes a lot more money than Cal's mediocrity should justify. He recently put his awesome house on the market and his proverbial coaching seat is, shall we say, warm.
Cal is a pubescent program that never grew up. It's perpetually a year away from maturity. That's the cautionary tale. That's who the Buckeyes beat on Saturday, and that's who they will play again out west next season when the Bears are once again one year away, if they're not being coached by someone else.
Tedford arrived after one of the worst seasons in school history, changed the football philosophy at Cal and since that quick turnaround has plateaued his program hard into what is now a slow bleed. Eleven years without a Rose Bowl - and no other BCS distractions - is an eternity for a coach earning his paycheck.
Oh, and he also inherited a bowl ban that kept his first team out of the postseason despite earning bowl eligibility. (This will also sound familiar in the coming weeks.)
Meyer hasn't run any program for the amount of time that Tedford has been running Cal, and yet Meyer has managed to find greater success and sooner. But there was an oddly familiar question among the Cal fans commiserating on campus Saturday night following one more loss that felt more like yet another squandered win: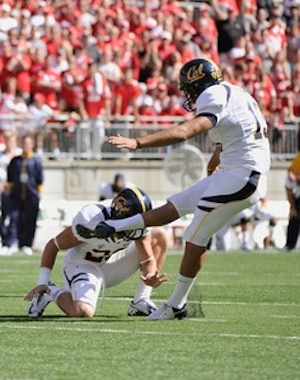 Why are we so bad?
It was the same question Buckeye fans were asking, though only on the surface. Cal isn't supposed to still be in the throes of puberty.
Sure, the Buckeyes were penalty gluttons on Saturday. They tackled meekly. Offensive linemen Shugarts'd far too often. They lacked basic fundamentals. All of that plus those flying yellow flags were glaring red flags.
This is a change year that's following what was a lost year. You cannot even see Ohio State's panic button on the horizon. That's how far off the terror threat level is for this team.
Cal's panic button is already pressed. That kind of talent with their kind of results points the blame toward the headsets on the sideline.
Rebuilding sucks, especially for programs that always seem to be in the midst of such projects and can't climb out. Meyer's shift in philosophy largely relies on Jim Tressel's roster, which was constructed for a markedly different approach to Saturdays.
You expected their climb to finish somewhere during that Miami game in week one. It would be healthier to prepare for an entire season defined by that climb. Honeymoon seasons aren't just about getting better each week; they're about learning how better is defined under the new guy.
Those gaping holes in the defense won't close quickly and those lulls in the offense aren't easy fixes either. The conference isn't terribly strong, but that's an afterthought after watching the Buckeyes give up big play after big play against lesser teams.
UCF and Cal both saw something on the right side of the Ohio State defense that they loved. UAB likely sees it too, but unfortunately for the [looks up UAB's mascot] Blazers they are ill-equipped to consistently threaten the Buckeyes' weaknesses.
And while it shouldn't get worse than UAB in 2012 where quality opponentry is measured, that's not really the concern for this first season with the constantly-looming postseason ban. There hasn't been a less-satisfying 3-0 start in Columbus in a long time, but being this unsatisfied now should pay nice dividends later.
Why are we so bad?
Blame it on football puberty. The Buckeyes will grow up soon enough.