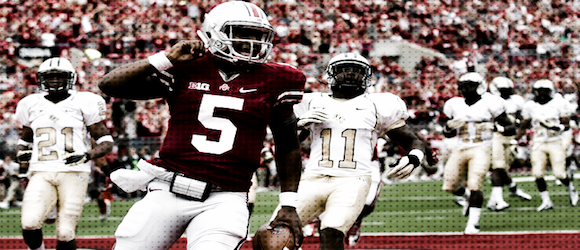 It turns out evolving from stubbornly winning the surest way to relentlessly giving your playmakers the ball is just as exhilarating as we thought it would be.
Unfortunately, that advancement brings us a totally different brand of angst: The overuse of a single player has replaced what used to be the overuse of a single play.
Anyone even casually observing Ohio State's new offense fully realizes who the go-to playmaker is. He starts each play with the ball - and that is optimal. The burgeoning issue is that he typically ends each play with it too.
We were marveling over how underutilized he would eventually be in Jim Tressel's offense back when he was still a freshman in high school, which makes this offense exactly what we wanted for Braxton Miller.
But in a 12-game season, sustainability has to be addressed. Who would have thought it would be possible that Ohio State could put the ball in the hands of its best playmaker too much?
This is the kind of entertainment we begged for during those Tressel years when title after agonizing title was delivered by way of successfully running out the clock and playing not to lose. The voyage to each championship, with just one exception in 2006, was both plodding and effective.
After seven* conference titles and nine* victories over Michigan in a single decade, complaining about the offensive philosophy that contributed to the delivery of all that heaping glory might seem, eh, a little over-indulgent for an excessively entitled fan base.
The destination was always fine; we just also wanted to enjoy watching the journey. We wanted more of the offense that was saved for games like Michigan in 2004 (and, stunningly, Michigan last year) and less of the offense that defined Tresselball over the decade.
More scoring and less clock-killing. More plays for touchdowns and fewer plays for centering field goal attempts. More exploitation of playmaking talent instead of relying on it to bail out bad coaching decisions.
Terrelle Pryor's athleticism was used too often as an escape instead of as a purposeful and deliberate offensive weapon. Last year Miller was kept raw for the balance of the season in a pitiful offense that acted as a 12th defender.
Two weeks into this season Miller leads the B1G in rushing as well as total offense. His passer rating is 146.5 and in 2012 he is rushing for production instead of running for his life.
So this is exactly what we wanted, with one big, difference-making exception: It's unsustainable.
Last season Miller was forced to run Jim Bollman's joyless offense, which was only both entertaining and effective when Miller bailed out of its intent. He was sacked 39 times in 2011, playing against defenses focused on him, his offensive coordinator and his "position coach" all along the way.
He was roughed up and even knocked out of games. Miller is no less vulnerable shouldering too much of the load as he was operating a failing offense.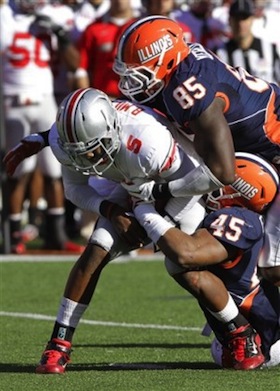 Following Meyer's hiring Miller has received the motherload: Real coaching, actual instruction and a sophisticated and entertaining scheme to match. But he needs help, or else we'll be watching the Kenny Guiton show outside of mop-up time.
Sustaining Miller's postseason awards campaign that has begun to show uncapped potential will require another threat. Those who follow recruiting closely now better understand what Meyer was scrambling to find several months ago: More playmakers.
Scheme-changers. Marquee guys. The name Percy Harvin got thrown around a lot.
The Buckeyes need to sustain Miller's production and maintain his physical health by forcing defenses to choose the method of their demise in a classic pick-your-poison offering. This offense has a lot of good players, but after two games the only scary guy is that number five.
El Guapo, even before his MCL boo-boo, was topping out as a prototypical workhorse. DCMP (that's - ahem - Don't Call Me Philly) has definitely shown flashes on the edge and has earned the conversation around expanding his role, but he's not close to entering that highly-disruptive and coveted Ted Ginnosphere for disrupting game plans.
Maybe Jordan Hall is supposed to be that guy. Hall is wonderful, but realistically he's more likely the calorie-free substitute version of that guy.
What we'll probably see - what we need to see - is the it-takes-a-village approach to Miller's preservation. He completed passes to seven different receivers on Saturday, which is a good start - but those receivers are going to need more receptions. If pick your poison isn't yet an option, perhaps keep 'em guessing might be the next-best thing.
But one thing is certain: Miller can't rush the ball 27 times a game against conference teams as he did against UCF. That's a heavy load for a running back, let alone the flux capacitor that makes your offense possible.
Also bad: That kind of rushing workload for a quarterback - albeit rare - usually results in a Buckeye loss. It's been almost 40 years since a Buckeye signal-caller ran as much as Miller did against UCF while leading the team to a victory.
Prior to Saturday, the last time an Ohio State QB rushed more than 20 times in a game was 2009 at Purdue (Pryor): Loss. Prior to that, it happened in 1999 at Penn State (Steve Bellisari): Loss.
Before that, Art Schlichter against Michigan in 1978, which sent the Buckeyes to the Gator Bowl where a famous sideline/punching incident took place.
Granted, we're merely two games into the Meyer era and two-game trends are the chum that statistical anomalies feast upon. But until someone emerges to offset the increasing pressure that will be placed on Miller over the next 10 games - especially in the segments of games we've long defined as clock-killing time - it's going to be difficult not to fear for Miller's health.
And this is why evolving from stubbornly winning the surest way and relentlessly giving your playmakers the ball is still exhilarating. The concern shifts from predictability to durability.
It will only take one play - perhaps in the second half with a sizeable lead - for those fears to materialize. That's a consequence of what Meyer inherited: His playmakers aren't quite...plural...yet.
But this is what we always wanted. And with Miller occupying a little too much of that playmaker role, it may also become what we always fear.