Namaste, ladies and gentlemen. On second thought, perhaps "Namaste" is too serene of a greeting.  
The spring game may have been a few days ago, but I'm hanging with a couple of dogs who were so pumped, they're still acting out their very own circle drill.
Add to that the news that Ohio State will be playing three night games in October, including the Nebraska game/Eat Too Brutus: The Return of the King, and there's a lot to look forward to this fall.
As for the other prime time Big Ten matchups that were announced, eight are part of the non-conference schedule, starting with Boise State at Michigan State on August 31. Two weeks later, the Spartans will welcome Notre Dame for another 8pm kickoff.
Three more are conference games: Wisconsin at Nebraska (September 29), Penn State at Iowa (October 20), and Michigan at Nebraska (October 27)1.
The 27th is the same date as Ohio State's 6pm road contest against Penn State as well as Michigan State at Wisconsin, a rematch of last season's Big Ten Championship Game.
If anyone is even thinking of getting married that day, please spare your guests and pick a different date, preferably one that's not during football season. 
YOU EITHER DO WHAT SIMON SAYS OR ELSE GO DOWN THE DRAIN. An Urban Meyer favorite from the beginning, John Simon did not see the field much on Saturday, due in part to his superior play in practice and as an attempt to protect his teammates from harm. 
Adam Rittenberg profiled the defensive leader, whose qualities reminded his new coach of one of his former players:
"I used the term Tebowish," Meyer said. "I've got to be careful not to do that. It should be Simonish. He's a next-level type player: leader, character, toughness, commitment."
He's played as both a DT and a DE, though he's not the ideal size for either position. Like last year when he led the Buckeyes with 16 TFLs and seven sacks, Simon will mostly line up as a defensive end, but according to Luke Fickell, he could switch over to middle linebacker if the situation called for it.
That ability to play different positions, plus his speed and work ethic, should impress NFL scouts just as it has his coaches, who are confident that he will only continue to improve. Fickell explained, "He's only scratched the surface of how good he can get with the tools he has." 
THE BEST IS YET TO COME. Simon's fellow defensive lineman, sophomore Michael Bennett, was one of the players chosen to chat with reporters after the spring game. Because it's a privilege given only to a select few, his efforts during practice must have impressed his coaches. 
On the subject of the new staff, Bennett described them to Doug Harris of The Dayton Daily News:
"They're not trying to coddle you. They're not trying to make you feel good. They'll make you feel good if you're doing a good job. But if you're not, you're going to hear from them first before anyone else."
Bennett is currently a first teamer, but he's not complacent since Nathan Williams will come back from injury and top recruits like Noah Spence and Adolphus Washington will soon join the team. To him, it's part of the challenge of being at Ohio State, and if nothing else, there's the incentive to keep in the good graces of his head coach.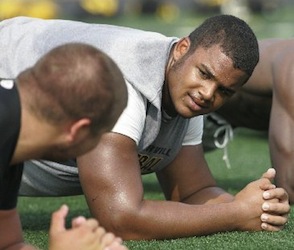 WE ARE ALL MADE OF STARS. Especially with OSU hauling in highly-rated, Michigan-hating recruits, it's easy to get caught up with rankings and assume they automatically predict success.
Andy Staples took a look at how the expected first rounders in the NFL Draft were regarded when they were in high school. Of the 32 players, 15 received a three-star ranking or lower. Staples points out, however, that fewer high schoolers earn the four or five-star label. 
In the projected top five, only Morris Claiborne was a three-star recruit. Andrew Luck and Robert Griffin III were four-star prospects while Matt Kalil and Trent Richardson were five-stars. 
Doug Lesmerises tackled how Ohio State will be represented in the draft. One of their five-star players from the 2008 class, Mike Adams, should be taken in the first or second round. Mike Brewster and DeVier Posey, who held the same top ranking out of high school, will most likely be drafted anywhere between the third and sixth rounds.
Boom Herron should follow, and three more Buckeyes—Nate Ebner, Andrew Sweat, and J.B. Shugarts—have a chance to be selected.
Ebner, who held no rating because he was a walk-on former rugby player, had a good showing on pro day and could make a name for himself as a special teams player, just as he did last season at OSU. Even if he doesn't get that phone call from an NFL team this weekend, he could go the free agency route. But if football doesn't work out, he plans to go back to rugby. 
GEE WHIZ. Gordon Gee sat down with The Lantern for two separate articles recently. In one, he discussed, among other topics, Urban Meyer and Jared Sullinger.
About Meyer, Gee praised how he has electrified the fan base, especially his efforts to involve the university and the students. However, he was disappointed in Sullinger's decision to turn pro, believing that every student should graduate. There was no mention, though, that Sullinger promised his mom that he would earn his degree eventually. 
Never one to keep his opinion to himself, Gee also sounded off about what he deems the "bad journalism" of Sports Illustrated and The Sporting News. If you recall, SI published an article about Tressel almost a year ago, and Gee's thoughts on the matter are summed up as, "I mean, the guy must have been looking at another school."
George Dohrmann, who penned the SI piece, fired back that the president "knows more about bow ties than he does about journalism." To be fair, Gee is the head of the bow tie cognoscenti, so zing???
As for The Sporting News story on Meyer from the other week, Gee doesn't exactly help his argument when he admits to not reading the entire thing, but he does defend hiring him and the coach himself:
"One doesn't hire a coach without talking with all the right people," he said. "One doesn't hire a coach without understanding exactly what his values are."
Some will say this is another instance of Gee's foot-in-mouth disease, whether he's correct or not. We should all know by now that Gee's gonna Gee. Both magazines back up what was written, and while each is capable of producing quality work, in this case, the guy in the bow tie has point. Those articles were crap2.
BRADY SPOKE. In Canton on Monday for the Pro Football Hall of Fame Luncheon Club, Brady Hoke was asked about the sign that compared the majors of Ohio State football players to those at Michigan The Team Up North.
Although the poster is apparently no longer up at the Woody Hayes Athletic Center, Hoke claims it didn't concern him because "I'm worried about Michigan, period." So says the man who referred to "Ohio" six times in his speech.
He will continue to focus on recruiting players from the Buckeye state, and if Urban tries to persuade Michigan commits to flip to Ohio State, that's supposedly okay with Hoke3, who maintains that nothing is final until Signing Day. 
All's fair in love and war, right?4
CLICK AND EASY. Draft Express projects Sullinger as the 6th pick and Buford as the 53rd... The price of football tickets across the Big Ten... A goose at Ohio State attacked a Michigan beat writer... April Goss is Kent State's first female football player... Movie mimic... Neil Diamond on his honeymoon... A dog playing catch with himself... Lessons from Highlights Magazine... Neil DeGrasse Tyson owns.
1 Looks like we're still welcoming Nebraska to the Big Ten. 
2 I may be biased, but if you thought those were top-notch articles, you're probably biased in the opposite direction.
3 As it should be, considering his negative recruiting against Ohio State. 
4 Wow, I just wrote about Hoke without mentioning what a tub of lard he is. Whoops...