How's tricks, readers? If you're a Midwesterner like I am, I wish you warm thoughts on this mid-January Wednesday. And if you happen to reside in a balmy region, then, well, just keep the bragging to a minimum, okay?1
After getting their Edmond Dantès on, the basketball team is enjoying a midweek break, and while I'm sure they're preparing for the trip to Lincoln on Saturday, they are probably also spending some time plotting their revenge against Villefort Brandon Paul Illinois. Bloodbath enthusiasts, circle February 21st on your calendars.
Despite Ohio State hoops fans having to endure a temporary hiatus, there have been other appealing basketball games this week. On Monday, Kansas handed Baylor their first loss of the season. Last night, Michigan edged Michigan State in dramatic Big Ten fashion. Western Carolina also escaped Toccoa Falls2, 141-39. 
Anyway, in honor of the return of Justified to our television sets, before we get on to the news of the day, let's count down from 10. 
WELCOME TO THE OC. During halftime of Sunday's Deal With It: Indiana Version, Urban Meyer emceed the introduction of his coaching staff. Besides the main man himself, one member of the crew that Scarlet and Gray diehards are intrigued by is new offensive coordinator/QB coach Tom Herman.
ESPN's Brian Bennett interviewed Herman for a fairly in-depth Q&A session. After admitting that he basically swooned when Meyer first offered him the job, Herman discussed his plans for the offense. To prove his Ohio State bona fides, he mentioned that running the ball is the first objective in a proficient offense. A mobile quarterback is the next step, and according to Herman, Braxton Miller has all the makings of a successful player, but he still has a lot more to learn. Fortunately, the sophomore-to-be is more than willing.
And finally, the passing game follows, and as he explained, "the field is 120 yards long and 50 yards wide and we want to use every square inch of it and spread people out to create mismatches, whether it be through space or a numbers advantage."
In a nutshell, Herman said that the DNA of Ohio State football will not be altered, even though the looks and schemes are expected to be more evolved.
JUST THE TWO OF US. At the same time, Bennett's officemate Adam Rittenberg met up with co-defensive coordinator/assistant head coach/safeties coach/singer-songwriter3 Everett Withers, and the former interim UNC head coach spelled out his reasons for taking the position. Shockingly, they boil down to two things: Urban Meyer and The Ohio State University. 
Although he will be sharing the DC designation with another former interim head coach in Luke Fickell, Withers made it clear that winning, not ego, is all that matters, and the entire defensive staff will work together to improve the unit. He revealed that his philosophy is one already employed at OSU, which is "being good on defense and stopping the run and creating turnovers, and being good in the red [zone] and on third down."
He added that players understanding the system and being able to communicate with one another on the field are among his goals, particularly in the secondary.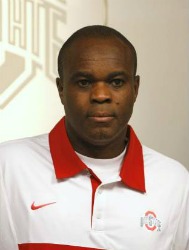 AROUND THE CORNERBACKS. With Taver Johnson joining Paul Haynes at Arkansas over the weekend, there is now one more assistant spot for Meyer to fill. The Ozone's Brandon Castel took a look at possible candidates to replace him as the cornerbacks coach.
Chuck Heater is one name that has been on everyone's radar since late November. Not only did Heater coach under Meyer at Utah and Florida, but the former Wolverine was also a part of Earle Bruce's staff at Ohio State, conveniently at the DB position. However, if job titles are important to Heater, then his chances of reuniting with Meyer are lessened. He's currently the defensive coordinator at Temple, where he's also in charge of DBs. If he's motivated more by Everett Winters' standards—and, let's face it, money—Heater could find himself back in Columbus. 
Two more possibilities are men who, at the moment, dwell in the NFL ranks. Tim Walton is a former Buckeye captain who is now coaching DBs for the Detroit Lions. Teryl Austin was Meyer's DC at Florida for the 2010 season and is presently with the Baltimore Ravens.
All in all, Castel believes Troy Douglas is the best best for succeeding Johnson. Douglas played with Withers at Appalachian State and also served as DB coach under him at UNC. Although, like Withers, he has no Ohio connection, he previously held the same position at Indiana and Michigan State. And unlike the other candidates, he is without a job right now.
WOODEN IT BE NICE? Yesterday, it was announced that Jared Sullinger and William Buford are on the Wooden Award midseason list. Michigan State's Draymond Green and Indiana's Cody Zeller were the other two Big Ten players included.
Of the 25 names on the ballot, Jason King's current pick is Kansas' Thomas Robinson, followed by Sullinger as his #2.
Meanwhile, Andy Katz doesn't even think Sullinger would be a first team All-American if the season ended today. Luckily, it does not, and he still considers the sophomore to have an excellent chance at capturing accolades at the end of the season. His injuries were a setback, but if he can reign over the B1G like he's capable of, then he can make up for that lost time. 
Buford isn't dominating or consistent enough, and Zeller is too young, though Katz does believe Green isn't completely out of the picture. However, his most realistic shot is for the Big Ten Player of the Year award. Despite Michigan State losing last night, if they remain in the hunt for the conference crown, the double-double machine is Sullinger's top challenger. He is also a senior, and if the race is close, veterans are often given the nod over underclassmen for the honor. 
TOUCH OF GRAY4. The Dagger's Jeff Eisenberg has noticed a recent trend in basketball uniforms, and that's the increased number of gray jerseys. As usual, this argument boils down to convention vs. keeping up with the times. Players and recruits tend to fancy the variety they bring, and for smaller schools like Akron, who added silver to their jerseys this year, it helps them gain more attention.
Ohio State, who can actually claim gray as a school color, was ranked as the team with the second best gray uniforms after Texas, who unveiled theirs last month. They were coordinated with former Longhorn Kevin Durant's Nike shoes. Purdue hopped on the alternate uniform bandwagon, choosing gray and black and absent of their traditional gold. While the Boilermaker team gave their approval, many alumni did not. Eisenberg, too, thought they were on the eyesore end of the spectrum.
So long as it helps programs look more fashionable to players, and lines the pockets of universities with more money, then the alternate jersey fad will stick around.
DON'T LINK TWICE, IT'S ALL RIGHT. Just like Otis Redding sang... The Big Ten does not appreciate Fran McCaffery's homage to Bobby Knight... The Indianapolis Star lists Tressel as a possible replacement for Jim Caldwell... Bill O'Brien will be his own OC... A Mad Men season five poster... A Community board game... Ava Crowder likes to make her point emphatically... Check out Google today.
1 Shoveling snow is a good workout, anyway, so there!
2 I know next to nothing about the Twilight series, but I'm pretty sure it takes place in Toccoa Falls. 
3 "Maybe it was the other George Michael. You know, the singer-songwriter."
4 Although the song to which I'm referring is spelled "Touch of Grey", I opted to follow the Ohio State spelling of the word "gray". Besides, the other way makes me think of "Grey's Anatomy", which I prefer never to do.