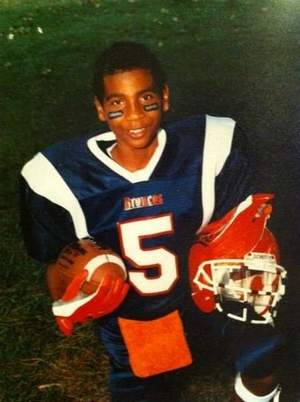 | | | | | | |
| --- | --- | --- | --- | --- | --- |
| | 10 | 10 | 14 | 3 | 37 |
| | 0 | 7 | 3 | 7 | 17 |
This is a game where the storylines write themselves. With an offensive performance last week in Miami that set the game of football back fifteen years, the coaching staff has gone to the bullpen--summoning a heralded (albeit unproven) freshman quarterback to provide a spark which the team obviously needs. (Sound familiar? It should.) Could the defense build off last week's performance, where they finished strong after a rocky start? Would Jordan Hall continue to run as if he were encased in cobalt? What would the tea leaves say about the impending Miller dynasty? These are just some of the questions I assume Ohio Stadium's 105,000 came to see answered.
It was the University of Colorado Buffaloes who offered resistance to Ohio State on this day. While the Buffs came in 1-2, their respectability was never questioned by the Buckeyes. Tyler Hansen, who our own Johnny so eloquently said was a "third level Pokémon evolution of Joe Bauserman", can lightweight throw the rock. Paul Richardson can catch it. Rod Stewart came in looking for his 3,000th career yard on the ground.
Both teams came in needing a W as much as they simply needed to improve before conference play begins next week.
So here's how it all went down.
The Braxton Miller Era didn't get off to the most rousing of starts. After a few zero-gain rushes and a terrible snap, the offensive Buckeyes were relegated to the sidelines amongst audible groans in Ohio Stadium. Thankfully, the defense was up to the challenge, equaling their counterparts and forcing their own three-and-out.
After a heads-up recovery by Chris Fields on a skewered punt which had deflected off a Buckeye, Braxton again took the reigns. Without needing to pass, the Buckeyes marched down the field behind the hard-nosed running of Jordan Hall. Ten plays after their second series began, Jordan Hall went over-the-pile to cap a drive which undoubtedly had Woody Hayes smiling down from wherever it is great human beings go to rest their souls.
On the next series, Colorado's Hansen and Stewart fumbled a hand-off exchange, with a lurking Adam Bellamy all-too-willing to hop on the magic diamond.
After a few fruitless ventures into the arena of throwing the football forward (complimented by a nice run by Carlos Hyde), Ohio State was unable to replicate their previous drive's bounty. Drew Basil made it 10-0 Buckeyes.
Passing
|   | Cmp/Att | Pct | Yds | TD | Int | RAT |
| --- | --- | --- | --- | --- | --- | --- |
| Miller | 5/13 | 38.4 | 83 | 2 | 0 | 142.9 |
| Bauserman | 2/2 | 100.0 | 27 | 0 | 0 | 213.3 |
Rushing
|   | Att | Yds | Avg | Lng | TD | Fum |
| --- | --- | --- | --- | --- | --- | --- |
| J. Hall | 18 | 84 | 4.7 | 20 | 1 | 0 |
| Miller | 17 | 83 | 4.9 | 16 | 0 | 0 |
| Hyde | 6 | 40 | 6.7 | 14 | 1 | 0 |
| R. Smith | 4 | 18 | 4.5 | 8 | 0 | 0 |
| Berry | 2 | 1 | 0.5 | 3 | 0 | 0 |
Receiving
|   | Rec | Yds | Avg | Lng | TD | Fum |
| --- | --- | --- | --- | --- | --- | --- |
| D. Smith | 3 | 64 | 21.3 | 32 | 2 | 0 |
| Fragle | 2 | 24 | 12.0 | 16 | 0 | 0 |
| T.Y. Williams | 1 | 12 | 12.0 | 12 | 0 | 0 |
| Fields | 1 | 10 | 10 | 10 | 0 | 0 |
After another defensive stand (high-lighted by Andrew Sweat bringing down Paul Richardson in space) the Buffaloes were once again kicking the ball to the other end of Ohio Stadium.
It was here that fans got a glimpse of what makes Braxton special. While Pryor was known for his gliding runs that looked so smooth you almost questioned how hard he was running--Braxton is a much choppier, elusive runner. On a third and 9, (and out of the I-formation, no less), Braxton made several Buffaloes miss on his way to picking up the first down in what turned out to be the last play of the first quarter. On an ensuing second-and-five, Miller was tasked with a naked bootleg to his right. He took it for about ten yards for another first down. (An offensive holding call negated another improvised Miller run--which ended with him trying the ol' TP stiff arm, but was promptly thrown to the ground).
The penalty--which forced second-and-eighteen and third-and-eighteen, ended with Ben Buchanan "pinning" the Buffaloes inside their own five. (I use the quotations because the Colorado return man, Rod Stewart, questionably fair-caught the punt inside his own five).
With 9:30 left in the second quarter, after Ohio State's defense again quelled Colorado, Braxton Miller completed a pass to Reid Fragle. It was the first Ohio State completed pass to a receiver or a tight end in nearly five and a half quarters of football.
A few plays later, Braxton uncorked a wobbler over the top of the defense to a streaking Devin Smith for a 32-yard touchdown pass.
With Colorado using a series of screens, passes to Paul Richardson in space, and a timely third down run by Hansen, the Buffaloes were able to cobble together their best drive of the day. On fourth-and-one on Ohio State's 11-yard line, with the balance of the game starting to tip, Colorado's Jon Embree elected to go for it. After it appeared Tyler Hansen had effectively been flushed from the pocket.... he lofted a floater into the middle of the back of the endzone that was plucked out of the air by Colorado's six-foot-two Toney Clemons. It was a haul that momentairly pulled Colorado off the ropes.
On Ohio State's ensuing drive, a Chris Fields' illegal block penalty moved the offense back ten yards. Faced with first-and-20, Braxton unleashed a winding 14-yard run up the left side of Colorado's defense. He was up-ended on a pretty solid hit (you could almost hear everybody yelling "HOLD ON TO THE BALL") but Braxton maintained possession. On the next play, Braxton was immediately put under pressure and was eventually brought down by Columbus' own, Douglas Rippy. Ohio State then ran the ball harmlessly up the middle, content with taking the ten point cushion into halftime. 
Colorado, however, wasn't satisfied. They called a timeout to force Ohio State to punt. This time, Jon Embree's greed got the best of him. Colorado returnman Rod Stewart gave his second gift to Ohio State on the day, this time muffing the punt on his own 10 yard line. Colorado escaped surrendering a touchdown, though. With the ball near the goal-line and seven seconds remaining in the half, Coach Fickell showed his Tresselized-roots and opted to take the easy three points.
At half, Ohio State lead Colorado, 20-7. While Ohio State had played well and dictated the terms to most of the game, Colorado had to feel somewhat content with only being down two scores.
To start the second half, the Buffaloes immediately shot themselves in the foot. On the kick-off, Jamie Wood was illegally blocked in the back (he still made the tackle),  and the penalty caused Colorado to start from within their own ten-yard line. The drive ended on Colorado's first third down of the half, with Christian Bryant (who made the start at safety) stopping Paul Richardson two-yards short of the first down sticks.
With Ohio State gifted field position near half-field due to another atrocious Colorado punt, Jim Bollman dug into his seemingly-endless bag of tricks. On third and two, Jordan Hall was placed in the "Wildcat" package. He pierced the heart of the Buffaloes' defense for twenty yards. A few plays later, Devin Smith made an athletic 17-yard catch on the left sideline of the endzone for his second touchdown catch of the day. (Tape showed it would have been good in the NFL as well).
Perched on top of a 20-point cushion, the Ohio State defense looked to put the screws to Colorado, which had done a respectable job staying in the game. Colorado, riding Rod Stewart and timely throws by Tyler Hansen, soon found themselves in Ohio State territory. Unfortunately, they again shot themselves in the foot with penalties. A holding call resulted in a 3rd-and-18 for Colorado. The play ended with John Simon hauling Tyler Hanson (who had miliseconds before thrown the ball away) to the ground. Colorado had to settle for three points.
On the kick-off, Colorado's abominable special teams play continued. Jordan Hall, who has unarguably been the offensive MVP for Ohio State thus far, ripped up the right side of the field for a kick-off return which ended on Colorado's five. The next play, Braxton casually flipped the ball to Carlos Hyde, who easily outraced every single Colorado defensive player to the corner of the endzone for what felt like the nail in Ralphie's casket.
Colorado, though, wasn't done playing just yet. They were able to over-come even more penalties en route to the middle of the field at Ohio Stadium. While Christian Bryant looked to have caused a fumble on a hit on Colorado's Ryan Deehan, the play was over-ruled. It turned out to be a moot point. On the next third-down play, John Simon hit Tyler Hansen so hard I'm sure Hansen's soul felt it. The Buckeyes were soon recouping the ball on their own 20.
After successfuly converting a fourth-and-one from their own 29(!?), Ohio State stalled on Colorado's 30. Drew Basil moseyed into the game to make it 37-10, Buckeyes.
Colorado's next drive started on their own 24. Three plays later, Colorado was once again punting to Ohio State, all but settling their account on the day. From here, the game was all but a formality.
Still, after trading bountiless drives, Colorado again utilized the screen pass en route to securing a garbage time touchdown through a 14-yard TD strike to Tyler McCulloch.
Colorado, down over three scores, attempted an onside kick on the ensuing kick-off. Verlon Reed easily covered it, and with it, any pipe-dreams Colorado had of making a frenzied comeback.
With the game in hand, Ol' Joe Bauserman, as he had done throughout his twenty year tenure at Ohio State, was handed the reigns with orders to "bring the game home". He promptly hit Devin Smith on a crossing route for fifteen yards on a second-down play. To the fifth-year senior's credit, he led the Buckeye's directly into Colorado's red zone, where a few Rod Smith runs sealed Ohio State's third win of the year.
The script was a common one for Buckeyes fans. Ohio State used a strong defensive effort coupled with a strong running game, timely throws, and turn-over free football into a game where its competition was simply grinded into dust. It is a good building-block game, as the schedule gets noticably tougher with the Spartans of Michigan State coming to the Horeshoe.