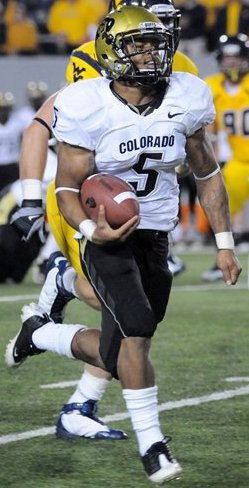 Okay, last week happened. It did. We have to deal with that.
Kidding! Of course we don't have to deal with it! Instead we'll push all the rage and hate that resulted from that horrible evening deep into the pit of our stomachs until it forms into a little egg, a little egg that will grow and mature with each subsequent loss during this season until it hatches right before the Michigan game, filling our bodies with a baby hate demon that will override all rational thought for a week.
But that's months away, and today I'm here to deal with the matter at hand: the Colorado Buffaloes. It's hard to really pin down the Buffaloes this year; dealing with the aftermath of the Dan Hawkins is Jon Embree, the twenty-fourth head coach of Colorado football in the last 120ish years or so. To keep that in perspective, Ohio State has had only... 23. Hmm.
So both programs are in flux. Under ideal conditions, OSU would be a top 10 football team and Colorado would be relevant enough for College Gameday to devote a ten minute segment on the general care of large North American land mammals (just kidding, this will happen anyway). Instead OSU finds itself outside of the top 25 for the first time since Mike Nugent was OSU's most potent offensive weapon, and Colorado finds itself hoping that it's 11 new friends will be chiller bros than their last group of homies.
Strange times, indeed.
Opponent
Though an abject failure, the Dan Hawkins era didn't leave the cupboard completely bare for the Buffaloes. Sure, said cupboard is stocked with a couple 25 year old year old containers of tarragon and paprika along with a half eaten granola bar, but I've made meals from less in my lifetime and hopefully has Jon Embree.
25 year old random condiment container #1 is senior quarterback Tyler Hansen, who I'll generously/back handedly call the third level Pokemon evolution of Joe Bauserman. If Joey B was given relatively consistent snaps for a few years in a row, ideally he'd level up and become something similar to what Hansen brings to the table. Not the biggest (6'1", 215lbs) or even the most accurate (55% completion rate for the season), he's still got a fairly impressive 7:1 TD:INT ratio and poses a legit passing threat to the Buckeye defense. Expect him to challenge OSU at all levels of the defense, and also to maybe surprise a bit with an ability to pick up yards on broken plays.
Colorado's other main weapon on offense is running back Rodney Stewart. Stewart is roughly the size and weight of an angry wombat, but much faster. Also he makes use of this opposable thumbs in a manner that must make his marsupial brethren jealous, meaning that Stewart is a threat in both the running and passing game. He got off to a slow start this year on the ground, but a good game against Colorado State last week saw him rush for nearly 100 yards and catch 7 passes. If you're the kind of person who does well with player similes, think Tyrell Sutton. Also in the pass catching business is wide receiver Paul Richardson, who has 18 catches for 360 yards already this year, and who I might be cursing the family of about halfway through the third quarter.
Colorado's defense is adequate, and that's about it. They're allowing opposing offenses to make roughly 50% of their third downs, and though they've got some playmakers in the secondary, Colorado plays a 3-4 with an undersized 3. What this does is basically provide OSU with carte blanche to run Dave and Iso plays until Jim Bollman's eyes roll back into his head with pleasure. Hopefully Jake Stoneburner can make Colorado's relatively undersized secondary and linebackers look as undersized as they are on paper.
Offensively, it's pretty obvious what Colorado is going to try to do; tell Stewart to act as the 3rd WR when he isn't rushing up the middle mostly ineffectually and then pick on whatever safety/cornerback is having a crappy game. And in the even that's not working... well, do it anyway. Hansen burned Cal for 474 yards through the air, and if they can replicate that on Saturday, welp. In other words, Colorado really doesn't have a lot to lose on offense, and so far this year not too many teams have been burned by looking for the big gain against this OSU defense. Colorado's defense will probably just try to blitz Braxton Miller nearly every down, and when they aren't blitzing they'll be shouting insults at him and also dropping back like 8 guys and daring him to throw the ball further than 3 or 4 yards.
Buckeye Breakdown
Let the Braxton Miller era begin. Okay, yes, the guy had a bad game against Miami. But for now it seems like the two QB system is dead, and thank God for that. One thing I think we can all appreciate about Braxton is is ability to cycle through his reads, and because of that I think that players like Zach Boren and Jordan Hall are going to play a big part in OSU's passing game. Also going to be a large part of OSU's passing game: screaming, me making sacrifices to the Mayan bat-god Camazotz, anger. Lots of anger.
But! Jordan Hall. Jordan Hall played like a man possessed against Miami, both by a very good running back ghost and also severe leg cramps. Honestly I was pretty surprised that he looked as good as he did; in 2010 the guy only averaged 4.35 yards per carry for the season, but against the Hurricanes he was going for 6.2 per and had 87 yards on only 14 carries. Colorado's defense isn't awful, but they aren't better than Miami, and their 3-4  isn't going to help them much against an offensive line that seems to be hitting on all cylinders. If the young WR corps and Stoney aren't giving Braxton the help he needs early, Saturday is going to turn into the Jordan Hall Show (with special guest Carlos Hyde) pretty quickly.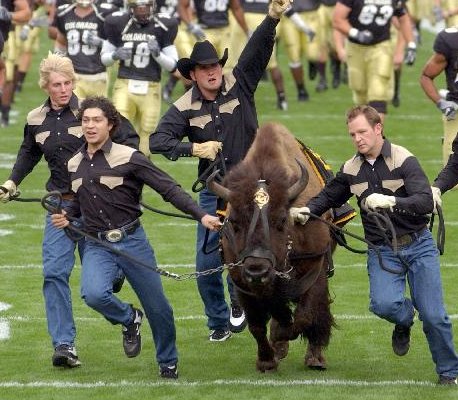 The defensive line continues to be the strength of the OSU defense, but without a guy like Nate Williams Leo'ing it up out there and other guys like Storm Klein and Bradley Roby whiffing at tackles coming off of the edge, one concern that OSU has to have is the threat of Rod Stewart exploiting the edges of the defense for big gains. Safety play is going to be huge for this one; if guys like Bryant and Johnson can't keep tabs on their assignments, there's a better than decent chance Stewart gets lost in the flotsam and springs one big.
It'll also be interesting to see how the cornerbacks play after two consecutive games of looking pretty poor. Colorado doesn't bring the same kind of athletes to the table that Miami did, but the running theme of the defense this season has been horrible eggy brain farts. You can be playing against a collection of ragtag middle schoolers coached by Rick Moranis for all it matters, if you can't get yourself in the right defensive position, you can be beat.
Special teams did have a few glimmers of hope last week. Ben Buchanan beasted with a 46.5 puting average, downing 3 inside the 20 and with a long of 60. Drew Basil made his first two field goals of the year, which shows that he might not be as broken as some might've thought. These killer B's might actually end up being a QB's  best friend tomorrow.
Prediction
Colorado is a middling team at best this year, even with some pretty extensive experience at key skill positions. Still, there now exists a pretty solid blueprint to beat Ohio State, and Colorado is going to try to build their Upset House with a combination of confusing OSU's defensive secondary, sweeps, tosses, and screens to the outside, and heavy pressure on Braxton Miller. Embree will likely be content to lean fully on whoever seems most likely to get the job done, be it Hansen or Stewart, but it'll be far more worrisome if Hansen is able to have the kind of game he did against Cal. Ohio State will likely look for something consistent on offense, which at this point means a steady dose of Hall and short passes to Stoney. If Braxton can complement that with some effective zone reads and the like, OSU might field something like a competent offense.
Last week a number of us here at Eleven Warriors foresaw a Buckeye loss, and as a result King Sad Guy was Luke with a prediction of 20-14 in favor of Miami. This week brings some more optimism among us at Eleven Warriors, although it was probably our most polarizing prediction yet. Still, with all the results tabulated, we put the numbers into Compu-tron 5000 and come up with...
Ohio State 26, Colorado 13