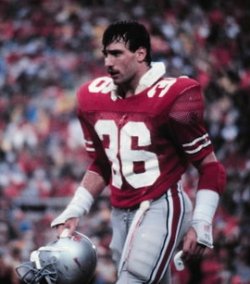 Good morning, hunkered down Buckeye bretheren and welcome to your Hump Day Skull Session. After yesterday's chance listen and read all the expert opinions on exactly what punishment Ohio State might face and whether or not Jim Tressel should be fired, I'll do my best not to make the entire session about The Vest but the news is the news.
Funny thing, the conclusion of spring practice typically begins the time of year in which those of writing for the site have to spend some time "creating our own shot" due to a lack of significant happenings. Be careful what you wish for, I guess. Woody knows, I'd rather be spending late April trying to figure out how the QB situation is going to unfold instead of contemplating potential penalties like vacated games/championships, a season of interim coaching, post-season bans, or worse.
How 'bout I get the Tressel-specific stuff out of the way first...
Spielman Gets Down To Brass Tacks. After all the blather I read and listened to yesterday, I'm not at all surprised that Chris Spielman's voice (summarized nicely by Castel) is the one that spoke most succintly and directly to me personally. Maybe it's just because I want it to be that way since there's no other person, let alone Buckeye, that I admire more than #36 not only for how he's handled his life but in how he so effectively delivers such strong opinions about the school he loves without worry of compromise. In the end, you know you'll always get an honest thought; something I can't say for other prominent Buckeyes in the media.
Reflecting on Tressel during a stint on OTL, Spielman boiled it down as such:
"I do believe his intention was to protect the players first and foremost, however, he still lost track of his contract and what he's obligated to do. Every college football coach is put in this situation on a daily basis, and they are trained. According to the college coaches I've talked to, any time they get a phone call or email of player misconduct, they hand it over to compliance. That's where he went wrong. I think his intent was pure, but his actions justify the punishment that's coming his way, in my opinion. Every college football coach is put in this situation on a daily basis, and they are trained. According to the college coaches I've talked to, any time they get a phone call or email of player misconduct, they hand it over to compliance. That's where he went wrong. I think his intent was pure, but his actions justify the punishment that's coming his way, in my opinion. When you know that they're ineligible and still let them play, that's tough to get by. Again, I love him, he's a friend of mine and a man of honor, in my opinion, but you still have to be accountable for knowingly committing a violation."
Pretty much sums it up, if you ask me. I know some fans are arguing if Tressel truly knew the kids would be ineligible but that's not good enough for me. He had to have known from the very first moment he chose to contact someone other than compliance or his bosses that he was potentially putting his reputation on the line. I get why he did what he did but if it comes back to bite you in the ass, you have to live with the results. This goes hand in hand Ramzy's breakdown yesterday. Everybody does it on some level but don't do the crime if you can't do the time.
Bo Pelini Cashes In (On OSU Mess?). Nebraska's resident maniac received a shiny new five year deal bumping his 2011 salary some $425k to $2.775mil and to more than $3mil beginning in 2014. The contact moves him just behind Tressel and Ferentz for B1G bankroll supremacy. After The U pursued Bo at the end of last season, Tom Osborne felt it wise to get out the checkbook.
It also makes sense that Osborne sweetened the deal to try and keep Pelini from potentially exploring a move to OSU, should the position come open in the near to mid term, considering his Buckeye roots. If OSU wanted Pelini at some point, I doubt it would matter what he's making at Nebraska but the improved contract certainly seems like a no-brainer move for Osborne.
You Mean There's A Level-Headed Dude Working At ESPN? I like Adam Rittenberg. I think he does a great job on his Big Ten Blog. Speaking personally, I find it difficult to keep myself very informed on all things OSU football/basketball while also trying to just stay in the know on the other conference schools. Meanwhile, Rittenberg does a great job of balancing all the national info while doing the necessary work to truly dig into all things B1G. As a result, I'm always curious to see what he has to say about major conference news. In his recent mailbag, he offered slants on various Tressel questions, a few of which I found interesting. 
On how long Tressel will last:
Tressel has too many allies at Ohio State to be fired before the season, and his most critical supporters might not be Gordon Gee and Gene Smith, but rather the donors that truly drive universities. My gut instinct says this will be his final year, but that he will coach the full season before stepping aside.
On the potential of a show-cause from the NCAA:
The show-cause penalty is a concern for Tressel, but some of my media colleagues and fans throw this around like it's a certainty, when it's really not. I take a believe-it-when-I-see-it approach with the NCAA and major penalties. Sure, the NCAA could hammer Tressel and Ohio State, but from reading the Notice of Allegations, I don't get the sense the program will face crippling penalties when all is said and done. And I'd also be surprised if Tressel gets hit with a show-case, but maybe I just don't think the NCAA has the guts to do it to such a high-profile coach.
On whether or not OSU fans should worry about the first five games:
Should you worry about the first five games? There are reasons to be a bit concerned, but Ohio State has better personnel, even without the suspended players, than all five of its opponents.
I Already Heart Frank Epitropoulos. We told you yesterday that Epitasldfkasdfhfladh officially pledged his commitment to Ohio State. What we didn't tell you is that I already have a crush on this kid. The 6'3", 195 lb. receiver/punter is one of the top 15 players in Ohio according to Kurelic, he's a legacy and he also had this to say about Ohio State, "I chose OSU because I believe that is the best football program in the country with a great coaching staff."
I know, we've heard that stuff before but dammit, it just means more after the past few days.
At Least The Fiesta Bowl Is More Shady Than Ohio State. I'm not sure how closely most of us in Columbus have been following the soap opera that is the Fiesta Bowl's troubles but the plot thickened a bit recently as it was reported nine of the 11 NCAA panelists making up the Postseason Bowl Licensing Subcommittee that will decide if the Fiesta Bowl's license will be revoked attended the 2008 Fiesta Frolic.
The event falls in line with some other shady spending by Fiesta Bowl officials including a self-reported $33k birthday party for former Fiesta Bowl President John Junker, $45k for reimbursements of political donations to employees and $13k for an aide's honeymoon/wedding.
The decision on whether or not to pull the Fiesta Bowl's license will be made later this spring. As if they'll really do such a thing.
Mixtape. How Teddy Roosevelt Saved Football...Schools getting creative to meet Title IX requirements...You aren't going to attend the UNC v. MSU game taking place November 11 on an aircraft carrier...Toilet paper flowchart...Man's best friend for a reason.