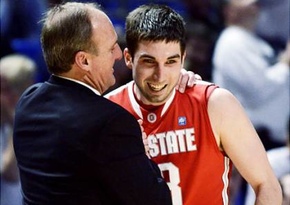 Good morning ladies and gentlemen and welcome to your Wednesday Skull Session. We're a little over 60 hours away from a monster Sweet 16 matchup with college basketball's winningest program and Columbus, a football town if there ever was one, is gripped with hoops fever.
It's funny to think of the "I ONLY CARE ABOUT FOOTBALL" comments we receive when we pick up our basketball coverage in early November each year, but I'm guessing that as long as Thad Matta is in town, those types of comments will become scarcer. And why wouldn't they be? The Ohio State basketball program under Matta has been there to pick us up right after the two darkest periods of football in the last decade.
The 41-14 setback to the Gators hit us all like a ton of bricks because I'm not sure any of us saw it coming (compare to the throttling we received in the Coliseum in 2008, which, while traumatizing, likely crossed your mind the moment you found out Beanie Wells would be out). To this day, it's probably the most painful Ohio State game I've endured, but two months later, Oden, Conley and crew put on a show on the way to the national championship game and the pain from January was softened.
The last 90 days brought another dose of heavy heartbreak as we discovered that not only were some of our star players selling awards that we'd rightfully give a limb to own, but the Patron Saint of Ohio, James Patrick Tressel, knew about the whole affair, keeping quiet until it was uncovered by a University investigation. Heading into spring practice with the realization that five key players and the head coach will be out for the first five games next season, the basketball Buckeyes are there once again to scoop us up on a ride to make us forget about troubles on the gridiron.
Twice in five years, we've been hit with sucker punches on the football front and each time, Matta's boys have been there for the pick-me-up. Need more of a boost? Keep reading. Here's SI's Seth Davis on Friday's matchup:
Between Jared Sullinger's power, Jon Diebler's shooting and Aaron Craft's, well, craftiness, nobody seems to spend much time praising Ohio State's defense. So let me do that. The Buckeyes are ranked eighth in the country in defensive efficiency, and they're first in both steals per possession and defensive free-throw rate. In other words, they shut you down, turn you over and keep you off the foul line.
The Buckeyes are the No. 1 overall seed and have done little to change that billing through the first three rounds of the NCAA tournament. Ohio State still has the best low-post scorer in the field in freshman Jared Sullinger and the most prolific group of 3-point shooters. And the Buckeyes had the most dominant performance of any of the top teams heading into the Sweet 16 by absolutely crushing George Mason.
Thank you, Thad.
Amazing. That's all there really is to say about Alex Trebek calling college football (via The Solid Verbal):
Comcast/XFINITY: Nailed it. Kentucky fans were in for quite the shock when they checked Comcast's online television listings earlier this week. The description for the Sweet 16 battle read: (since updated):
Two power programs. The top team in the tournament. Two of the nation's best freshman with the Buckeyes' Jared Sullinger and Kentucky's Brandon Knight. One of college basketball's slimiest coaches, John Calipari, against one of its classiest, Thad Matta. This matchup has it all.
Ouch. But a big shoutout to the Buckeye in Philly that made the lulz possible.
Can't decide between "awesome" and "terrible". Ever wanted to see three grown men belt out "Hang on Tressel" to the tune of the McCoy's classic? You have? Well, here you go:
Stumblings (BOOM, HUNTER'D):  A day after threatening to put The Fan on blast for "defaming" him on air, Bruce Hooley stayed up all night setting up WordPress. This could get interesting. Meanwhile, a trolling Twitter account is back in business after a nearly 10 month hiatus... Dennis Dodd wonders how the NCAA will decide who gets credit as the coach for OSU wins while Tressel is sidelined... Friends of the blog within the Columbus Police Department are hosting their 3rd annual Celebrity Bartender Contest Friday night at Park Street Patio. If you've ever wanted to order a Busch Light from Rick Nash, now is your chance... Finally, people cannot wait to get out of Michigan.