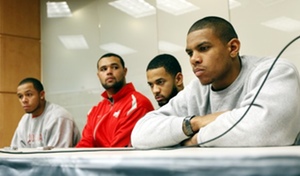 When Ohio State announced the suspension of six players -- four of them starters and key contributors -- for five games at the beginning of the 2011 season feelings quickly turned from shock and anger to wondering if any or all of the suspended players would just go pro early, rendering the suspensions meaningless. Don Tresseleone had a plan for that and announced it at his first media session at the Big Easy: each of the suspended players had given Tressel their word that they would return for their senior season as a condition for being able to travel to New Orleans and play in the Sugar Bowl.
While this sounded almost too good to be true, Tressel played his cards brilliantly, putting the suspended players in a position where they would either have to sack up and accept their punishment next season, or break their word, becoming pariahs in Columbus and Buckeye Nation at large (say goodbye to easy employment hookups and media appearances after your playing career is over, son). On Saturday, when Terrelle Pryor spoke with the media for the first time since the suspensions were announced, he reiterated his commitment to stay for his senior season, but when asked about the other players, he did hedge a little bit, essentially saying every situation is unique and guys may have to do what they have to do.
Forgetting for a minute how bad it would look, both in terms of NFL personnel guys and the Buckeye community at large, for the players to go back against their word and leave early, what follows is an argument for and against each of the four starters heading to the NFL after this season.
Terrelle Pryor
Why he should go: His Q score might be at an all-time low in Columbus right now after news of Tatgate, his comments directed at Herbstreit and the loaner car ordeal hit in rapid succession. He will have a tough time winning any national awards or earning hometown love after sitting for the first five games next year and there's a small chance his replacement could catch fire to start the season, creating a controversy when he steps back into the starting quarterback spot. His measurables (size, strength, speed) will blow away scouts in Indianapolis and if Maurice Clarett can become a 3rd round selection after being labeled as "Slow Mo" following his combine effort after being out of football for two years, surely some NFL GM will take a flyer on Terrelle. Finally, with a disabled father, his family could use the money.
Why he should stay: More than his mechanics or anything on the football field, his legacy needs him to return and eat some humble pie before having a fantastic senior season. He's not ready to be an NFL quarterback at this time and if he wants to play that position at the next level, Pryor will need the reps of a final year, even if it's for only 60% of the season, to elevate his game. More than anything else, he still has a long way to go on the maturity front. Can you imagine how he would respond if his NFL teammates gave him the Tebow Friar Tuck haircut as a rookie? Dez Bryant x 1,000 is how.
Boom Herron
Why he should go: After getting lost behind Brandon Saine a bit last season, Boom emerged as a tough runner this year, finishing with 1,068 yards and 15 touchdowns. That alone will get an Ohio State running back drafted somewhere in the first five rounds. He's become an incredibly rugged back, capable of withstanding the wear and tear of work between the tackles and he holds on to the football -- in over 400 career rushing attempts, he's yet to put the ball on the turf. Boom is also a 4th-year junior, so he's been in the program for a while and may be ready to move on to the next stage of his career. Before this saga started, he was believed to be the most likely candidate to head to the NFL early because he's put in the time and is probably ready for it. Finally, the talented young pups on the roster might be breathing down his neck a bit in the same way Beanie Wells did to Antonio Pittman.
Why he should stay: It's hard for me to sit here and tell a 4th-year junior to stick around for one more season after he just finished putting together a solid performance. Off the field, he's quiet and well-spoken, and outside of Tatgate, he's steered clear of trouble during his time in Columbus. The only reason he should return is to possibly improve his draft stock just a tad (though I don't know how much higher he can push his ceiling) and to keep his word to Tressel and the fans.
Mike Adams
Why he should go: After dealing with some maturity issues his first couple of years on campus, the former all-everything prep lineman won the starting job over Andy Miller and emerged as one of the Big Ten's best left tackles, earning all-conference accolades for his efforts. Adams was a key force behind the improvement in both the passing and run blocking this season and did an excellent job of protecting Pryor's blind side against a schedule that featured some of the best defensive ends in the nation (Watt, Kerrigan, Clayborn, etc.). He's sure to wow scouts at the combine with his good footwork and size (6-8/305) and could easily be a first day selection in April's draft.
Why he should stay: Adams showed signs of growing up on and off the field this season, but you can't help but wonder if another year of excellent work could move him into the first round and the larger payday that comes with that. As a senior, he would also be a leader on a line that will be breaking in at least two, possibly three new starters, depending on what Michael Brewster decides to do.
DeVier Posey
Why he should go: Heading into this season, Posey was thought to be the junior most ready for the NFL after a sophomore campaign in which he totaled 60 catches for 828 yards and 8 touchdowns. He's fluid and has the size (6-2/213), strength and speed to take his game to the next level and scouts will have no problem identifying that at the combine. Finally, his mother has spoken out about the financial hardship she faces helping to pay for his everyday needs in Columbus, so the money would no doubt be helpful to the Posey family.
Why he should stay: Posey was the only one of the four to declare his intent to return for his senior season at the "apology presser" so we have every reason to believe he will be back to improve his game after falling off a bit as a junior. He must work on his concentration and cutting down the drops (the one at Iowa would have haunted him for life had Ohio State lost the game) and with Dane leaving, he will be THE MAN next season. NFL drafts are always packed with elite receivers and this year is no different, so staying for one more year will not only improve his game, but should improve his standing in April of 2012.
In the end, I'll be surprised if anyone but Boom decides to leave early, but as Pryor alluded to yesterday, each player has their own unique situation and considerations and ultimately must do what is best for themselves and their family.