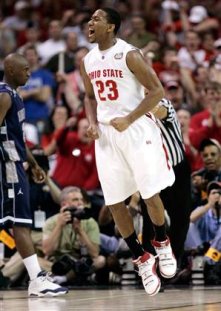 After Alex took a look into the 2010 recruiting class and Jason previewed next year's depth, we offer our final installment on the state of Buckeyes hoops.
It was a funky season. Thad's squad was picked anywhere from 5-7th in the Big Ten to start the season, but won their first 9 games, including wins over ranked Miami and Notre Dame on the road. David Lighty was then lost for the season after game 7 and Nappy Crater transferred 3 games later. And just when Thad thought he would get another body in the rotation, Nicola Kecman blew his knee out after his first game as a Buckeye.
With a limited rotation, a lack of inside scoring and no D1 PG on the roster, Matta pulled this team to 22 wins and a tournament appearance. The B10 tourney run and subsequent NCAA loss has set the tone for next year's squad, raising expectations to another level and continuing the momentum of hoops interest.
If BJ Mullens needs another reason to stay one more year, he should look no further than Evan Turner. I'm not saying Turner was ready for the show after last season, but the improvement he made from his freshman year is remarkable. He went from 8.5 to 17.3 points a game and raised his shooting percentage to 50.3 percent. He made 175 free throws, a mere 103 more than he made a season ago.
He raised his rebound total from 4.4 to 7.1 and his assists from 2.6 to 4.0. While his turnovers went up to 3.5, he scored double digits in 30 of the 33 games and was runner-up for the Big Ten POY. Turner has jumped up the mock draft lists recently, but claims he is coming back for some unfinished business. I still think a transformation to point could happen over the summer and if he solidifies his outside jumper, The Villan could use his junior year as a spring board to the NBA lottery.
While at times his cold shooting and reluctance to drive the lane were maddening, Jon Diebler also made a huge improvement over the last year. Diebler shot just 29% as a freshman, but raised it to 41.6 overall this year, including a conference leading 45.5 in league play and almost doubled his scoring average to 11.6. If he can learn to pump fake and hit a 10-15 footer, there is no reason to expect anything less than 14 points a game next year.
Do you think there is any reason why William Buford won't improve as much as Evan Turner did? No doubt Buford's J is wet, but he had a weird habit of scoring in the first half and then disappearing in the second. He shot a respectable 45 percent from the field and 85 percent from the line, while averaging 11 points a game. He too might benefit from less minutes next year, allowing him more energy to concentrate on the defensive end, but if he develops his game like ET did this past season, we could be watching a sick 1-2 combo.
While I know the above 3 will improve tremendously over the summer, I am most interested to see how far along Lauderdale, Simmons and Hill come.
It's easy to forget the fact Lauderdale didn't play much his freshman year, registering just under 7 minutes a game. This year he played over 21 a game and raised his scoring average from .9 to 4.7 points, while shooting an astonishing 72 percent from the field. Dallas needs to improve his hands and lead this team in rebounds next year. He went from 1.8 boards last year to 3.6 this year, so if the pattern continues, he could be snagging over 7 a game next year.
PJ Hill went from not seeing the floor in 6 of the first 10 games, to playing 40 minutes in the season finale. Hill came on towards the end of the season, but registered more than 2 assists only once in the last 8 games. PJ did improve his shooting, improving from 26% his sophomore season, to 46% this year. He also shot a respectable 42.4% from down town and finished the season hitting 16 of 21 FT's in 4 post season games.
He needs to transfer some of his energy to Jeremie Simmons who lost his shot as the season went along. Simmons scored in double digits only twice in his last 10 games and recorded just 9 assists in his last 8 games. I have a feeling we may see more of Simmons at the 2-guard next year, his natural position and one can only hope he can add another outside threat. His ball handling must improve as well, but with Lighty coming back and Buford's emergence, there won't be as much pressure on Simmons to produce next year, which should help his game.
Considering all the adversity the Buckeyes faced this year, I felt it was pretty successful. They shot 48% as a team, including over 50% in conference play, but their defense wasn't up to standards towards the latter half of B10 play. There are glaring weaknesses that need fixed before next year, but depth is on the way, which should mean an end to the zone and a movement back to in your face full court man defense.
This is probably the last hoops post on the season, as we gear up for spring football, so if you have any more complaints and/or suggestions for the Thad and his squad, leave them below. Otherwise, are you ready for some football.