Own the group chat with The Weekender, highlighting the biggest stories in college sports, standout writing from Eleven Warriors, and a glance at what's next.
THE ONLY MICHIGAN QB WHO DIDN'T OWN COOPER-ERA BUCKEYES HAS RETIRED, MAYBE
Tom Brady, the quarterback Michigan developed into the 2000 NFL Draft's 199th overall pick, has reportedly retired from professional football after a sterling and incomparable 22-year career.
Eleven Warriors would like to wish him a happy retirement. Go Bucs (sic, but not really).
In any event, Brady denied the initial report.
Tom Brady called the Bucs late this afternoon to inform them he's not even close to making a decision about retirement, according to a source.

— Jeff Howe (@jeffphowe) January 29, 2022
So we shall see. On behalf of all publishers who appreciate the content, thanks Tom.
LOCAL CAJUN MAN HAS MOVES
LSU head coach Brian Kelly, who speaks like this now, is at it again.
That's three-star TE prospect Danny Lewis playing the part of Mia Wallace to Kelly's Vincent Vega.
Yet another video of Brian Kelly dancing – this time with the creator of the "Griddy" – emerged on Saturday night.
#LSU fans its happening

Brian Kelly x @LAHGRIDDY2x pic.twitter.com/o0C8N5pA8Q

— Jamarcus Fitzpatrick (@JFitzTV) January 30, 2022
College football is an arms race; can we expect to see Ryan Day dancing with recruits?
Coach Day has lived in Ohio for four years and we haven't even heard him say ope yet. So, no.
CALEB WILLIAMS HASN'T LANDED YET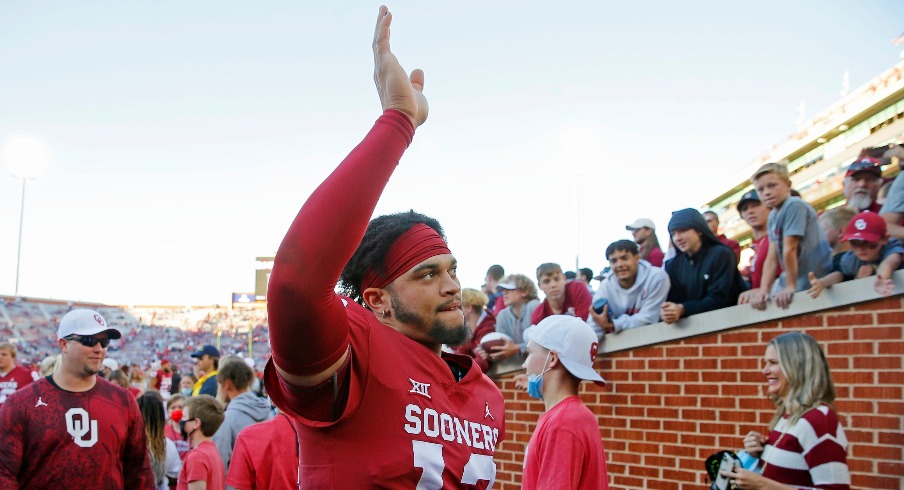 While former USC QB Jaxon Dart announced his intention to transfer to Ole Miss, the speculation following Oklahoma QB Caleb Williams continued swirling all week. The former five-star recruit has been in the transfer portal all month but has yet to choose a destination.
USC, LSU and Wisconsin are the top contenders to land him. An interesting development that could help the Badgers' chances:
SOURCE: Ravens TE coach Bobby Engram is signed on to become the new offensive coordinator at Wisconsin. The 49-year-old former NFL WR has been an NFL assistant for the past decade. @jaypo1961 first reported the hire.

— Bruce Feldman (@BruceFeldmanCFB) January 29, 2022
Engram was Paul Chryst's WR coach at Pitt, and hiring a mind from an offense built around Lamar Jackson certainly seems like a) a departure from Wisconsin football, and b) smoke for Williams to Madison.
MISSING FOOTBALL AND LOOKING FOR A GOOD MOVIE?
You should watch the two-hour documentary on The Best Damn Band in the Land:
ICYMI
Dan Hope peels the onion as to how Ohio State and other B1G East heavyweights might benefit from a division-less conference (spoiler, the two best teams might get to play each other in Indy).
In which he suggests that Ohio State fans will appreciate the quality of his deep ball. Sure, okay.
An important reminder: Nigerian princes may exist, but none of them are going to contact you with any legitimate or lucrative offers.
UP NEXT
Men's basketball: Iowa 8pm Thursday @ VCA, Maryland 1pm Sunday @ VCA
Women's basketball: @ Iowa 9pm Monday
Women's golf: B1G Match Play @ Island Course at Innisbrook, Palm Harbor, FL; UCF Challenge Saturday @ Eagle Creek GC, Orlando, FL
Women's ice hockey: @ Minnesota State 9pm Friday, 3pm Saturday
Men's ice hockey: Wisconsin 7pm Friday, 8pm Saturday @ VCA
Wrestling: @ Penn State 7pm Friday, @ Rutgers 12pm Sunday
Men's volleyball: University of Mount Olive 6pm Friday, 3pm Saturday @ Covelli
Track & Field: @ Notre Dame Meyo Invite all weekend
Men's tennis: Tennessee 6pm Friday, Virginia 12pm Sunday @ Tucker
Rifle: PRC @ home all weekend
Pistol: @ North Dakota State all weekend
Men's gymnastics: @ Illinois 3pm Saturday
Men's lacrosse: Detroit 12pm Saturday
Synchronized Swimming: Jessica Beck Memorial Competition, Saturday
Fencing: Northwestern duals @ Evanston Sunday
Women's lacrosse: Vanderbilt (exhibition) 3pm Sunday
Ohio State hosts Michigan in football at Ohio Stadium in 300 days. Go Bucks.