Ohio Stadium has hosted many concerts over the years, most recently the Taylor Swift "Reputation Stadium Tour." With its gargantuan size, the stadium has the potential to host many other events. Let's take a look at some potential ideas. 
NHL Winter Classic
Inagurated in 2008, the NHL's annual outdoor game has been held in places such as Citizens Bank Park (MLB), Heinz Field (NFL), and Michigan Stadium. This year, the game will be held in South Bend at Notre Dame Stadium, so it is not far-fetched to imagine the game in Columbus. 
The 2019 NHL Winter Classic will feature the Chicago Blackhawks & Boston Bruins outdoors on January 1st, 2019 at Notre Dame Stadium. pic.twitter.com/8K8kIYMK3D

— Only In Boston (@OnlyInBOS) June 22, 2018
With the Blue Jackets on the come up as an organization, and having a decent rivalry with the nearby Pittsburgh Penguins, it is easy to see an outdoor game being played at Ohio Stadium one day. Fans are already used to the elements, and a large crowd is almost a certainty. I've never been to an NHL game in my life, but I'd certainly go to that one. 
College Football Playoff
Now, this will never work in the current four-team format. The College Football Playoff has not—and will not—hold a game on the campus of any team. But, if they expand to eight teams, the hypothesis has been thrown out that the opening round matchups will be held on the campus of the higher-seeded team, enabling Ohio State to potentially host a College Football Playoff game. 
College Football Playoff committee got it right, but 8-team format could work, writes @DavidHaugh https://t.co/H4HYn2jY4P pic.twitter.com/SACb1DDkW5

— Chicago Tribune (@chicagotribune) December 6, 2016
Could you imagine, a top-seeded Ohio State team against an SEC opponent in late December in the shoe? Wow. 
World Cup Matches
With the recent announcement that the United States received the bid to host the 2026 World Cup, cities such as Cincinnati, New York, Boston, Toronto, and Mexico City are all candidates to host games. Apparently, Ohio Stadium is not wide enough to host World Cup matches, although it has hosted international friendlies in the past. 
Here is a view of the field for the PSG-Real Madrid match from 2016: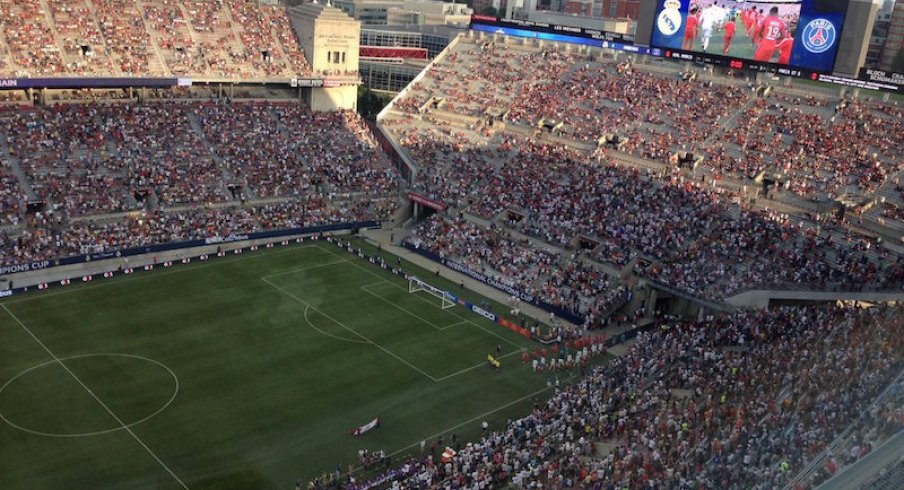 It is indeed quite narrow, but with a few adjustments, perhaps the correct dimensions could be created.
Ohio State Hockey Game
Similar to the aforementioned Winter Classic, an outdoor Ohio State-Michigan hockey game would almost certainly draw a large crowd. The Buckeyes routinely do a decent job of filling Value City Arena, and the lower bowl of the shoe (plus the student sections) could easily fill for an event such as this one. With the right marketing, students and alumni alike will flock for this.
NFL Game
Just move the Browns to Columbus and let them have a fresh start. No, but the stadium already hosted a Browns scrimmage in 2016, in which they drew 42,310. Imagine a regular season game in the 'Shoe? Realistically, this will never happen for the NFL as the only times they seem to want to move a home game away is to either London or Mexico City. But it is not unreasonable that a preseason game for either the Browns or Bengals could be held at Ohio Stadium. 
Terrelle Pryor Puts On Show In Return To Ohio Stadium During #Browns' Scrimmage https://t.co/FWikwXBBVw

— Daryl Ruiter (@RuiterWrongFAN) August 6, 2016