As much as we might like to pretend otherwise, the corruption in college athletics isn't all that impressive.
Sure, some recruits get tens of thousands of dollars before they get to college, or a Public Ivy shuttles dozens of athletes through sham courses for two decades. Yawn.
There's corruption and then there's corruption. The NCAA's corruption is strictly junior varsity. Worldwide organizations like FIFA, the pre-eminent soccer body, take corruption to audacious extremes.
So when American and Swiss authorities arrested 14 FIFA officials and sports marketers for various frauds, the news was met with jubilation. With the resignation of FIFA's president, there is at last a chance soccer will be cleaned up – and more importantly to us, a chance Ohio Stadium could be in the international spotlight.
One of the major points of controversy for FIFA has been its management of the World Cup. Various countries bid to host the Cup, and allegations that Russia and especially Qatar paid massive bribes for the right to host the 2018 and 2022 World Cups aren't going away.
If one of the World Cups were awarded to another country – unlikely, but FIFA might re-vote the issue to restore some credibility – the United States is one of few countries that could host on short notice. And if the United States winds up hosting a World Cup, Ohio Stadium should be in the running for one of the host sites.
Soccer History
For its 93 years of existence, Ohio Stadium has been used for American football. But it does have some legacy as a soccer stadium as well.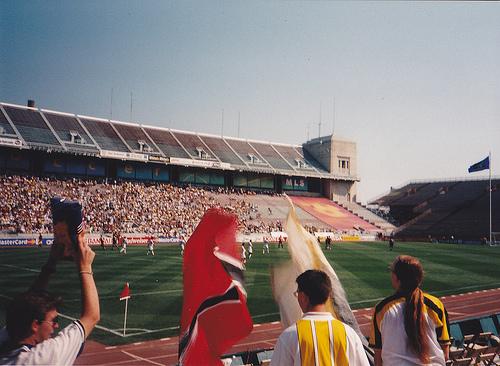 From 1996 to 1998, the Columbus Crew played in Ohio Stadium. It wasn't a great fit, since the Crew couldn't draw nearly enough fans to fill the "cavernous" Horseshoe, but the Crew had the fourth, fifth, and third-highest attendance in those seasons despite Columbus being the second-smallest MLS market. Until Jesse Owens Memorial Stadium was constructed in 1998, OSU men's and women's soccer played in Ohio Stadium.
The Horseshoe aside, Columbus's U.S. soccer pedigree is strong. It has hosted the last four World Cup qualifiers against archrival Mexico, and each game ended dos a cero. Making Columbus one of the host sites might not mean much to the world, but it would energize Americans.
Capacity
I don't know if you heard, but Ohio Stadium is really, really big. That's a great quality for hosting a World Cup.
When the United States hosted the World Cup in 1994, all nine host venues were football stadiums. They all had capacities of 53,142 or more; the most-used stadium, the Rose Bowl, had the largest capacity at 91,174.
At a present capacity of 104,944, Ohio Stadium is large but not too large to host. All the current soccer-specific stadiums are too small for international games, and unless some cities were to build new 50,000 seat stadiums (not likely) it's back to the football stadiums.
Ohio Stadium is certainly in better shape than the Citrus Bowl, RFK Stadium or the Cotton Bowl, three host venues for the 1994 World Cup. If FIFA and US Soccer want to goose attendance totals, Ohio Stadium is one of the best places for them to go.
Civic and National Development
One of the justifications FIFA has used when gifting awarding World Cups has been economic development. By setting the 2010 World Cup in South Africa, FIFA has argued, it improved the quality of life and soccer in the country. It made similar arguments for its selection of Brazil in 2014, Russia in 2018 and Qatar in 2022.
This argument is, naturally, a total farce. But this thinking can work to the US's advantage, even if the United States is far less despotic than other hosts. By making Ohio Stadium a host venue, US Soccer could argue that it's choosing one of its least populous viable cities so as to stimulate growth and interest in soccer.
It's a flimsy argument, but it's one FIFA is predisposed to accept. And seeing as how FIFA's body count is already in the hundreds, I doubt its Executive Committee would have the scruples to reject a self-serving idea.
There are some small problems with Ohio Stadium as a choice. For example, soccer players prefer to play on natural grass for fear of injuries, and the Horseshoe has field turf. Even if there's no real difference in ankle injuries between modern synthetic turf and grass, players perceive it as such.
Fine, then: cover it with natural grass like Michigan Stadium did when it hosted a Manchester United-Real Madrid match in August. The grass was gone in three days, and the Big House's field turf was restored to normal soon after.
Another obstacle, Ohio Stadium's field needing to be larger to fit a regulation soccer pitch, is correctable with renovation to enlarge the field. To widen the field to 70-80 yards, as FIFA requires for its soccer pitches, is difficult but possible.
Gene Smith, Ohio State's athletic director, has said he wants to keep the Horseshoe iconic. Ohio Stadium has had several incarnations over the decades, and one where international soccer is played could be another.
You Can't Fight Jerry World
Injury fears or pitch size aren't the major concern with Ohio Stadium as a World Cup host venue is one major flaw with this cunning argument for Ohio Stadium: competing against NFL stadiums is.
Ohio Stadium, as much as we like it, is not a palace. Other stadiums in the United States are more luxurious and more likely to win bids.
$1.7 billion was spent on MetLife Stadium in New Jersey. $1.3 billion was spent on Cowboys Stadium in Dallas. $1 billion is the cost of the new Minneapolis stadium. The costs for these stadium are inflated, but they have some incredible infrastructure to accompany the building.
As much as Ohio State has spent to keep its stadium up to date, there's just no way to compare to NFL stadiums' amenities. The nine cities bidding for the College Football Playoff (Atlanta, Charlotte, Detroit, Houston, Miami, Minneapolis, New Orleans, San Antonio and Santa Clara) are far more likely to host in the event of a sudden American World Cup.
In the end, the odds are slim that the 2018 or 2022 World Cup will be re-voted, and even slimmer that Ohio Stadium would be a World Cup venue. But it does have a case, and if it were called to service as a host venue, in the next two cycles or any beyond that, the Horseshoe would perform admirably.