By attempting to play eight games in eight weeks in the midst of a pandemic, leaving no flexibility to postpone and reschedule games, the Big Ten made it inevitable that some conference teams would play less games than others this season.
Sure enough, that's what's happened, as seven Big Ten games have already been canceled this season while more cancellations in the final two weeks of the season certainly appear possible. And now, there's a very real possibility that could keep the Big Ten's best team – perhaps the Big Ten's two best teams – out of the conference championship game.
The Big Ten anticipated unbalanced schedules from the beginning, as evidenced by the complex system of tiebreakers for this year's conference championship game, yet the Big Ten East and West representatives in the game could end up being simply decided by which teams play enough games to still be eligible. 
Because the Big Ten set a six-game minimum to qualify for the conference title game, Wisconsin is already ineligible in the West after having three games canceled. Northwestern would still be in the West lead anyway by virtue of its head-to-head win over Wisconsin, but Ohio State – now the only unbeaten team in the conference – is also now just one cancellation away from being ineligible to play in the Big Ten Championship Game, which would deprive the Buckeyes of the chance to win their fourth straight conference title.
With Ohio State dealing with an increase in COVID-19 cases that forced it to cancel its last game against Illinois, and Michigan now dealing with coronavirus issues of its own up north, the possibility of the Buckeyes being unable to play one of their final two regular-season games has become a very real concern.
That's led to many questions about whether the six-game minimum to make the Big Ten Championship Game could be reduced. Many Buckeye fans would like to see Ohio State throw its weight around and convince the conference to reduce that minimum, but Ohio State athletic director Gene Smith said those conversations hadn't happened yet as of Saturday. While he didn't rule out that he could start those conversations over the next two weeks, should the Big Ten really change a rule that's been in place all season just to help Ohio State?
If it doesn't, then there's one other way that teams who play less than six games could become eligible for the Big Ten Championship Game. If the average number of games played by teams throughout the conference falls below six, then the new minimum to qualify for the conference title game would become two games less than the average, which would allow even a 4-0 Ohio State to represent the East in the conference title game. Because an average above 5.5 would round up to six, though, that would require 12 out of 14 Big Ten games being canceled over the next two weeks.
Realistically, there wouldn't even be a Big Ten Championship Game if the spread of COVID-19 got so bad throughout the conference that only two games could be played over the next two weeks.
That means that even though Ohio State only needs one win in its next two games to clinch a Big Ten Championship Game berth as long as it plays them both, not playing either one of those games will almost certainly prevent the Buckeyes from playing for a conference title in Indianapolis. Whether the Buckeyes play in that game might not necessarily make or break their College Football Playoff hopes – Ohio State will still have the opportunity to play someone that week, as long as it's healthy enough to play, as part of what the Big Ten has dubbed "Champions Week" – but they'd certainly prefer to have a chance to defend their conference crown.
Ohio State's conference championship hopes could hinge on what happens over the next few days, as the Buckeyes hope to continue evading positive tests so they can practice later this week and play Michigan State on Saturday after players began returning to the Woody Hayes Athletic Center for small-group workouts on Monday.
For now, though, we take a look around the conference at where each team stands in terms of how many regular-season games it could play in 2020 – and how that's kept the Big Ten on track, even as the season has gotten progressively messier, for an average of comfortably more than six games played per team.
Six Teams Have Already Reached Six Games
The West side of the conference has been most heavily affected by cancellations, with only one team in that division – Iowa – who is still on track to play all eight games. Northwestern has also already played six games, though, and with a 5-1 record and a win over 4-2 Iowa already, the Wildcats actually clinched the Big Ten West when their game that was supposed to be played against Minnesota this week was canceled on Monday (though it's still possible Northwestern could play a full eight-game schedule if another Big Ten team has a game canceled by its opponent by Wednesday).
On the East side of the Big Ten, four teams have already reached the six-game benchmark: Indiana (5-1), Michigan (2-4), Penn State (1-5) and Rutgers (2-4). Indiana, with wins over those other three, is the only one of those teams that's still in the Big Ten Championship Game race. If Michigan is unable to play Maryland this week after pausing team activities on Monday, that would be the Wolverines' first cancellation of the year.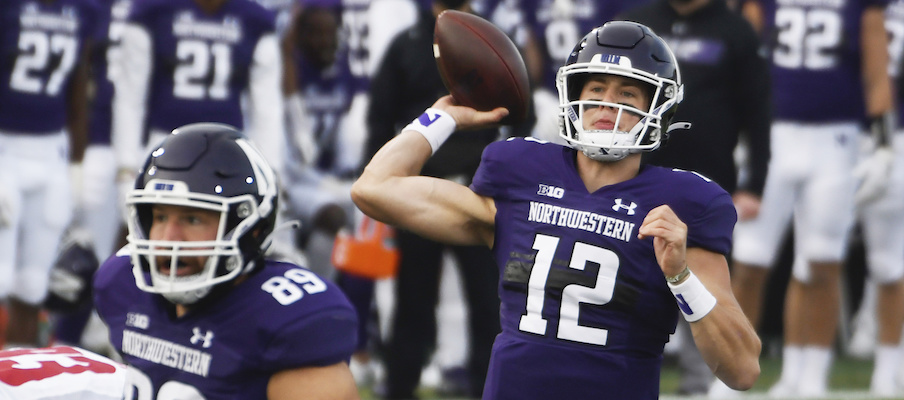 Five Teams Have Played Five Games
Coincidentally, every Big Ten team who had just one game canceled during the first six weeks of the season has a losing record, so while all of them need to play in just one of the next two weeks to be eligible for the conference championship game, each of them have already been eliminated from contention anyway.
Minnesota (2-3) will play a maximum of six games after canceling its second straight game this week, while Michigan State (2-3) could lose its second game of the year if Ohio State can't play on Saturday. Purdue (2-3) and Nebraska (1-4) both had games canceled by Wisconsin, while Illinois (2-3) had its first game canceled last weekend when Ohio State couldn't make the trip to Champaign.
Buckeyes, Terrapins On Brink of Ineligibility
Maryland (2-2) already had to cancel back-to-back games earlier this season, and one of those games was against Ohio State, leaving both the Terrapins and Buckeyes in real jeopardy of being unable to play more than five regular-season games if their games are canceled this week – with Ohio State determining whether it can play, while Maryland waits to see if Michigan can play.
While the Terrapins aren't likely to make the Big Ten Championship Game, they're not completely out yet; if Maryland plays and wins its final two regular-season games against Michigan and Rutgers, Ohio State isn't able to play one of its final two games and Indiana loses its final two regular-season games against Wisconsin and Purdue, the Terrapins would represent the East in Indianapolis.
Badgers Already Out
Because Wisconsin had to cancel back-to-back games against Nebraska and Purdue, then was on the other end of a cancellation against Minnesota last week, the Badgers have still played just three games this season. At 2-1, there's still a chance they could finish with the best winning percentage in the Big Ten West if Northwestern loses another game, but it won't matter – even if the Badgers beat both Indiana and Iowa to improve to 4-1, they'll still be ineligible for the Big Ten Championship Game because they'll have played only five regular-season games.