If this week goes as hoped for Ohio State, the Buckeyes will head to East Lansing to play Michigan State on Saturday at noon.

MICHIGAN STATE SPARTANS
2-3
ROSTER / SCHEDULE
---
NOON – SATURDAY, DEC. 5
SPARTAN STADIUM
EAST LANSING, MICHIGAN
---
ABC
WatchESPN
Assuming Ohio State is able to play the game as scheduled, it will be just the second – and final – time the Buckeyes play a road game during the regular season, as their last two road trips to Maryland and Illinois were canceled. While team activities are currently paused due to an increase in positive COVID-19 cases, Ohio State athletic director Gene Smith said Saturday that the Buckeyes' objective is to be able to play their next game, which means they're already preparing mentally for Michigan State even though they aren't able to practice right now.
While the Buckeyes start digging into the Spartans and diagnose the challenges they could present as an opponent on Saturday, we also take a closer look at Mel Tucker's squad, which is coming off a 29-20 upset win over Northwestern – who was 5-0 and eighth in last week's College Football Playoff rankings – to improve to 2-3 on the season.
Upset Wins and Lopsided Losses
Saturday's win over Northwestern was the second time this season Michigan State has won a game as a double-digit underdog, which it is once again versus Ohio State. The Spartans closed as a 21.5-point underdog for their second game of the season at Michigan (who was believed to actually be good at the time) and won that game 27-24.
Opponents have covered the spread easily, though, in each of Michigan State's other three games. The Spartans were upset as a double-digit betting favorite in their season opener against Rutgers, losing that game 38-27. As single-digit underdogs in its third and fourth games of the year, Michigan State suffered blowout losses to Iowa (49-7) and Indiana (24-0).
By virtue of its win over a top-10 team this past weekend, Michigan State can't be written off as a team with upset potential, especially since Ohio State will be shorthanded for the remainder of the regular season with players sidelined by COVID-19. Yet its performances against Rutgers, Iowa and Indiana also indicate that when the Spartans have been bad, they've been really bad.
Defensive Star is Former Ohio State Commit
A four-star linebacker who was ranked as the state of Michigan's No. 7 prospect in his class, Antjuan Simmons emerged as one of Ohio State's top targets at his position early in the 2017 recruiting cycle and committed to the Buckeyes in March 2016. Ultimately, however, the Ann Arbor native – whose high school was literally across the street from Michigan Stadium – ended up decommitting from Ohio State and signing with his hometown team's other rival.
Now a senior, Simmons has developed into Michigan State's best defensive player. He's leading the Spartans in tackles for a second consecutive season, with 53 total tackles in five games, and also tops his team with 6.5 tackles for loss. He earned Big Ten Defensive Player of the Week honors this week after recording 13 total tackles with two tackles for loss and a sack in the win over Northwestern.
Ohio State ended up with Baron Browning and Pete Werner at linebacker in its 2017 recruiting class, so it hasn't missed Simmons too much. But he has shown at Michigan State why he was a player that the Buckeyes and many of college football's other top teams coveted, and the 6-foot, 225-pound linebacker is the top player to watch on the Spartans' defense, which has been their better side of the ball.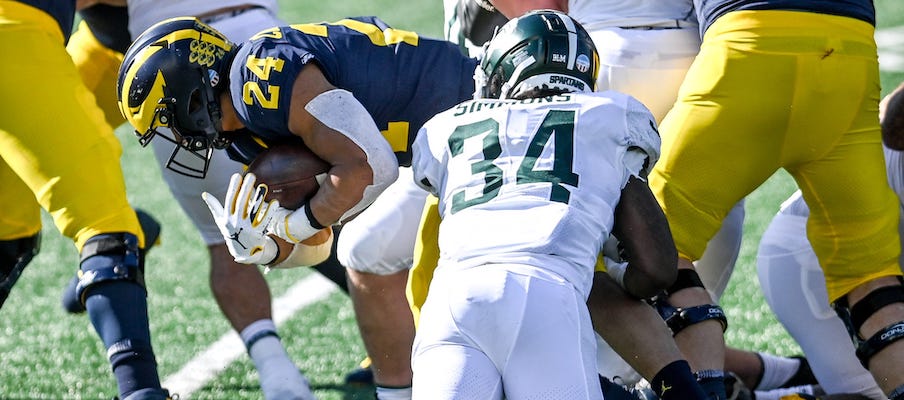 An Interception Machine
Michigan State has five interceptions in five games this season, and all of them have been made by the same player. With two interceptions in each of Michigan State's last two games, redshirt junior cornerback Shakur Brown is now averaging one pick per game this year and is tied for the Football Bowl Subdivision lead in interceptions.
Brown also ranks second nationally with 107 interception return yards, including a 54-yard return in Saturday's win against Northwestern. His two interceptions set up a pair of field goals for the Spartans in their nine-point win.
With the four interceptions Brown has made in Michigan State's last two games, he might be the hottest defensive playmaker in college football right now.
Two-pick Shakur.

Shakur Brown (@shackspeare29) picks off Michael Penix for the second time today. pic.twitter.com/6E3XNFdYOP

— Big Ten Network (@BigTenNetwork) November 14, 2020
The Big Ten's Worst Offense
By multiple statistical measures, Michigan State's offense has been the worst in the Big Ten this season. The Spartans rank last in the conference in points scored per game (18.0) and first downs per game (15.8), rank second-to-last in the conference ahead of only Northwestern in yards per play (4.78) and yards per game (331.4) and have the most lost turnovers (15) of any Big Ten team.
Michigan State's rushing offense has been particularly bad, averaging just 98 yards per game on 2.72 yards per carry with just one rushing touchdown, all lowest in the conference. The Spartans had their best running performance of the season to date against Northwestern, gaining 195 yards on 47 carries, but their 4.15 yards per carry in that game is still lower than eight other Big Ten teams' averages for the season.
More than 70 percent of the Spartans' offensive yards this season have come from their passing game, but Rocky Lombardi hasn't been great either. The Spartans' starting quarterback, who was benched during their loss to Indiana but returned to the lineup against Northwestern, has completed just 54.1 percent of his passing attempts for 1,057 yards with eight touchdowns and eight interceptions.

Lots of Ohio Ties
Just like his predecessor Mark Dantonio, Tucker is a former Ohio State assistant coach. A Cleveland native, Tucker coached defensive backs for the Buckeyes from 2001-04 and was also co-defensive coordinator in his final year in Columbus.
Longtime Dantonio assistant Mike Tressel, who worked alongside Tucker as a graduate assistant for his uncle at Ohio State for two years, is still on Michigan State's coaching staff as safeties coach.
As was consistently the case during the Dantonio era, Michigan State's player roster remains loaded with products of the Buckeye State. The Spartans have 28 total players from Ohio on their 2020 roster, and many of them are starters or key contributors.
A.J. Arcuri (Olentangy Liberty), J.D. Duplain (Strongsville), Nick Samac (Mentor) and Matt Carrick (Perry) make up four-fifths of Michigan State's starting offensive line. Trenton Gillison (Pickerington Central) and Matt Dotson (Archbishop Moeller) are the Spartans' top two tight ends. Xavier Henderson (Pickerington Central) is Michigan State's top safety, while Dominique Long (Westerville South), Angelo Grose (Mansfield) and Michael Dowell (St. Edward) have also each started games in the secondary. Matt Coghlin (Archbishop Moeller) is in his fourth year as Michigan State's kicker.