The biggest news of the day...
.@KylieJenner confirmed Columbus Clippers fan

Source: @DailyMailUK pic.twitter.com/Kyn97sbMgx

— Columbus Clippers (@CLBClippers) June 22, 2022
Kylie, if you are reading this, my wife would gladly allow me to take you on a date to a Clippers game next time you're in Columbus (which I also assume would be the first time). But it's gonna have to be Dime a Dog night or you're paying.
Word of the Day: Portent.
 BABB BACK AGAIN. Kamryn Babb may have the worst injury luck of any football player who's stayed on Ohio State's roster as long as he has – and that's an impressive feat, because it includes dudes like Justin Hilliard and Johnnie Dixon.
He's currently rehabbing from his *FIFTH* knee surgery since his junior season of high school, but he still maintains that he's going to play this season.
Babb's career, even going back to his junior year of high school, looks like one continuous rehab session. Twice he's torn the ACL in both of his knees twice and this past spring he suffered a meniscus injury in his right knee, requiring a fifth career knee surgery.

But Babb's plan remains to take the field for his senior season.

"There's always those negative thoughts that come in your mind," he said. "You have those questions 'Will it happen again? Am I good enough?' I haven't played in so long and really my last game I played in was technically my junior year of high school."
Babb is one of those dudes who is so clearly going to be successful at anything he tries to do in life, but I'd love for him to at least have the chance for that to be football.
Life hasn't been kind to him in that regard, but you'd never know it. And I respect the hell out of him for keeping his head up that long.
 BEST DAMN RECRUITER IN THE LAND. After landing three top-10 receivers in three days, I think I would be a tad more concerned if Brian Hartline wasn't atop the 247 Sports 2023 recruiter rankings.
Alas, I guess it's news anyway.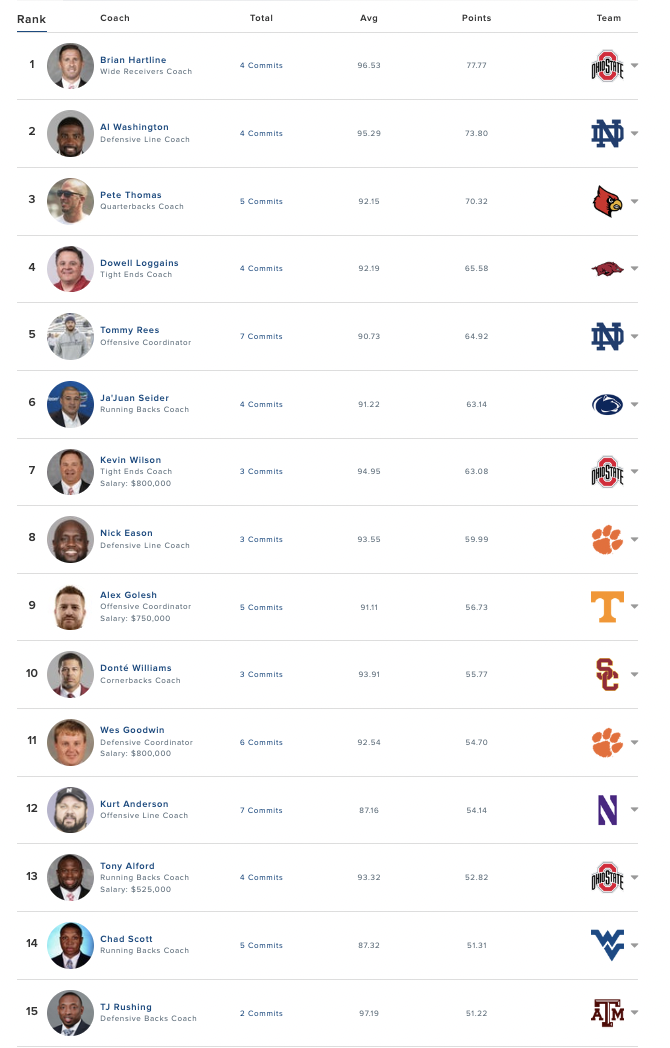 The real headline here is that Hartline ain't the only elite recruiter in Columbus. Ohio State has three different coaches in the top-15 – the most of any other school. Kevin Wilson and Tony Alford have been doing work on the recruiting trail, too.
And then Corey Dennis is already in the top-five for the 2024 recruiting class, which tends to happen when you already lock down the best player in the class.
All in all, Ohio State's recruiting is pretty damn good across the board, which is bad news for everyone else.
 FOILED PLANS! Speaking of other teams trying to compete with Ohio State in the recruiting trail, let's check in on Michigan.
If you didn't hear, Michigan receivers coach Ron Bellamy tried to be a little sneaky snake yesterday, shooting Ohio State receiver commit Bryson Rodgers a text right after the Buckeyes landed three top-10 receivers – all rated significantly higher than him.
Rodgers, of course, was having none of it. He posted (and since deleted) the extremely brief text exchange on Twitter as a way of reaffirming his commitment to Ohio State.
The optics of this are just hilarious to me.
Ohio State lands three top-10 receivers in three days and Michigan's response is "Well, I guess let's see if we can flip their lowest-rated receiver commit of the past five years."
Then they get immediately shut down and blasted on social media. Incredible stuff.
To be clear, I mean this as no disrespect to Bryson Rodgers. The dude is criminally underrated across the board and it honestly was a solid move of Michigan to at give it a try. It just looks hilarious in context.
 DRAFT DAY. Folks, it's NBA Draft day, and the Buckeyes are about to have multiple first-round picks for the first time since 2007 – when I, a 27-year-old man, was in sixth grade.
Everyone involved with be understandably hyped, as they should be.
Me when Ohio State has two players selected in the NBA Draft tomorrow night#DevelopedHere pic.twitter.com/PHx5hDGadh

— Ohio State Hoops (@OhioStateHoops) June 23, 2022
We, of course, will be covering the shit out of tonight's festivities – you know how we do. So go ahead and make sure you're following our official Eleven Warriors Twitter account at @11W as well our noted hoops reporter Griffin Strom and @GriffinStrom3.
 SONG OF THE DAY. "Turn My Swag On" by Soulja Boy.
 NOT STICKING TO SPORTS. Ketchup-flavored ice pops are now a thing... The women with a fetish for acting like cute dogs...The people who sneeze or sniffle when they're aroused... Your health data might be for sale... The adventurer twins exploring the most remote parts of the world... How to correctly clean out your ears...