A Michigan coach reached out to an Ohio State commit on Wednesday. He was quickly rebuffed.
After Ohio State landed back-to-back-to-back commitments from wide receivers Carnell Tate, Brandon Inniss and Noah Rogers over the past three days, Michigan wide receivers coach Ron Bellamy seemingly saw an opportunity to flip Ohio State's other wide receiver commit, Bryson Rodgers.
Bellamy texted Rodgers the same message, "What's going on B," twice on Wednesday afternoon. But Rodgers wasn't interested in talking to a coach from the rival school.
Rodgers replied to Bellamy with a succinct response: "go bucks," then shared a screenshot of the exchange on Twitter while reaffirming his commitment to Ohio State.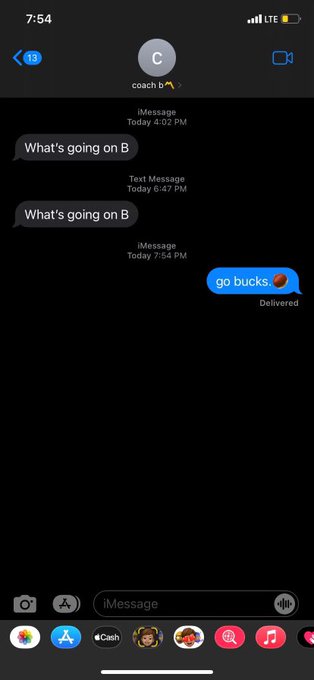 well, ttun and their staff must not get the memo that I am committed to The Ohio State University. mr Ron Bellamy / the wide receiver coach there is a prime example here shown below. lost a bit ?needs help? i have no clue. silly goose. Im a buckeye for life. #gobucks pic.twitter.com/Tq9E0UIKbk

— Iam_uno (@IBryson13) June 23, 2022
its all fun. Please no one get in their feelings and take things so serious. People that know me know I barley talk and a very quiet person. Just having a little bit of fun. Us buckeyes like to have fun you know. buckeye nation I love yall so much man .#gobucks

— Iam_uno (@IBryson13) June 23, 2022
Clearly, Rodgers already understands the rivalry that comes with The Game, and he fully intends to be a part of it while wearing scarlet and gray beginning in 2023.
While Ohio State has landed commitments from three top-50 wide receivers over the last three days, all indications from Rodgers have been that those commitments have no impact whatsoever on his commitment to the Buckeyes. To the contrary, Rodgers actually helped recruit all three of those receivers to join him in Columbus; he was among the Ohio State commits who hyped up those incoming commitments on Twitter as they happened over the past three days, and he just made his official visit to Ohio State last weekend.
just a kid from Warren, Ohio. @brianhartline #gobucks pic.twitter.com/1Jj7wUfpmv

— Iam_uno (@IBryson13) June 19, 2022