It looks like something slipped through the cracks...
Surprised she has not been offered a new umbrella at the #OhioState 7-on-7 event. pic.twitter.com/qnsow4R3nN

— Kevin Noon (@Kevin_Noon) June 16, 2022
Woody Hayes would have been absolutely apoplectic and fully believed this woman was a spy hired by Bo.
Word of the Day: Rebuff.
 BIGGEST DAMN FANBASE IN THE LAND. I spend far too much time online to be able to confidently claim that Ohio State has the best fanbase in the land (but y'all are good, you know that).
What I can report, however, is that Ohio State has the biggest fanbase in the plan – and by quite a big margin, it appears.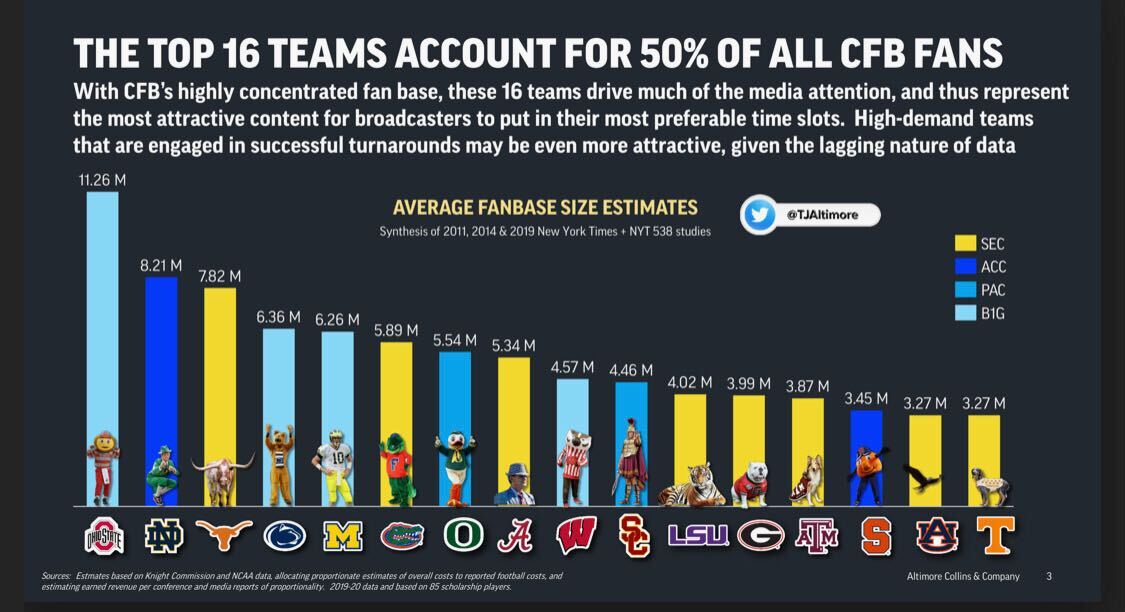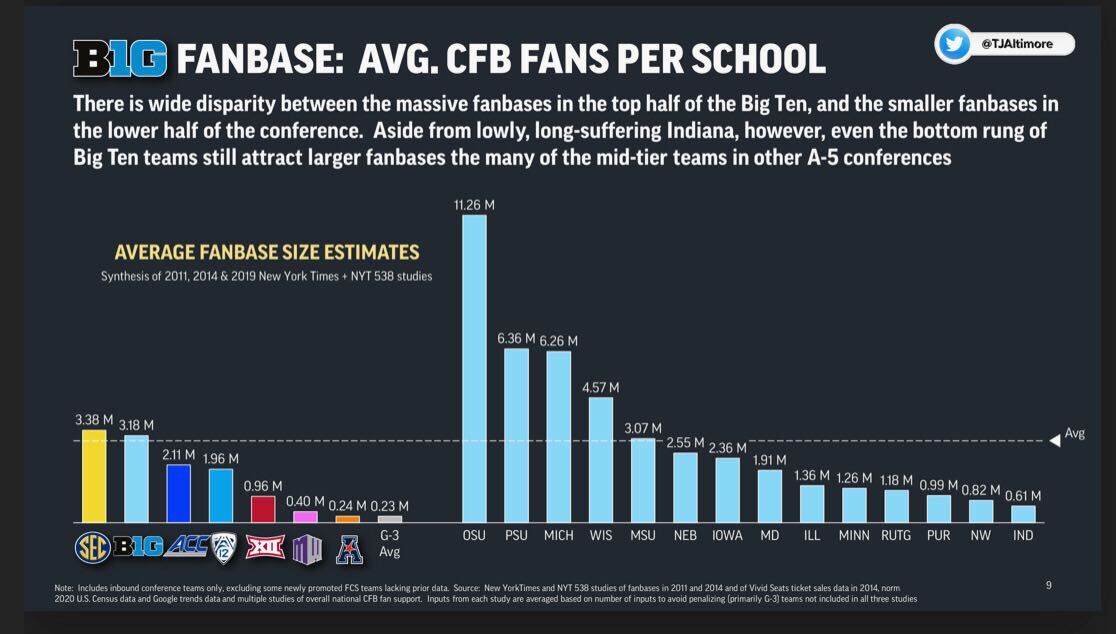 These graphic come from a delightful analysis of all 130 FBS fanbases done by a fellow named Tony Altimore (@TJAltimore on Twitter) where he basically synthesized results from a bunch of different studies.
All in all, a very good read, especially if you're looking to steal some of your boss' time at work today (not that I would ever condone anybody doing such a thing, of course).
 PORTAL WINDOW? The transfer portal has been the Wild West of college football pretty much as long as it's existed, and it got even more insane when the NCAA decided to allow everyone a one-time transfer.
The portal ain't going anywhere anytime soon, and neither is that one-time transfer exception. But the NCAA's still doing what it can to make that Wild West a little less wild.
Transfer recommendations, intended to stabilize the transfer environment, would require additional accountability for schools that receive transfer student-athletes and provide student-athletes with a window of time to enter the Transfer Portal each year in order to be eligible to compete in the following year. Some of the changes to the infractions process would include incentivizing cooperation of all parties, additional investigative tools and more flexibility within confidentiality rules.
This would make all the sense in the world. But at the same time, I've grown to love and appreciate the absurdity of players just deciding to leave their team in the middle of the season – sometimes even in the middle of games!
No other sport in the world has the lingering threat that any one of your players could simply quit and effectively enter free agency at any given moment, and I'm in favor of protecting that at all costs. Give me some spice!
 TOP-FIVE ATHLETIC PROGRAM. Ohio State didn't win the Director's Cup, but they put up a damn good fight and posted their first top-5 finish since the 2016-17 athletic season.
But the bad news is, they also finished behind Michigan for the fourth straight season.

That aside, the biggest storyline here is that after winning 25 straight titles, Stanford has now finished second in back-to-back years. I guess every empire has to fall one day.
 TRIFECTA, TRIPLE CROWN, ETC. I've always said that individual awards are stupid and meaningless...
... unless the players from my team are winning them.
And thankfully, the Buckeyes have got a pretty good collection of them going, putting them in some pretty elite company.
@OhioStateFB, @PennStateFball and @AlabamaFTBL are the only 3 schools with a Biletnikoff, Doak Walker and Davey O'Brien Award winner

Which school on this graphic impresses you the most? pic.twitter.com/rSr8VcQO75

— FOX College Football (@CFBONFOX) June 15, 2022
Just kidding, it can't be "elite" company if Penn State's in the group – right James?
 SONG OF THE DAY. "You Make My Dreams" by Daryl Hall and John Oates.
 NOT STICKING TO SPORTS. Rats fitted with tiny backpacks are being trained to help earthquake survivors... An elementary school accidentally served floor sealant instead of milk to a dozen children... Convicted scammer and notorious grifter Anna Sorokin says she is now selling NFTs... Particle hunters can spend a lifetime looking for answers... China says it may have detected signals from alien civilizations... The brain has a low-power mode that blunts our senses... Ground Zero for the Black Death has finally been found 600 years later...