Today is Tuesday. It's the last day of June 2020 which means we've reached halftime.
It's also Day Two of Sunshine Week as we celebrate Kevin and his lovely lady Taylor, who tied the knot over the weekend, by relieving him of Skull Session duty (for only a few days before we hunt him down, sedate him and then chain him back to the internet forever).
Having spent quality time with both Kevin and Taylor, I can honestly say they're adorable, brilliant and funny independent of each other. Now that they've merged organizations, they'll be forging a whole new superpower conglomerate.
Imagine if Hello Kitty and Georgia O'Keefe had a baby and Superman was their nanny (the kickass one from Superman III with Richard Pryor, not the other inferior Supermen). That's who they are now. They are that baby. All hail the Harrishes!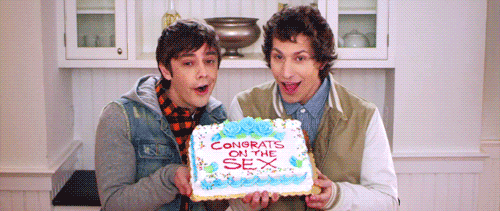 WORD OF THE DAY: Gamophobia
 IOWA'S NO.5 RUSHER OF ALL TIME REGRETS PLAYING FOR IOWA. That tiny crack in four-time B1G Coach of the Year Kirk Ferentz's windshield has been spreading like crazy during this offseason. It's now a *squints to see metaphor more clearly* ah every car in the parking lot is now totaled.
Earlier this month the university hired Kansas City-based law firm Husch Blackwell to conduct an investigation into issues and allegations of racial disparities within the football program, as it cut ties with famed Strength & Conditioning coach Chris Doyle.
Yesterday, Akrum Wadley published a statement recounting his experience and treatment while in Iowa City. It's brutal, detailed and lengthy. Some cuts, and they are cuts:
"I felt like playing for Iowa Football was a living nightmare."

"I was threatened by Kirk Ferentz that my meal card would be taken away and I will not eat nor be able to sit with my teammates during eating sessions. He did follow through on his threat. I went to use my meal card and it was declined. I had to call my mother from New Jersey at 10 or 11pm at night because I was hungry to order Dominos Pizza for me.

Or I would have to go to a fan's house earlier at night to eat because there was no way I was going to be able to make it through the next day vomiting, being weak and be able to make it through school and practice that day." 
The university's response was a solid non-denial. Ferentz's contract with Iowa runs through 2026.
 HOMICIDE DETECTIVES ARRIVE AT CRIME SCENE SEVEN MONTHS LATE. That home invasion in Ann Arbor last November - remember? It was in all the papers.
We even talked about it here a few times. CRIME SCENE PHOTO BELOW – PLEASE VIEW WITH CAUTION AS IT IS AWESOME: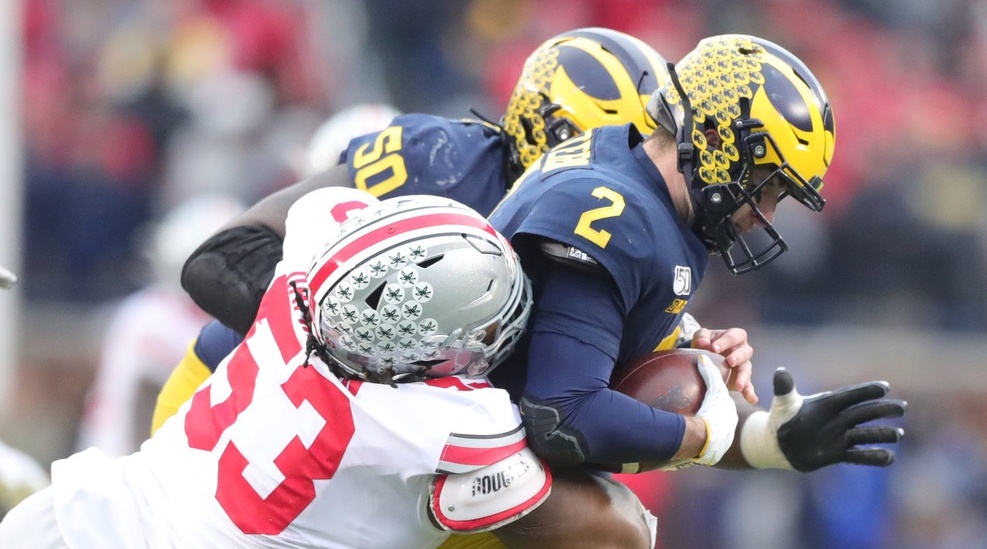 We're pretty good here at conducting our own timely autopsies after the Buckeyes drop a game, but I'm not sure how speedy 11W would be if our football team was losing to the same opponent – the worst possible opponent – every goddamn year. We might shift our priorities elsewhere, like to basketball season or other means of self-care.
Seth at MGoBlog finally entered the morgue, did the incisions himself, conducted the examination and the closed everything up just last week (!) and you can read his report on the Michigan offense vs. the Ohio State defense here. It's an interesting read; please try to remember that Michigan writers are going to homer Michigan football with the same precision that we homer Ohio State football here, but with copious ennui because: Michigan.
You may recall how former Buckeye OC Ed Warinner Peter Principle'd himself back to where he truly shines; coaching offensive linemen and absolutely nothing else. As a result, Michigan's OL hasn't been this good since Y2K. But it's unclear if Ed has begged his current boss to hire his old coworkers from, like, Kansas again but Coach Harbaugh, if you're reading this: Do it, coward.
Anyway, Ed's relevant in Seth's analysis because:
Pin & Pull was the base of the offense in the back half of the season, and this is a Pin & Pull against a man defense expecting pass with one less defender to worry about:
If you're unfamiliar with Pin & Pull a) read Jones more often and b) buy the shirt we sell that reminds everyone who gazes upon your glorious body what Pin & Pull looks like in the playbook.
You probably watch Pin & Pull whenever you need an emotional pick-me-up. There's a classic Pin & Pull play running on a loop when you enter the Woody - it's about 15 steps into the building on the flatscreen to the left. 
Here, it's this play. You'll even notice Ed running down the OSU sideline giving Zeke directions.
What I'm saying is that Ohio State is overly familiar with Pin & Pull. It's a playbook staple.
JK Dobbins is currently in a tax bracket you'll never see in part because of it, and Ohio State's defense is generally - whatever the opposite of caught off guard is - by Pin & Pull. That was the base of Michigan's rushing offense during the back half of the 2019 season.
It's been 17 years since Chris Perry swiped a disrespekt tarot card from a drunk Spartan gypsy. Since then, Mike Hart had one great afternoon in a losing effort in 2006 and Fitz Toussaint had 120 yards against the worst Ohio State team of the century. Other than those two aberrations, the only Wolverine running back to have any success against the Buckeyes is the ghost of Tshimanga Biakabutuka. Makes you think, for sure.
 NOTHING OMINOUS ABOUT THIS AT ALL. If you were planning to enjoy Ohio State's trip to East Lansing this October and then wake up early the following morning to take in the Columbus Marathon, your plans - and your emotions - got a jolt yesterday afternoon:
"It pains us to not be able to bring our race forward in 2020, but these are no ordinary times," said Race Director Darris Blackford. "Everyone has faced changes to our 'normal' ways of life. When you think about the best health and safety practices needed to help slow the spread of the virus, holding a major running footrace isn't the responsible thing to do right now."
The cancelation makes sense, unfortunately. Last year's race featured 15,000 runners who were cheered on by about 100,000 spectators. The event had a volunteer staff of 3,000. That combination of heavy breathing, cheering and thousands of cups of water being handed out in a crowd of that size - in a pandemic that is accelerating - led an event (sponsored by a hospital, which itself is sponsored by an insurance company) to hit pause for another year.
However, marathon courses are incredibly difficult to manage, contain and control compared to, say, football stadiums. You can curtail attendance, eliminate concessions and pipe in O-H-I-O chants without contributing to the aerosol and droplet content in the shared space.
Nearly every other marathon has already punted to 2021 - and the fact that we're still punting bodes well for the return of football. Think positively, wear a mask and wash your hands.
 PAT FORDE IS DESPERATE FOR CONTENT. Louisville's notorious bridge troll filled his latest spot on SI's editorial calendar by blowing up the college football landscape and creating a boring, orderly 10-conference, 120-school league.
Forde's new system gives every school the exact same round-robin schedule each year, followed by a sterile playoff structure at the expense of fractured rivalries, sanitized tradition and ... you know what, Pat Forde's idea sucks and his columns suck. He's good at being wrong and stupid and dumb and extra-wrong and hypocritical and having no scruples whatsoever while being double-hypocritical and triple-hypocritical and oblivious to what happens in the sport he covers for a living. I'm sure he's a nice and lovely man.
But if you're too emotional for sports reporting, maybe consider lending your trash opinions to a popular fan site instead of masquerading as a journalist. Trust me on this, Pat.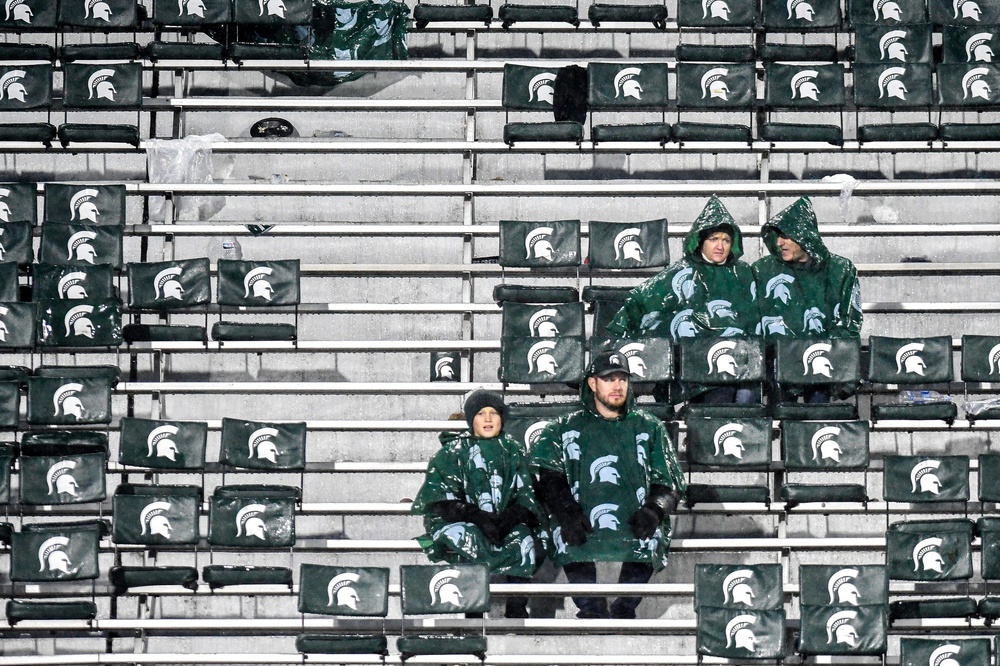 IN EVERY BET THERE IS A FOOL AND A THIEF. The oddsmakers at SportsBettingDime have run the numbers and since you're swimming in non-FDA approved N95 mask hustle cash - you can bet on the average 2020 attendance at a number of college football stadiums.
O/U ATTENDANCE PROP BETS | 2020 REGULAR SEASON

| TEAM | 2020 O/U | % OF 2019 AVG |
| --- | --- | --- |
| MICHIGAN | 38,850 | 35% |
| PENN STATE | 40,128 | 38% |
| Ohio State | 32,999 | 32% |
| TEXAS A&M | 44,700 | 44% |
| ALABAMA | 43,470 | 43% |
| LSU | 43,340 | 43% |
| TEXAS | 42,370 | 44% |
| NEBRASKA | 49,140 | 55% |
| GEORGIA | 42,700 | 46% |
| TENNESSEE | 43,970 | 50% |
Last year, while the Shoe was undergoing renovations, 61,000 fans attended the Spring game.
 MALIK HARRISON IS HIS FATHER'S SON. One of the freakiest athletes the Buckeyes have ever had talks about the role his father has had in his life - and pops does the same in reflecting on the impact his son had on him.
The Harrisons are charming and this video is worth the time.
"I wanted to make you a better man than I am. He took that and ran with it. I need to slow him down a little bit."

My Flock: @Leek_39
presented by @Wawa pic.twitter.com/ePbabPoeYw

— Baltimore Ravens (@Ravens) June 29, 2020
Reminder that Harrison - and Dobbins! - are both Baltimore Ravens. Thirty-two NFL teams and they both ended up on the Ravens. Perfect. Wonderful. *screams internally*
 SONG OF THE DAY. "Daughter" by Loudon Wainright III
 SITUATIONAL LINKS. Old Forester Birthday Bourbon 2020 announced...The dudes who won't wear masks...six summer beach reads from 100 years ago....abrupt chaos...fast food is comforting but it crowds out local, fresher options...when they shot nearly all of Back to the Future with Eric Stoltz as Marty McFly before starting over with Michael J. Fox.