Kansas football has been miserable as of late. The last three years under Charlie Weis brought a 9-27 record, and the program hasn't had a winning season since 2008. Even so, there are two useful pieces of Kansas football to Ohio State: Tim Beck and Ed Warinner.
Most evaluations of Beck and Warinner grade their time at Nebraska and Notre Dame. That's reasonable, since those are their most recent stops and those two schools are roughly on Ohio State's level. But it wasn't their first stop at a major program; they coached together at Kansas in 2007.
From the time Kansas head coach Mark Mangino took over the program in 2002 to 2007, his quarterbacks were ill-fated. In his first five years, the Jayhawks started eleven quarterbacks. In Beck's first two years, 2005 and 2006, his receivers had four "game managers" throwing wobbling ducks to them.
In 2005 and 2006 Kansas typically used a three receiver set, one tight end, one running back set, with the quarterback splitting time between the shotgun and standing under center. Here's an example of the shotgun, from the 2006 Kansas-Nebraska game: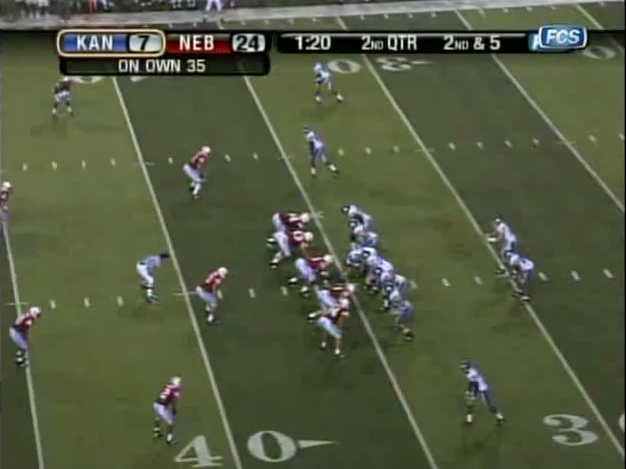 From here, Kansas liked to use crossing routes to free up receivers. On this play, a double drag route frees the tight end for a large gain. Later on the drive, Kansas would again cross routes to free a receiver for a touchdown. (The touchdown was dropped; Kansas did not have very good football players back then.)
After 2006, Mangino fired offensive coordinator Nick Quartaro and replaced him with Ed Warinner, who also became the quarterbacks coach. Beck kept his position as wide receiver coach and took on an additional role as passing game coordinator.
The results were startling. Sophomore quarterback Todd Reesing came out of nowhere to pass for 3,486 yards and 33 touchdowns. Kansas had the best season in school history, finishing 12-1 and winning the Orange Bowl.
Beck And Warinner at Kansas, 2005-2009

| Year | Passing YArds Per Game | National Rank | Passing Efficiency | National Rank |
| --- | --- | --- | --- | --- |
| 2005 | 195.7 | 88th | 104.34 | 103rd |
| 2006 | 197.7 | 60th | 117.59 | 79th |
| 2007 | 291.0 | 17th | 152.18 | 7th |
| 2008 | 305.6 | 8th | 149.93 | 17th |
| 2009 | 310.3 | 7th | 135.42 | 40th |
Under Warinner and Beck, Kansas became more shotgun-focused. The Jayhawks also became more liberal with its receiver usage; this example from the 2007 Kansas-Missouri game shows a four-receiver set with the two receivers on the bottom split out very wide.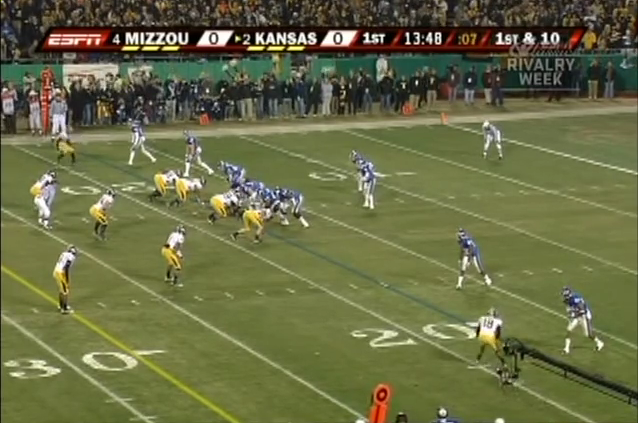 Sending receivers this wide serves two functions. First, it isolates defenders, leading to more favorable one-on-one matchups; second, it takes defenders out of the box, making the defense more susceptible to the running game.
On this play, Kansas ran a speed option to the short side of the field with Reesing and its bruising running back, Brandon McAnderson. It was unsuccessful, but the Jayhawks had more success running from a spread later, this time on a toss play.
In 2007, Kansas had a feature receiver for the first time in Beck's tenure: Marcus Henry, who caught 80 balls for 1,014 receiving yards. Dexton Fields and Dezmon Briscoe were the other top guys, contributing 834 and 496 receiving yards. As it turned out, having a quarterback who wasn't hot garbage was helpful. The Buckeyes figure to have a feature wide receiver in Michael Thomas, and supplementary receivers Corey Smith and Dontre Wilson. They will have no such quarterback issues.
Of course, there are some differences between Kansas in 2007 and Ohio State now. The Buckeyes have far more talent than the Jayhawks did, and OSU's offense is more focused on motion and option runs as opposed to KU's bland shotgun passing attack. All the same, don't be surprised to see more wide splits, speed options or tosses in 2015 – all things that can adapt to an inside zone blocking scheme.
The four year stretch from 2005-2008 when Beck and Warinner were at Kansas was the best four years in Jayhawks football history. With both on Ohio State's staff, you may see some tweaks that led Kansas to success.