Today, I learned that there are far fewer blimps in the world than I was led to believe.
This is an alarmingly low number of blimps https://t.co/QNyPiDpEt7

— Jimmy Blanco (@ColeyMick) January 1, 2020
I try to refrain from getting too political here, but I really think that there should be more blimps and will be voting for whoever can make that happen.
Word of the Day: Incommode.
 A LETTER TO HIS MOTHER. Almost exactly three years ago, Jeff Okudah penned a letter to his chronically-ill mother after committing to Ohio State, recapping his commitment journey, she didn't have to miss a thing.
It is – without any exaggeration – one of the best, most vulnerable and heartwarming things I've ever read.
Heartbreakingly, Okudah's mother passed away just a few days after he arrived in Columbus, and never got to see her son grow into the best cornerback in America.
So, just like last time, he wrote her a letter – so she didn't have to miss a thing.
Spring ball leading up to my freshman year was not the easiest time for me. That first stretch of spring ball, just on its own, can be a challenge for most guys. But for me, it was also my first time playing football since you'd died. I missed you so much….. but mostly I think I just hadn't fully processed that you were gone. My head and my heart weren't all the way into it, and it showed. I flashed some potential, but I still had a long way to go.

So when I was in Coach Coombs's office after our 2017 Spring Game, for player evaluations, and Coach asked me, straight up, "What do you want to be?" — I would not be shocked if he was expecting a more humble answer than the one I gave.

I said, "I want to be the best DB in America, Coach. And I want us to be the best DB group in America. That's my goal — Best In America. BIA."

...

And Coach Coombs was so good to me on that day, Mom. He didn't question my goal at all. He didn't ask me to qualify it in any way. He just took what I said in stride, and then went to the drawing board. No, really — Coach went to the actual drawing board. That's literally the next thing he did. He went to the drawing board and he drew this big, long line. And he said, "Jeffrey, that's the line from where you are right now" — and he made a big X on that spot — "to where you want to be" — and he made a big X on that spot. And everything in between, that was how far I had to go….. and what I had to do to get there.

That was in April of 2017.

In December of 2019, I became a unanimous first-team All-American at defensive back.

BIA.

...

I'm sure teams will ask me about you. 

They'll ask me about my upbringing. They'll ask me about my mom, Marie, who passed away. They'll try to figure me out, by trying to figure you out. And honestly I can't wait.

Because I'll just tell them the truth.

I'll tell them that we never had the most money, in terms of our financial situation. And that we didn't have the most time, in terms of our years we got to spend together. But we had the most love — that's for sure. We had more love than anyone could ever imagine.

I'll tell them that I was raised by a mother who believed in me and who supported me, and who always made me feel like my dreams were worth dreaming about — and then fighting for. I'll tell them that, simply put, I was raised by the best.

BIA.
If you don't make time to read the letter in its entirety today, I question whether you have a heart. Seriously, if you have not read it, stop reading my words and go read his – they're better.
 THEY SEEM PLEASED. The Buckeyes are promoting Corey Dennis to quarterbacks coach and I'm not going to pretend to personally have any idea how good or bad he is at doing his job.
However, there are plenty of folks who would know much better than me how good or bad he is at his job, and the consensus seems to be that he's quite good.
That man uppp @CoreyDennis_ congrats brotha you deserve it! https://t.co/oXHep2G49N

— Dwayne Haskins, Jr (@dh_simba7) January 1, 2020
well done and congratulations @CoreyDennis_ you deserve it and more! https://t.co/KkSWRltVou

— Michael Thomas (@Cantguardmike) January 1, 2020
Nice stamp of approval there pic.twitter.com/uhlkCSgcLg

— jeffthepeople (@jeffthepeople) January 1, 2020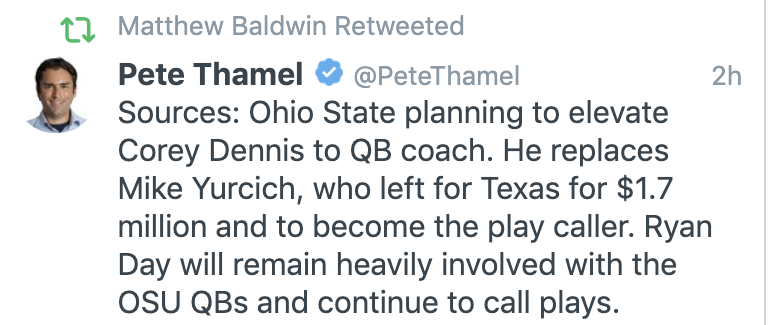 Hes going to do a really good job

— Quincy Avery (@Quincy_Avery) January 1, 2020
In my totally unexpert blogger opinion, this move makes complete sense. Dennis already knows how to coach quarterbacks to Day's liking (he was essentially Dwayne Haskins' personal coach his final season) and can basically just be an extension of him without having any coordinator responsibilities.
The next move is to make Brian Hartline passing game coordinator – he's earned it – which I have to assume is coming soon.
 FIVE-STAR VS. FIVE-STAR. Highlight reels are fun and good because you get to see a kid terrorize opponents that don't even belong on the same field.
It's absolutely hilarious to see a five-star lineman flatten three players on one play, or a running back outpace a corner who has an angle and a 10-yard head start, but if you're really looking to see how good someone is, there's nothing like five-star on five-star, and we've got quite a bit of that this week at the various All-American practices.
Here's a preview of one matchup I'd almost bet my life we'll see down the line – the nation's highest-rated offensive lineman (Ohio State signee Paris Johnson Jr.) against the nation's highest-rated defensive lineman (Clemson signee Brian Bresee).
Paris Johnson vs Bryan Bresee pic.twitter.com/G6UXVTD2rn

— Charles Power (@CharlesPower) January 1, 2020
Advantage: The future Buckeye.
Obviously that's one rep in half pads with a tackling dummy for a quarterback, but you know this would be all over a Clemson site if Paris Johnson Jr. got turnstiled, but he didn't, so it's here instead.
 THAT SWEET SCHADENFREUDE. I'm not going to pretend to be at peace with Ohio State's loss yet, because I'm not sure that hurt is ever going to go away, but there's nothing better to ease that pain than to watch Michigan get crumpled like an accordion on the big stage.
Again.
The Wolverines actually led Alabama 16-14 at the half (Jim Harbaugh's sleepover paid off with a 57-yarder from Quinn Nordin!), but it as allllllll downhill in the second half.
Alabama beats Michigan, 35-16 in the Vrbo Citrus Bowl.

Michigan has lost consecutive bowl appearances by double digits for the first time in school history.

Michigan is now 0-10 straight up as a betting underdog under Jim Harbaugh. pic.twitter.com/EUrKDUnkVo

— ESPN Stats & Info (@ESPNStatsInfo) January 1, 2020
Michigans seniors just ended their careers with four straight years of losing to Ohio State and then also losing a bowl game.

Their fourth year guys just played an entire college career without ever winning after Thanksgiving.

— Tom Orr (@TomOrr4) January 1, 2020
John Cooper and Jim Harbaugh's first five seasons are eerily similar.

Cooper 0-8-1 vs. Michigan and in bowl games. Harbaugh 1-9 vs. Ohio State and in bowl games.

— Kyle Rowland (@KyleRowland) January 1, 2020
Goodness, @notthefakeSVP with a vicious stat.

Rutgers has more bowl wins over the last 20 years (6) than Michigan (5).

— Stewart Mandel (@slmandel) January 2, 2020
As much as Saturday night sucked, it's a little bit easier to swallow knowing Michigan fans would probably commit arson to feel that kind of pain.
 NOT STICKING TO SPORTS. A man gets a 30-year sentence for trafficking meth from his jail cell... The top-10 scientific discoveries of the decade... A headless torso found in a cave is identified as a murderer who escaped jail in 1916... An Apple hacker held 250 million iPhones ransom for $100,000 in gift cards... A woman is accused of trying to use her dog's pee for a drug test... Ohio morticians remove tattooed skin to preserve it forever as art.