I'm going to be honest with you, I've got no real beef with Nebraska, provided it assumes its predestined role in tonight's ritualistic sacrifice in the crop circle they call Memorial Stadium.
The only bad thing Nebraska has ever done to me is gleefully accept a win Ohio State kindly tossed its way back in 2011 (quite literally, as the Buckeyes would have won the game if they took a knee on every down on which they chose to pass instead). And I mean, who can blame them, and what did it really cost us?
Since then, Ohio State is averaging 54 points a game and has won by an average margin of 33 points. That's a stretch of Buckeye beatdowns rivaled only by Ohio State's annual massacre of Rutgers. If Nebraska's been anything consistently, it's been a willing piece of roadkill for the Buckeyes to roll over on their way to bigger and better things.
The dominance continues today. Even Scott Frost knows there's not a sane soul picking his team to win this game, because they can't hang with Ohio State for a half, much less four quarters.
I dont think a lot of people are going to pick us to win & rightfully so. Frost very complimentary of this years Ohio State team. #Huskers

— Adam Krueger (@AdamKruegerTV) September 26, 2019
Nebraska's execution begins at 8 p.m. tonight, and their fans are at peace with the impending death they welcomed the funeral procession with cheers, signs and banners
The kindest fans in college football. I sincerely regret that my team has to disembowel your team on this fine Saturday, but it's purely business. After tonight, I'll continue rooting for your new coach to take you to new levels of consistent mediocrity.
As for the rest of today's slate, meh.
9/28 SLATE

| TIME (ET) | GAME | FAVORITE | TELEVISION |
| --- | --- | --- | --- |
| 12:00 | RUTGERS @ #20 MICHIGAN | MICH (-28) | BTN |
| 12:00 | #23 TEXAS A&M @ ARKANSAS | TAMU (-23) | ESPN |
| 12:00 | TEXAS TECH @ #6 OKLAHOMA | OKLA (-27) | FOX |
| 12:00 | NORTHWESTERN @ #8 WISCONSIN | WISC (-24.5) | ABC |
| 3:30 | WAKE FOREST @ BOSTON COLLEGE | WAKE (-6.5) | ACCN |
| 3:30 | INDIANA @ #25 MICHIGAN STATE | MSU (-14) | BTN |
| 3:30 | #1 CLEMSON @ NORTH CAROLINA | CLEM (-27) | ABC |
| 3:30 | #18 VIRGINIA @ #10 NOTRE DAME | ND (-12.5) | NBC |
| 3:30 | MINNESOTA @ PURDUE | MINN (-1.5) | ESPN2 |
| 3:30 | OLE MISS @ #2 ALABAMA | BAMA (-37.5) | CBS |
| 3:30 | #21 USC VS. #17 WASHINGTON | WASH (-10) | FOX |
| 7:00 | MISSISSIPPI STATE @ #7 AUBURN | AUB (-11) | ESPN |
| 7:00 | #24 KANSAS STATE @ OKLAHOMA STATE | OKY STATE (-4.5) | ESPN+ |
| 7:00 | NC STATE @ FLORIDA STATE | FSU (-6.5) | ACCN |
| 7:30 | KENTUCKY @ SOUTH CAROLINA | SC (-3) | SECN |
| 8:00 | NEBRASKA @ #5 OHIO STATE | OSU (-17) | ABC |
| 10:00 | WASHINGTON STATE @ UTAH | UTAH (-5.5) | (FS1) |
Word of the Day: Demoralize.
 THAT 11W PREGAME FIX. Read up, get right for the game.
 THE REAL DBU. If you're entering this game nervous about what Nebraska's skill players are going to do to Ohio State's secondary, you're probably still shell shocked from last year. Cause things aren't just better, they're BIA again.
From Ben Linsey of Pro Football Focus:
1. OHIO STATE

The Buckeyes have had plenty of NFL-caliber talent cycle through their secondary in recent years with five first-round selections coming from their defensive back group in the last four years alone – Eli Apple, Marshon Lattimore, Malik Hooker, Gareon Conley and Denzel Ward. Jeffrey Okudah is the most likely member of the current highest-graded secondary to join those ranks, as he came in 10th overall on our preseason top-50 big board for next year's draft, drawing comparisons to Aqib Talib from PFF Lead Draft Analyst Mike Renner. He hasn't disappointed to open the season with a coverage grade of 83.1, allowing just over six yards per target and a passer rating of 63.9 on throws into his coverage. 

It's not just Okudah, either. All five members of their secondary with at least 70 defensive snaps have recorded overall grades of 75.0 or higher. As a unit, opposing quarterbacks have produced a stat line of 43/79, 390 yards, one touchdown and one interception for a passer rating of 67.0 when targeting Ohio State cornerbacks and safeties. With continued performances like that, the pool of Buckeye secondary members to make their way to the NFL is soon to grow. 
If you'd like to see what that looks like in graphical form, they've got you covered on that front as well!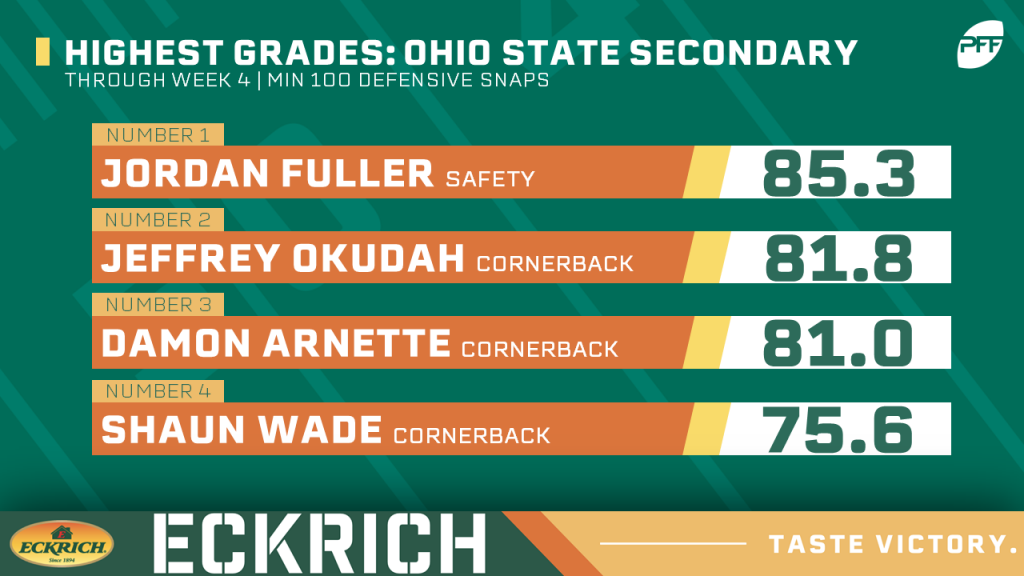 I ride heavy with Corn Belt Braxton Miller, but he's gonna have a long, long day today.
 TREADING WATER. Last week, I went 5-5 a week after going 4-5-1, bringing my total to 10-19-1 on the season. So the good news is, I'm no longer bleeding out, the bad news is I've still done nothing to heal myself.
That starts this week. I hope.
Wisconsin -24 against Northwestern. Part of me wanted to roll with Northwestern in this game, hoping for a letdown performance from Wisconsin after a big win over Michigan, but then I realized that the Badgers' worst game still might be four touchdowns better than the best thing Northwestern's shown so far this season.
Vanderbilt -7 against Northern Illinois. This feels like a sucker play, but I guess I'm a sucker, cause I'm reaching for the candy. Neither of these teams have looked terribly good, but one of them is 0-3 against three Power Five teams (including two playoff contenders) and is desperately seeking a win, and the other is a middling MAC team.
Michigan -27.5 against Rutgers. Michigan was the laughingstock of college football this entire week (rightfully so) and is going to come into this game against a terrible Rutgers team with something to prove. Yes, Michigan is bad. But it's still four touchdowns better than Rutgers.
Baylor +3 against Iowa State. This is a weird game to be interested in, but I just have a feeling Baylor is a better team than Iowa State and should probably be the one favored in this game. I don't have a whole lot more for you there, but this line just feels wrong.
Alabama vs. Ole Miss OVER 62. I think Alabama is going to score about 49 points in this game, which means I'm banking on Ole Miss to score two touchdowns, even if they come in garbage time. I'll take that.
NC State +7 against Florida State: In what world would somebody feel confident laying a touchdown with the 'Noles? Florida State may win this game, but nothing they've done this season even slightly convinces me it will be by more than a touchdown.
Temple -9 against Georgia Tech. Georgia Tech is bad, bad, and it makes sense. They're running a regular offense with a team that was recruited and coached to run the triple option. It ain't going well. Meanwhile, Temple is fine, but the good news is "fine" is probably at least 10 points better than "dumpster fire."
Ohio State -17 against Nebraska.  I swear this isn't a homer pick, it's just the right one. I think Nebraska absolutely is the best team Ohio State's played thus far and the game is on the road at night, but I think that might actually play into the Buckeyes' favor because the only way this game is close is if Ohio State sleepwalks, but they won't. The Buckeyes have had this game circled, and the Huskers want no part of that.
Washington State +6 against Utah. Last week, I watched USC carve up Utah's secondary with a third-string quarterback on a lot of deep 50/50 balls. The secondary looked atrocious. Now, they get an air raid team! Give me the Cougs – I like them straight up as well.
Washington -10.5 against USC. Hey, speaking of the team that won a week ago by tossing up a bunch of deep 50/50 balls, that ain't gonna work against the team that always has the best secondary in the PAC12. I like Washington to dominate this game.
 NOT STICKING TO SPORTS. Naked couple fall to their death while having sex in a third-story balcony... Separated for 63 years, 80-year-old high school sweethearts pick up their love story and will wed... How an architect who designs "half-Houses" rebuilt a city... A Chinese family marries and divorces 23 times to scam the government...