Ohio State scores 54 points per game and allows only nine.
Seems like a decent strategy for winning football games. The lowest output (only 42, ugh) came against the Cincinnati Bearcats, whom the Buckeyes kept off the scoreboard. They put 51 on the Hoosiers in their own stadium, 45 on the Owls while breaking in a new, well, everything but what Drue Chrisman does - and a patriotic 76 on the Redhawks.
Forty-two points is their lowest game output to date. The Buckeyes have not allowed 42 total points yet this season. Is this just garden variety September cupcake bullying? As friend and football nerd Bill Connelly put it:
Against a schedule that has featured no heavyweights but minimal dead weight -- Indiana currently ranks 32nd in SP+, Cincinnati ranks 59th, and FAU ranks 76th -- the Buckeyes are winning games by an average score of 54-9.

They are the only team with a top-five offensive and defensive SP+ rating at the moment, and they are up to second overall, 2.5 adjusted points per game behind Alabama and 1.8 ahead of Clemson.
The first quarter of the season could not have gone any better for Ryan Day's honeymoon period, but the second quarter contains three B1G West opponents, two of whom host the Buckeyes at night. For those of you still under heavy sedation, Ohio State's two most recent losses dating back to 2017 have been a) excessively bad and b) in similar, West venues. Spooky!
The third opponent is Wisconsin, which just allowed its 13-quarter shutout streak to end when it decided to let drunk fans play in garbage time to close out Michigan (BTW the Badgers visit Columbus for the 11W annual tailgate; plan accordingly). The fourth opponent, Michigan State, has the second-most wins in Ohio Stadium this decade, trailing only the beloved home team.
As Iowa City and West Lafayette trips taught us recently, logic is a myth, games on paper aren't real - and there are no sure things when teenagers are involved.
Next up: Lincoln. Let's get Situational!
THE STREAK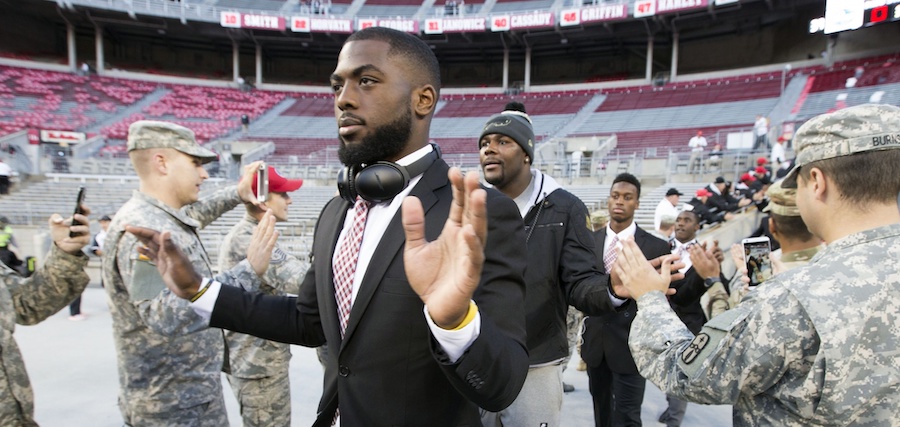 Joe Bauserman was never supposed to see the field that night. You know which night we're talking about.
Ohio State could have literally run Carlos Hyde off tackle for two-yard gains and four-play drives after Braxton Miller got hurt, and the Buckeyes could have punted until time expired on a big road win - except that Jim Bollman had other ideas for managing a huge lead, and Bauserman was instead allowed to heave clock-stopping souvenirs into the bleachers.
None of it had to happen. Life is pain. It's natural to remember that evening all these years later, because that's how trauma works. But the Buckeyes have been back to Lincoln since then, and it went...better.
OHIO STATE QBs IN LINCOLN SINCE 2011

| YEAR | QUARTERBACK | PASSING | RUSHING | TD | INT | SCORE |
| --- | --- | --- | --- | --- | --- | --- |
| 2011 | BRAXTON MILLER | 5/8 for 95 | 10/91 | 1 | 0 | ----------- |
| 2011 | JOE BAUSERMAN | 1/10 for 13 | 1/-1 | 0 | 1 | L 34-27 |
| 2017 | J.T. BARRETT | 27/33 for 325 | 10/48 | 7 | 0 | W 56-14 |
| 2017 | DWAYNE HASKINS | 3/3 for 25 | 1/4 | 0 | 0 | ----------- |
| 2017 | JOE BURROW | 1/3 for 4 | 2/5 | 0 | 0 | ----------- |
The last time the Buckeyes had the ball in Nebraska, they gave it up on downs with Joe Burrow in as the 3rd string quarterback in garbage time. What you may have forgotten was that unsuccessful 4th down ended an incredible 16-drive scoring streak by Ohio State against the Huskers, going back to the previous meeting in Columbus in 2016 (pictured above).
Not counting kneel-downs, the Buckeyes actually scored 18 times on 16 drives, beginning with Damon Webb and Malik Hooker both housing interceptions during the 2016 meeting. Quarterback play in Columbus - and against Nebraska in general - has ranged from just fine to legendary. Only that Bauserman outlier eight seasons ago really stands out.
OHIO STATE QBs VS. NEBRASKA AT HOME SINCE 2011

| YEAR | QUARTERBACK | PASSING | RUSHING | TD | INT | SCORE |
| --- | --- | --- | --- | --- | --- | --- |
| 2012 | BRAXTON MILLER | 7/14 for 127 | 16/186 | 2 | 0 | W 63-38 |
| 2016 | J.T. BARRETT | 26/38 for 290 | 8/39 | 4 | 0 | W 62-3 |
| 2016 | JOE BURROW | 6/6 for 62 | 2/13 | 1 | 0 | ----------- |
| 2018 | DWAYNE HASKINS | 18/32 for 252 | 3 for -11 | 2 | 1 | W 36-31 |
Bauserman's blown save is the only thing separating the reigning B1G MVP, Rose Bowl MVP, six-time B1G Offensive Player of the Week, Maxwell and Heisman finalist, and reigning Graham–George Offensive Player of the Year, Griese–Brees Quarterback of the Year, Chicago Tribune Silver Football winner and Male Ohio State Athlete of the Year from owning the worst outing against Nebraska this decade. Makes you think.
The Huskers didn't let Dwayne Haskins pick them apart last season, and that's their non-Bauserman high watermark since joining the conference. Here's to no more outliers, especially against weaker B1G West teams.
THE 1980s SAX SOLO INTERMISSION
Ray Parker Jr.'s first radio hit was about the consequences of letting your heart enter a tryst. Love has no place in affairs, which should be based exclusively on discretion, clotheslessness and fluid exchange. Alas, the heart wants what the heart wants. Hearts are stupid.
The Other Woman was a cautionary tale as old as time, set to a funk beat. It was released in the first year ever of MTV, when music video production was a) still primitive b) 100% of programming, and c) almost always a literal interpretation of the lyrics.
Uh oh. The Other Woman kicks off its second verse with:
I know the rules of the game
You hit it once, then break away clean
I should have never gone back, I know
But I had to have just a little bit more
This story could not be told with moving pictures on American television sets in 1982. It's just too sexy. Folks, that's a crisis. Here's what happened next, probably:
RECORD EXEC: *screaming into suitcase-sized cellular phone* We can't have Ray hooking up with his side piece on music television! The moms will revolt!

VIDEO DIRECTOR: *inhaling cigarette* The song is about side pieces. What do you suggest we replace her with? *exhaling* An umbrella stand? A ham sandwich?

RECORD EXEC: Listen, and hear me out: What if Ray's side piece...is dead?

VIDEO DIRECTOR: ...I can see it. I can see it. Yeah.
And just like that, The Other Woman was transformed into a party anthem for cheating necrophiliacs - totally wholesome and appropriate for 80s kids like me to enjoy. Barely two years later Parker recorded his eponymous hit Ghostbusters, in which he bravely declared, "he wasn't afraid of no ghost." Yeah. We know, Ray. We know.
Let's answer our two questions.
Is the soloist in this video actually playing the saxophone?
The saxophonist is a zombie in a tuxedo. Zombies can't be trusted. So, no.
Does this saxophone solo slap?
It just lays there, like a...nah, too easy. Riff is good. Solo is disappointing. VERDICT: Does not slap.
THE BOURBON
There is a bourbon for every situation. Sometimes the spirits and the events overlap, which means that where bourbon is concerned there can be more than one worthy choice.
Bourbon? From Nebraska? How is this possible? Well, here are our corniest states by bushel volume and percentage of total US production: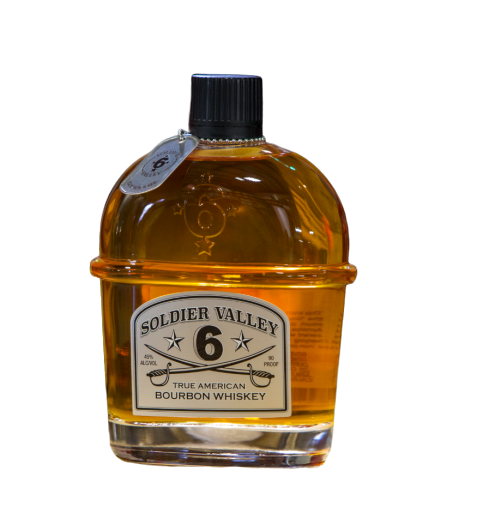 Iowa 18%
Illinois 15%
Nebraska 11%
Minnesota 10%
Indiana 6%
South Dakota 5%
Kansas 5%
Wisconsin 4%
Missouri 4%
Ohio 3%

OTHERS RECEIVING VOTES: Kentucky 1%
Remember, bourbon is no less than 51% corn by rule, so it would be suspicious if Nebraska didn't mash up at least some of its abundance, dump it into a charred oak barrel and try to turn it into great American booze. Corn can't all be converted into sugary cereal or livestock feed.
So Nebraska reserves a tiny fraction of its output for brown liquor. Soldier Valley True American Six bourbon from Patriarch Distillers in La Vista is a six-year bourbon packaged in a canteen-looking bottle as an homage to the military.
Process matters as much as ingredients, and whatever it is that Patriarch does here produces a spirit that's best paired with ginger ale - which is probably why that's literally Patriarch's recommended serving suggestion for it. When I tried it neat, my mouth said HEY FYI THIS HAS ALCOHOL IN IT because SVTA6 tasted like...heat. That's all I got from it.
Here's to it being the only hot Nebraska product this Saturday night. Support the troops.
SAY SOMETHING NICE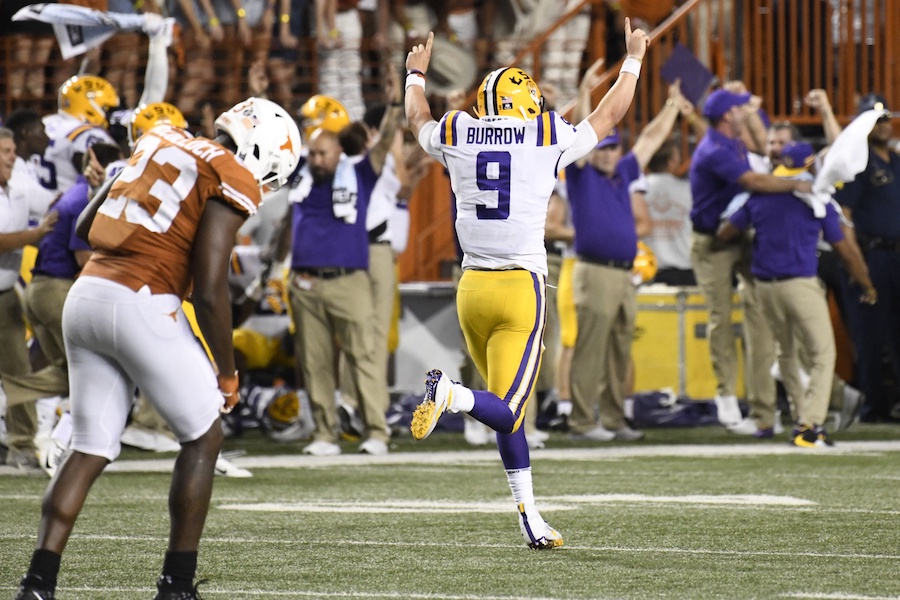 Over the weekend about 250 people from Southeast Ohio made the trek to a hallowed, historic stadium which first opened in 1922 to host college football games exclusively. Those fans traveled to cheer on a hometown product chasing his athletic dreams on a big, semi-local stage.
This sounds a lot like what goes on in Ohio and at Ohio Stadium in the fall, except this also describes the friends and family of Joe Burrow road tripping down to the home of the Vanderbilt Commodores, where LSU played last Saturday.
The visitors from southwest Eaux-hi-eaux (I'm sorry, I'm sorry) were easy to identify.
They will be easy to spot wearing these w/ Burrow #9 on the back pic.twitter.com/F7CG1oCaq2

— Joe Burrow Part Deux (@JoePartDeux) September 18, 2019
Burrow is the most exciting right-handed quarterback in God's Conference. Back at his alma mater, thus far everything is going according to plan for Justin Fields, who left Georgia to pursue a similar opportunity. Meanwhile, Dwayne Haskins is paying all of his bills, comfortably - and his so-so performance against the Cornhuskers has been all but forgotten. It's nice to see so many happy endings in progress.
Thank you for getting Situational today. Go Bucks. Beat Nebraska.