As convincingly as Ohio State has won its first four games of the season against FAU, Cincinnati, Indiana and Miami (Ohio), it's easy to look at just about any game on the Buckeyes' schedule and feel really good about their chances of winning right now.
Ohio State hasn't faced any real adversity yet this season, though. That could change on Saturday.
The Buckeyes are favored by 17 points to earn another win on the road Saturday against a Nebraska team that was favored to win the Big Ten West entering the season. That's a reflection of how impressive Ohio State has looked, winning their first four games of the year by an average of 44.5 points. It's also partially because Nebraska hasn't performed up to expectations so far this season, losing its second game of the year to Colorado and struggling to beat Illinois to improve to 3-1 last weekend.

NEBRASKA CORNHUSKERS
3-1 (1-0 BIG TEN)
ROSTER / SCHEDULE
---
7:30 P.M. – SATURDAY, SEPT. 28
MEMORIAL STADIUM
LINCOLN, NEBRASKA
---
ABC
WatchESPN
All of that said, Saturday's game in Lincoln should be Ohio State's toughest test of the season to date – perhaps significantly tougher than any of its first four games – as the Buckeyes play a Big Ten team on the road for the second time this year and under the lights for the first time this year.
"Got a real big challenge ahead of us this week, by far the best team that we've played. Not only just talent and coaching but also the environment we're going to be walking into," Ohio State head coach Ryan Day said this week. "This is going to be by far the biggest challenge of the year for us, going on the road, night game at one of the toughest places to play in the conference."
Nebraska Breakdown
The biggest threat Nebraska will pose to Ohio State on Saturday is its offense, which appears to be a better offense across the board than any of the first four offenses the Buckeyes have faced this year.
That starts at the quarterback position, where the Cornhuskers are led by second-year dual-threat Adrian Martinez, who Day described this week as "by far the best quarterback" Ohio State has had to prepare for so far this season.
"He's big and strong and powerful," Day said of Martinez. "He's very athletic, so in terms of the run game, his ability to extend plays with his feet, you've got to get him on the ground, which is not easy. He's explosive, he's fast, he's strong and has good running skills, makes good decisions. And then throwing the ball, he's really accurate."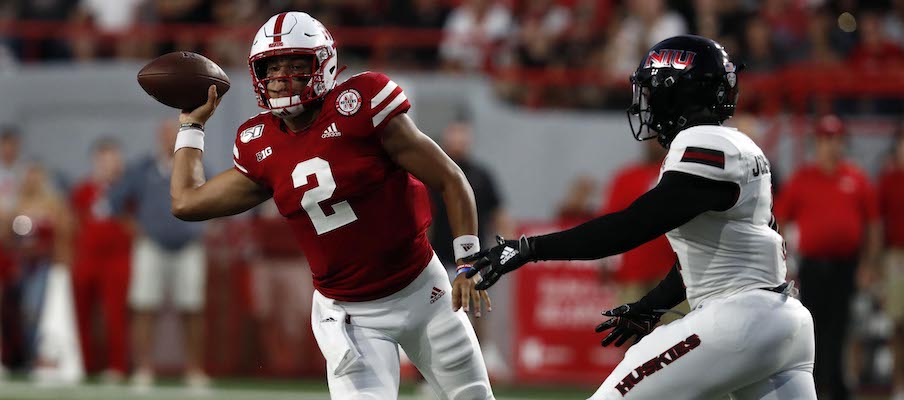 Martinez is surrounded by a group of running backs and wide receivers who are also more dangerous than the playmakers the Buckeyes faced in the first four games of the year. 
JD Spielman, who had 200 receiving yards against the Buckeyes in their last trip to Lincoln, is an explosive wide receiver who leads the Cornhuskers with 384 yards on just 18 catches this year. Maurice Washington is a dynamic weapon out of the backfield who has rushed for 268 yards and a touchdown and caught eight passes for 149 yards and two touchdowns this season. Dedrick Mills, a 5-11, 220-pound back who is powerful between the tackles, has rushed for 229 yards and five touchdowns. 
Wan'Dale Robinson, a true freshman who lines up at both wide receiver and running back and has drawn comparisons to Rondale Moore – the Purdue wide receiver who had 12 catches for 170 yards and two touchdowns in the Boilermakers' 49-20 win over Ohio State last season – is coming off a breakout game against Illinois in which he had 168 combined rushing and receiving yards and scored three touchdowns.
"I think all three of those backs get you in different ways," Day said. "Wan'Dale is really dynamic. He reminds me of the kid from Purdue. He could be a matchup problem for you if he gets on a linebacker or speed sweeps, things like that. He can do a bunch of different things, a little bit of a hybrid. And the other guys run hard. Those two other backs, they run downhill, and they've got some receivers. Spielman is a playmaker."
Day said Nebraska has a "much better offensive line" than Ohio State has seen in any of its first four games, as well. The Cornhuskers are led up front by a pair of junior offensive tackles, Brenden Jaimes and Matt Farniok, who have each already started 20-plus games in their careers.
The Cornhuskers play with pace on offense – they ran 98 plays last Saturday against Illinois, and have run at least 65 plays in each of their first four games – and with their multitude of playmakers, they'll present a challenge unlike that which the Buckeyes' defense – ranked second nationally in yards allowed per game and third nationally in points allowed per game – has faced yet this year.
"When you combine that all together with the tempo, it's hard to prepare for," Day said.
Nebraska is ranked 26th in the Football Bowl Subdivision with 486 offensive yards per game and 29th nationally with 38 points per game; none of Ohio State's first four opponents rank better than tied for 48th in either category. 
The Cornhuskers' Achilles heel, however, has been turnovers, specifically fumbles; their 14 total fumbles and nine fumbles lost are both most among all FBS teams this year.
Another major issue for the Cornhuskers has been their kicking game. With starting kicker Barret Pickering sidelined by injury since the beginning of the season, his replacements have combined to make just two of seven field goal attempts while also missing two extra points. Lane McCallum, who is listed as a safety on the Cornhuskers' roster, served as the kicker against Illinois and missed a 27-yard field goal attempt while he also had an extra point blocked.
Nebraska's defense, which gave up six scores in both its 34-31 loss to Colorado and its narrow 42-38 victory over Illinois last weekend, isn't as intimidating as its offense. The Cornhuskers rank just 56th nationally in total defense (356.8 yards allowed per game) and tied for 62nd in scoring defense (25.3 points allowed per game), and allowed Illinois to rush for a season-high 221 yards last weekend.
Their defensive scheme, however, will also present some different challenges from what the Buckeyes have seen so far this season. Specifically, the Cornhuskers are Ohio State's first opponent this season that runs a 3-4 defensive scheme, with a massive defensive line anchored by 6-foot-4, 325-pound nose tackle Darrion Daniels and bookended by twin brothers Carlos and Khalil Davis, who are both 6-foot-2 and at least 315 pounds.
"They're some big guys, and they're very athletic," Day said. "When you're dealing with two-gappers, it's not about getting penetration … You have to stay on your blocks for an extra two or three seconds that you typically would against a penetrating defense. And so, we got a challenge there. We got to move people off the ball, we got to stay on our blocks and we got to run with our pads down."
Nebraska's defense has also shown a repeated ability to force turnovers this season; the Cornhuskers have 10 takeaways (six interceptions, four fumble recoveries) through four games, tied for the fifth-most in the FBS so far this year.
The Cornhuskers don't enter this game with the same hype that they had coming into the season, when they were the most popular choice to win the Big Ten West in an unofficial preseason poll of Big Ten writers by cleveland.com. But that doesn't mean they aren't a dangerous opponent, especially on their home field and especially compared to the teams Ohio State played in the first trimester of the regular season.
Buckeye Breakdown
Four games into its 2019 season, Ohio State has looked like a complete football team.
2019 Statistical Comparison
 
OFFENSE
53.5
3rd
POINTS FOR
38.0
29th
262.0
13th
RUSHING OFFENSE
219.5
34th
264.5
49th
PASSING OFFENSE
270.5
43rd
526.5
14th
TOTAL OFFENSE
490.0
25th
.500
18th
3rd DOWNS
.452
34th
.850
62nd
RED ZONE
.684
118th
DEFENSE
9.0
3rd
POINTS ALLOWED
25.3
62nd
60.3
7th
RUSH DEFENSE
116.8
41st
161.8
19th
PASS DEFENSE
240.0
81st
100.8
12th
PASS EFFICIENCY DEFENSE
114.3
32nd
222.0
2nd
TOTAL DEFENSE
356.8
56th
.231
5th
3rd DOWNS
.292
21st
.545
3rd
RED ZONE
.833
68th
SPECIAL TEAMS
12.6
34th
PUNT RETURN
9.6
47th
20.7
68th
KICKOFF RETURN
22.6
45th
41.6
28th
NET PUNTING
44.0
13th
MISCELLANEOUS
+0.8
24th
TURNOVER MARGIN
-0.3
82nd
5.0
21st
PENALTIES
6.8
80th
15
EDGE
3
The Buckeyes have scored at least 42 points in each of their games this year, while they've allowed just 36 total points. They've gained at least 469 yards in each of their first four games – and progressively more yards each week – while holding each of their first four opponents to less than 300 yards.
In the process, they've impressed just about everyone who has watched them play, including Nebraska coach Scott Frost.
"There's no question in my mind that Ohio State's a better team right now than they were a year ago," Frost said.
Ohio State's profound improvement from last season has come with its defense, which was the clear weakness for the Buckeyes in 2018 but has been dominant so far this year. They've allowed just one touchdown in their past three games, which came on a trick play at Indiana. They've held their opponents to averages of just 1.7 yards per running play and 5.4 yards per passing play, ranking in the top 10 nationally in both categories.
Led by superstar defensive end Chase Young, who Frost said this week is "as imposing as any player that I've seen on tape in a long time," the Buckeyes are playing with much better speed and execution in this year's defensive scheme than in last year's defensive scheme, and no team has found a way to consistently move the ball on them yet.
Offensively, the Buckeyes have shown they can consistently move the ball on the ground – rushing for more than 200 yards in all of their first four games this year – while Justin Fields still has yet to throw an interception, accounting for 880 passing yards and 13 passing touchdowns while also running for 150 yards and another six touchdowns in his first six games as Ohio State's quarterback.
That's made a big impression on Frost and the Cornhuskers, as well.
"He throws it really well, runs it really well," Frost said in reference to Fields. "Their offense has been efficient. They've got playmakers all over the field to help him. He's a pretty special player."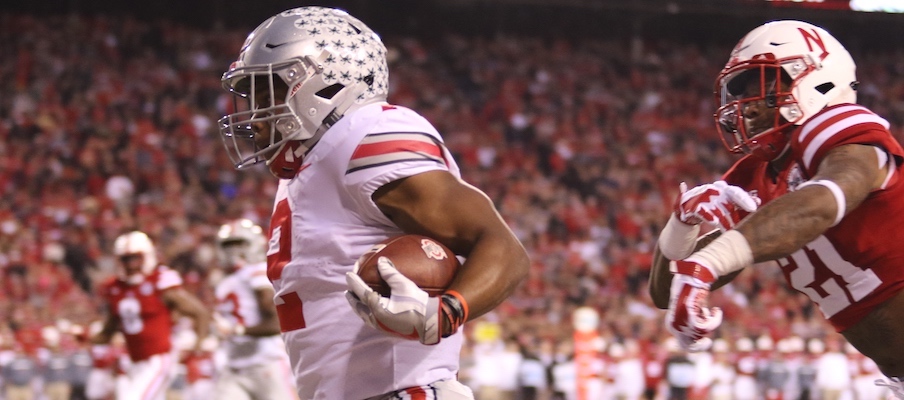 What the Buckeyes haven't had to do yet this season, though, is play an opponent with even close to comparable talent as they have. None of the teams Ohio State played in its first four games ranked in the top 50 in 247Sports' team talent composite rankings.
The fashion in which Ohio State has pulverized its opponents has been impressive nonetheless, but every game so far has been effectively decided before halftime, which means the Buckeyes' starters still haven't had to play a full four-quarter game to lead the scarlet and gray to victory.
That said, Day has consistently preached to his players that they need to compete for four quarters every week, and that's especially been a point of emphasis heading into this week's trip to Lincoln.
"We have to be able to play 60 minutes and prove that we can play 60 minutes. That has not happened," Day said. "The good news is we've been picking up some depth, and we've been building depth in these four games, and guys have played so that we feel a little better about putting guys in the game when we need to and we can roll guys. But we haven't been in the fourth quarter in a game where we've had to really grind and work through all that adversity. So that's a challenge going on the road this week, because we will this week."
Ohio State has already been on the road once for its 51-10 win at Indiana, but the Buckeyes haven't yet played in a night game this year, which adds another element to their preparation. Day said the Buckeyes need to plan their Saturday accordingly to ensure that they are ready to perform at their best when the game kicks off at 7:30 p.m.
"It's certainly a gradual momentum builder towards kickoff," Day said. "You can't go win the game at 10:30 in the morning, get them all jacked up, because you're not playing the game then. So there is an art to it, but a lot of our guys have played in night games, so there's experience to build on there."
Playing in a true road game in primetime under the lights is a new experience for Day as a head coach and Fields as a starting quarterback, but so far, the Buckeyes have passed every test of the season to date with flying colors.
This week's test could be more challenging than the first four, but Ohio State should go in expecting that.
"We've had this one circled since February, so we're ready to go," defensive tackle Haskell Garrett said this week.
Game Forecast
With the expectations that surrounded Nebraska and the question marks that surrounded Ohio State going into the season, this game looked more dangerous when the Buckeyes initially circled it on their calendars than it does now. So far, the Buckeyes have looked like a much more complete team than the Cornhuskers, and that's why they're favored to win Saturday's game by more than two touchdowns.
This will be the most telling game of the season to date for Ohio State yet, because the Cornhuskers are the most talented team they've played so far. Unlike the Buckeyes' first four opponent, Nebraska has plenty of players who can match up with Ohio State's players, and that could enable the Cornhuskers to expose some flaws in the Big Ten frontrunners that other teams haven't been able to.
Memorial Stadium in Lincoln has a reputation for being a tough place to play, and on a day where Nebraska will be hosting ESPN's College GameDay for the first time since 2007, the Buckeyes will walk into what should be a hostile and raucous environment. The Cornhuskers will look to feed off that energy and follow in the footsteps of Purdue and Iowa to become the third Big Ten West team in three years to upset Ohio State away from Columbus.
Ohio State's Last Five Games Against Nebraska

| Year | Location | Result |
| --- | --- | --- |
| 2018 | Columbus | Ohio State 36, Nebraska 31 |
| 2017 | Lincoln | Ohio State 56, Nebraska 14 |
| 2016 | Columbus | Ohio State 62, Nebraska 3 |
| 2012 | Columbus | Ohio State 63, Nebraska 38 |
| 2011 | Lincoln | Nebraska 34, Ohio State 27 |
Ohio State's defense probably won't be able to stifle Martinez and the Cornhuskers the same way it was able to shut down the Owls, Bearcats, Hoosiers and RedHawks, and Nebraska's defense will look to use the increased spotlight and pressure that comes with playing a road night game to its advantage and force Fields into making mistakes that he hasn't made all year.
All of that said, Ohio State is a 17-point road favorite for a reason. Nebraska's defense isn't likely to be able to stop Ohio State's offense consistently, and as well as the Buckeyes' defense has played so far this year, it's hard to envision them being picked apart the way that opposing offenses could last year.
Potential rain is in the forecast for Saturday in Lincoln, but that could play into the Buckeyes' advantage, given the Cornhuskers' turnover woes and kicking issues and Ohio State's demonstrated ability to control the line of scrimmage on both sides of the ball.
Ohio State needs to be sharp on Saturday to eliminate the possibility of an upset, and banking on the Buckeyes to win by three-plus scores is far from a sure bet. But if Ohio State brings its A-game to Lincoln and the Cornhuskers continue to be plagued by the same issues that have led to their underachieving start, the Buckeyes appear to be more than capable of another convincing win, and it wouldn't be a shock if this ends up being another lopsided game in Ohio State's favor.
---
ELEVEN WARRIORS STAFF PREDICTION: Ohio State 42, Nebraska 20