If you're into computer football, I suggest drafting Curtis Samuel this season. Don't overthink this. Just draft him.
2) Curtis Samuel might be the player who's taken the biggest step forward, as he continues to evolve from athlete into receiver. The staff's noticed all the extra work he's done, and him primed for a breakout third year in the league.

— Albert Breer (@AlbertBreer) August 12, 2019
You can thank me with my regular 10 percent cut of your league winnings.
ICYMI
Word of the Day: Mulligrubs.
 MOVING ON UP? Great assistant coaches are for sure a good thing. There's not much debate about it. But the achey side effect of their greatness is that they don't usually stick around to be assistants for too long.
Y'all know exactly who I'm talking about, and Bruce Feldman of The Athletic ($) is on the same page too, putting both Jeff Hafley and Brian Hartline in his top-40 coaches who could be moving up the coaching ranks sooner than later.
3. Jeff Hafley, Ohio State, co-defensive coordinator

The 40-year-old from New Jersey returns to college football from the NFL and has already made a big splash on the recruiting front for the Buckeyes. He came up under Dave Wannstedt and Greg Schiano before spending the past three years with the San Francisco 49ers. Everyone in the NFL who worked with him gushes about him. Said one, "Whatever that 'It factor' is, he has it." He also has a chance to really make an impact on a defense that struggled in 2018.

...

18. Brian Hartline, Ohio State, wide receivers coach

The buzz around Hartline is building. He went from staffer to full-time receiver coach after the Zach Smith mess blew up, and the Buckeye wideouts really took off. Hartline also has proven to be one of the best recruiters in football in a relatively short time thanks in large part to his authenticity and ability to relate to players. He was an excellent wide receiver at OSU and then spent seven seasons in the NFL. At 32, he's not far away from getting a crack at an offensive coordinator job, and working under Ryan Day only should make him that much more appealing to other schools.
I'll say this: it's gonna sting like duck tape pulling off back hair when either one of these guys go elsewhere.
Jeff Hafely hasn't even coached a game at Ohio State yet and I'm already pleading for my favorite football team to Brent Venables or Bud Foster his ass so he's here long enough to coach my yet-to-be-conceived (as far as I know) All-American.
I mean, Ryan Day's clearly an offensive guy, so my totally unqualified and unsolicited advice to him is to just give Hafley the keys to the defense for the next two or three decades and never have to think about it again.
As for Brian Hartline, he's by all accounts a perfect receivers coach. Are we sure he doesn't want to just do that forever and rake in whatever top-rated player he wants? It's not like there isn't precedent even on the same coaching staff. Larry Johnson's coached a single position group for over 20 years, and that's worked out pretty damn well for everyone involved.
Look, I know damn well they're not gonna be here forever, but a blogger can dream, can't he? When it inevitably happens, we'll just have to smile because it happened, not cry because it's over.
 30UNDER30. Speaking of young stars, believe it or not, Ohio State's got an even younger star on staff than 40-year-old Jeff Hafley and 32-year-old Brian Hartline.
Meet 26-year-old Corey Dennis, who's on Chris Hummer of 247 Sports' 30Under30 list of the best young assistants and staffers in the country.
Corey Dennis, Ohio State, Senior Quality Control (26): Dennis is entering his fifth season as an Ohio State off-field assistant. His focus working with Ryan Day has largely centered around quarterbacks. In his current role, Dennis also helps with game planning and practice organization. One former Ohio State passer told 247Sports Dennis was "critical" to his development. Dennis is Urban Meyer's son-in-law. 
Setting aside the depressing fact that he's a just year older than me and has been an assistant at Ohio State for just as long as I've been blogging about sports online, yeah, this makes sense.
"One former Ohio State passer" is needlessly cloak-and-daggery since Dwayne Haskins said almost exactly that at least five times on the record last season, but the point still stands – Corey Dennis is very good. Ryan Day couldn't do it all himself, and there's a reason Dennis was Ohio State's acting 10th assistant until Day made all his hires.
The assistant coaches like Hafley, Hartline, and Larry Johnson get all the headlines – and for good reason – but shit would go downhill real quick without the more behind-the-scenes folks like Dennis, Parker Fleming, Keenan Bailey, Matt Thurin, Kenny Anunike, etc., etc.
 HEY, MORE PRESEASON HYPE. It's pretty much become routine at this point, but hey, Chase Young was named the preseason defensive player of the year by Fox.
@youngchase907 is THE preseason Defensive Player of the Year, as voted on by the CFB on FOX fans! pic.twitter.com/wFY1EADQBW

— FOX College Football (@CFBONFOX) August 12, 2019
Between Young this year and Nick Bosa last year, I can't tell you how many times I've written about preseason hype for an Ohio State defensive end. And looking at the roster and the current commits, there's a solid chance I'm doing this for many, many more times.
 BEST FOR LAST. Now we already knew Buckeyes were clutch as hell, but if you needed more evidence, former Ohio State golfer Bo Hoag picked one hell of a time to play the best golf of the season.
Hoag needed to finish in the top 25 in developmental circuit to punch his ticket to the 2020 PGA Tour. Entering the weekend at No. 31, he needed to make some moves, so he did the Buckeye thing and just went ahead and won the whole damn thing.
From Will Gray of GolfChannel.com:
Bo Hoag won the final regular-season event on the Korn Ferry Tour, finalizing his PGA Tour card for 2020 in the process. But as always at the WinCo Foods Portland Open, the drama extended well beyond the tournament's final leaderboard.

Players at various stations on the developmental circuit spent Sunday crunching numbers and projected point totals, with the top 25 in the season-long race earning promotions next season and Nos. 26-75 securing spots in the upcoming Korn Ferry Tour Finals. Among the former group was Hoag, who entered the week outside the bubble at No. 31 but moved all the way up to seventh after a final-round 65 led to a two-shot victory.

"It's a life-changer for me," Hoag said. "I've been playing under pressure my whole life, so that's what I told myself today was there's going to be a lot of pressure. But this is all I've been doing since I can remember."
Ice coursing through his veins, the former Buckeye birdied the final two holes of the tournament to giving him a two-stroke victory earn a $144,000 payday in the process.
Now you'll get to watch his clutchness on the tour next year, if televised golf is your thing.
 NO SHOW? Hours after Jarren Williams was named the starter, Martell was a no-show for Miami's Monday practice, according to Andrew Ivins of 247 Sports.
Tate Martell didn't practice on Monday according to a source with knowledge of the situation. The session was closed to the media.

The development comes after Manny Diaz announced earlier in the day that Jarren Williams had won Miami's three-man quarterback battle and will get the start against Florida.

A representative for The University of Miami said that Martell is still on the program's roster when reached for a comment. They also confirmed that Martell wasn't at practice. Barry Jackson of the Miami Herald tweeted that Martell attended a team meeting later in the night.
Now, I'm going to do the responsible thing before making an unsubstantiated claim and remind y'all that nobody really know for sure why it is that he missed practice, but from the outside looking in it sure seems like he wasn't too pleased with Monday's news.
And this snapchat from a Miami long snapper seems to paint a similar story: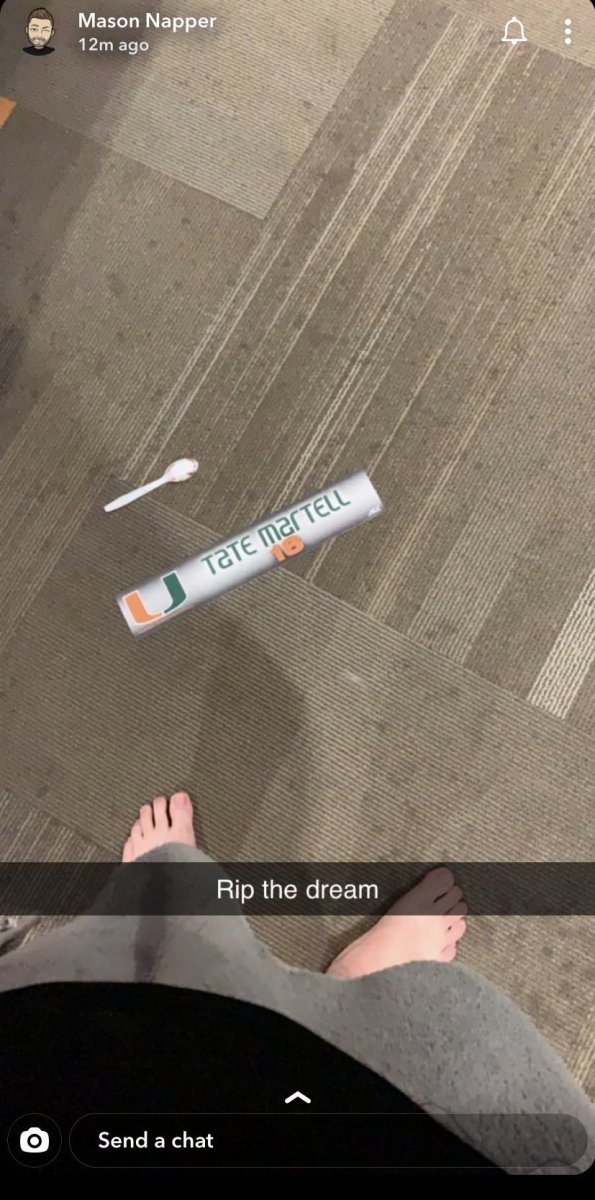 Then again, if he was at a team meeting later in the evening, maybe we haven't seen the last of Miami Martell after all.
Either way, I'm just extremely glad I get to just observe this from afar with almost no meaningful impact on my favorite football team or my life.
 NOT STICKING TO SPORTS. Finding Amelia Earhart's plane seemed impossible, but then came a startling clue... How sleeping position affects your health... The world's wealthiest family gets $4 million richer every hour... The last magnetic pole flip saw 22,000 years of weirdness... Remembering the worst sales promotion in history... Our galaxy's supermassive black hole has emitted a mysteriously bright flare...